Snow removal and winter maintenance of Town roads and sidewalks is completed by the Public Works department. The Province of Ontario has put in place a set of maintenance standards that provide a baseline for our snow clearing and roads maintenance activities, and it's our mission to meet or exceed them. While we do our very best to provide the best possible level of customer service to residents, business owners and visitors alike, it is important to remember that various weather conditions and other circumstances can affect our snow clearing operations.
 
---
Resident Responsibilites: 
Follow the overnight parking restrictions - No parking on the road from December 1st to March 31st during the hours of 1:00 a.m. to 7:00 a.m. 
Do not push, pile, or accumulate snow onto a roadway or sidewalk - This is a violation of the Highway Traffic Act and could have serious consequences
Do not obstruct traffic or the view of traffic with piles of snow - snow shall not be pushed, piled or accumulated in a way that obstructs traffic or the view of traffic
Do not obstruct snow equipment with piles of snow - Snow shall not be pushed, piled or accumulated in a way that obstructs Town of Collingwood snow removal equipment
Make it safe for everyone!
Alway wear proper footwear while walking or clearing snow
When driving, avoid splashing slush and water onto sidewalks which could quickly freeze
Slow down on roadways
Don't allow children to play in snow banks
Assist with the clearing of fire hydrants and catch basins
Avoid driving on the road during major snow storms
Consider helping a neighbour or friend with snow removal if they are unable to do so

---

Winter Waste Disposal: Setting out your carts

When shovelling, clear a flat spot at the end of your driveway or at the curb for your carts
Place carts within eight feet of the traveled portion of the road, which ensures the automated arm can reach while allowing room for snow clearing​ equipment to pass
D

on't place carts behind or on top of snowbanks​​​​
For more information, please visit The County of Simcoe or contact the Service Simcoe Contact Centre at 1-800-263-3199 or service@simcoe.ca
---
We need your help as we work to keep our roadways, sidewalks and sewers clear throughout winter!
No Vehicles are to be parked or left standing on any street, or in any area designated as a municipal parking area within the Town between the hours of 1:00am and 7:00am from December 1st until March 31st the following year.
Please remember that parked vehicles are prohibited from interfering with snow removal operations (as outlined in our Winter Parking By-Law.). Keeping vehicles off roadways and sidewalks is critical for our crews to complete snow clearing operations under difficult winter conditions. Vehicles obstructing winter operations may be subject to the full penalties outlined in the bylaw.
Residents are asked to make sure that vehicles parked in driveways do not hang over sidewalks or roadways in even the smallest amount. 
We thank you in advance for your cooperation in making winter operations as smooth as possible.
The Town of Collingwood uses a variety of Winter Control products to assist in winter maintenance operations depending on the class of road, traffic volumes and weather conditions. The objective of sanding and/or salting is to increase vehicular traction by applying a sand/salt mixture either before, during or after the storm event. 
Salt use is kept to a minimum and is spread only on main Arterial roads, whereas a mixture of sand/salt is applied to all other roads. Salt reducing measures are implemented as appropriate for environmental benefits. Our goal is to be proactive in the area while recognizing the safety of Municipal streets during slippery conditions.
The Town is divided into 6 routes. Each route is made up of streets categorized in priority order, with priority streets cleared first. 
Priority roads are arterial roads or secondary collector roads that carry the highest volumes of traffic. These roads are used to access business areas, fire and police and the hospital. 
Other roads are primarily residential, residential rural or secondary routes. These are systematically ploughed after the priority routes have been completed.
When the streets become slippery due to snowfall or wet/freezing conditons, the Town's streets are sanded by the following priority ranking:
Highways and Arterial Roads such as Highway 26, Hurontario Street, Mountain Road
Bus Routes and other collector routes, and Town owned parking lots
Major intersections and inclines in residential areas
This ranking reflects the speed and traffic levels, and therefore the degree of risk involved in each roadway category.
Snowfalls or snowstorms that last many hours, and windy conditions or freezing rain that turns into snow pose unique challenges. In these conditions, priority streets may be plowed more than once before other local streets. 
Although crews are very conscientious in following route schedules, sometimes streets may be missed due to an oversight. Please contact the administration office (705-445-1351) and crews will be notified and arrangements will be made to have the street cleared as soon as possible.
The Town makes every attempt to minimize the amount of snow plowed into the driveways during its snow plowing operations; however we do not clear private driveways.
It is important to note that our plow operators do not intentionally block driveways. Due to the difficulty of removing large amounts of snow, many residents will find it easier to clear the snow before it becomes too heavy. Often this is before the storm has ended and while snowplowing operations are still underway. 
Please understand that until roads are completely cleared, it should be anticipated that you might have to clear your driveway several times during and after storm events.
Similar to snow maintenance on the roads, the Town is divided into 4 routes with Arterial and Collector roads completed first. Priority sidewalks include sidewalks around schools, medical facilities, community safety zones, and business areas.
If there is damage to your sod or boulevard during the winter months from maintenance, please call the Public Works office at 705-445-1351 to report the issue. Public works repairs damaged sod or boulevard damage in the spring and summer months.
Canada Post coordinates the removal of snow around community mailboxes.  Please visit their website to "Request snow clearance" under the Community Mailboxes section.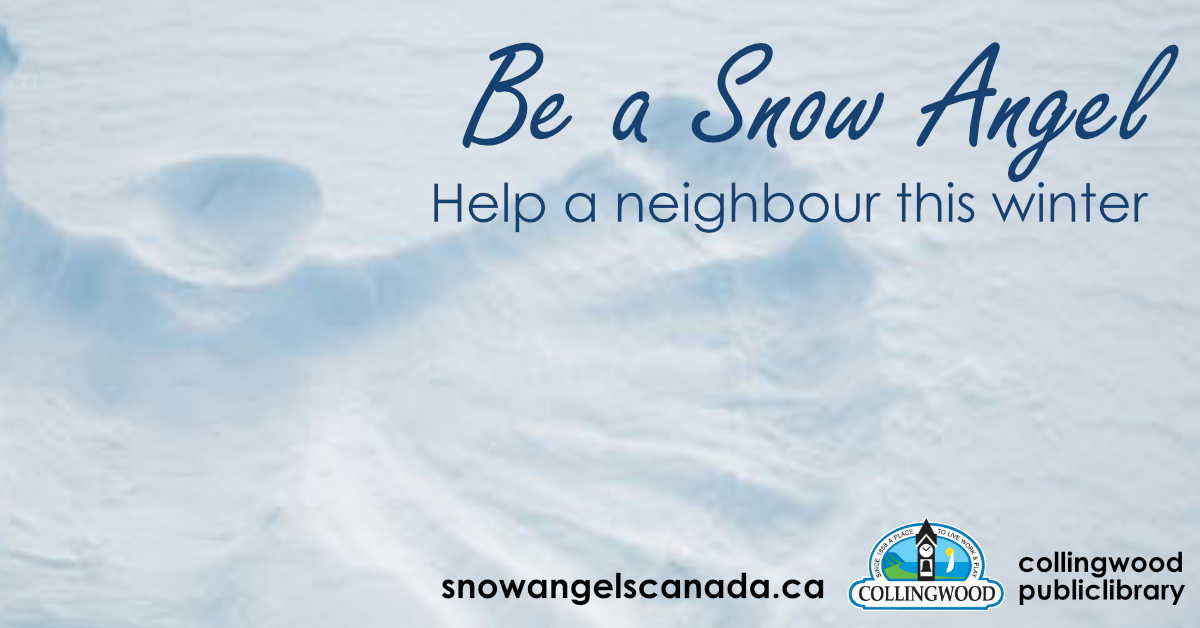 Do you need help with snow shovelling?
Visit SnowAngelsCanada.ca to post a request for assistance from a community volunteer.
Are you able to help others with winter snow shovelling?
Volunteers can sign-up on SnowAngelsCanada.ca to let neighbours know that they are available to help.
Snow Angels is a national platform where Canadians can request help with snow shovelling from neighbours and community members can volunteer to provide help with snow shovelling. The platform allows users to submit a request providing information on how they need help and also search for a volunteer that might be available in the area. This is a free service, connecting neighbours.
Please be aware of the potential hazards of children playing in snowbanks or in close proximity of Town streets.
Snowbanks created by snow plows or shovelled snow can easily be transformed into snow forts, caves, and miniature sledding hills.
The Town of Collingwood Public Works Department is encouraging parents and guardians to talk to children about the importance of staying away from roadside snowbanks during the winter months. 
Educate children not to climb, play, build snow forts or tunnels in snowbanks at the side of streets or in cul-de-sacs as they could slip and fall into oncoming traffic.
Snow plow drivers may have limited visibility while clearing the roads, therefore it is important to refrain from playing with the snow piles. 
Snow tunnels and snow forts, at or near the end of a driveway, could collapse or be pushed down by plow equipment during snow clearing operations. 
Safety Tips: 
Do not play on snowbanks near the roadside. Play in areas away from roads, fences, water and the end of driveways. 
Stay away from snow plows and snow blowers. Never approach the vehicle or equipment, even if it is stopped. 
If you encounter a sidewalk snow plow, please move off the sidewalk and into a yard or driveway where you can be seen.
Active supervision is important when young children are playing outside in the snow. Establish a buddy system with one or more friends to ensure they are keeping one another safe. 
Snow Removal - By-Law No. 08-156
No Person Shall:
2.1 Place or cause to be placed, ice or snow from private property or from a boulevard onto a sidewalk or traveled portion of a highway
2.2 Deposit, or cause to be deposited, ice or snow on a boulevard that is not adjacent to their property, including but not limited to the snow pushed or deposited across a roadway or highway
2.3 Pile, redistribute, or otherwise cause the accumulation of snow on a sidewalk or traveled portion of a highway, within a municipality, in such manner as to obstruct traffic, the view of traffic, or obstruct in any way the movement of snow clearing equipment under the jurisdiction of the Public Works Department. 
Winter Parking - By-Law 03-62
No Person Shall:
Permit a vehicle to be parked or left standing on any street or in any area designated as a municipal parking area within the town between the hours of 1 o'clock and 7 o'clock in the morning from December 1st each year until the following year.
Any vehicle parked or left standing during the aforementioned period in violation of this section may be removed [and impounded] and any expense incurred for such removal may be charged to and collected from the owner of the offending vehicle.
All vehicles found in contravention of the By-law will be issued parking infraction, whether or not removed, penalties recoverable under the provisions of Provincial Offenses Act R.S.O. 1990, c.P.33. 
Winter Policies:
Roadway Winter Level of Service
Snow Removal Level of Service - Roadways and Sidewalks