Demolishing a Residential Building
The information below has been provided to assist in summarizing the typical requirements to obtain a demolition permit within the Town of Collingwood. Additional information may be required depending on the application type and individual circumstances.
A demolition permit is not required where the demolition is part of work under a renovation permit.
Drawings are not required for a complete demolition and removal of a house or residential building.
A demolition permit is not required where the demolition is part of work under a renovation permit.
This is the standard building permit application form for all building permits.
This form is to be used only where the Owner is not the Applicant.
This checklist summarizes the most common approvals required
This form summarizes the approvals required prior to the issuance of a demolition permit.
In many instances before a building permit application can be processed and a permit issued, there are approvals from other agencies that may be required. These approvals are not administered by the Building Services Division. Please ensure all required approvals are complete prior to submitting your application using the Applicable Law Checklist.
Abandoned Wells
Abandoned wells shall be decommissioned in accordance to Ontario's Well Regulations, Reg. 903 of the Ontario Water Resources Act.  Contact the Ministry of Environment at 1-800-565-4923 or visit MOE website. The abandonment of private septic system requires that the septic tank be pumped out, crushed and and/ or removed.
CALL OR CLICK BEFORE YOU DIG
The law requires you to contact  Ontario One Call  to locate and mark underground pipes. Call 1-800-400-2255 or submit your request online. This 24/7 service is offered free of charge.
All gas, electrical and other services that may endanger persons who have access to a building or structure shall be shut off and disconnected before, and shall remain shut off and disconnected, during the demolition, dismantling, or moving of the building or structure in accordance to Section 214(3) of the Occupational Health and Safety Act.
Use the Ontario One Call online locate form to locate underground infrastructure before you dig or call: 1-800-400-2255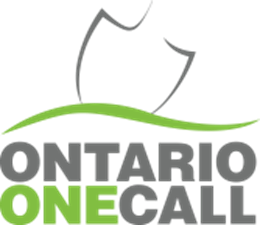 | Description | Fee |
| --- | --- |
| Residential House | $176.58 |
| All Other Buildings 1.2.2.3.(1) OBC | $353.17 |
| Building located on a property subject to the Heritage Act | $2,354.46 |
The Ontario Building Code turnaround timeframes for the first review of a complete application:
Complete Applications      10 Business Days
Incomplete Applications    >15 Business Days 
Factors Delaying Permit Processing Time
Incomplete Demolition Clearance Form
Demolishing a building listed on the Town's heritage inventory or within the Collingwood Heritage District.
Additional review may be necessary if revisions are requested by your Building Inspector due to incomplete, non-compliant, or unclear information.
Sentence 1.3.1.3.(1) of Division C of the Ontario Building Code (the Code) requires that where an application for a permit meets the requirements of a complete application as set out in Sentence 1.3.1.3.(5) of Division C, a decision to issue or refuse (with written reasons) such permit shall be made within times prescribed by the Code. The Code further provides that where the Chief Building Official determines that an application is not complete, the Chief Building Official is not required to make a decision within the times prescribed by the Code.
Submit the complete permit application and all supporting documents using the Public Portal. 
You must register prior to using the Public Portal
Follow the steps when completing your application.
Credit card payment will be required to pay your fees
When your application is successfully submitted through the Public Portal, Staff will complete a pre-screen of your application to review for completeness, compliance with the Building Code and Applicable Law. A status update will be sent via email within mandated timelines. 
You may also view the status under "My Items" on the Public Portal
Application review comments are provided during review to identify any outstanding requirements and to summarize permit fees.
Permit issued when review is complete and all fees are paid.
Please DO NOT include any personal information on your Building Plans (e.g., the homeowner's name or phone number). Building Plans submitted for Permit are subject to disclosure in accordance with the Municipal Freedom of Information and Protection of Privacy Act (MFIPPA).