Agri-Food & Culinary Tourism
The agri-food sector includes primary production of food and beverage, food and beverage processing, distribution, and wholesale. Culinary tourism encompasses those activities that draw visitation to the area primarily for food and beverage, and include fine dining, food service, breweries, wineries, and farmers' market vendors.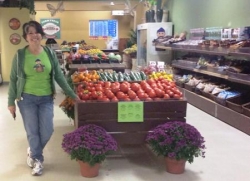 Getting Started
The Collingwood Real Food Market is a family run business that started as a wholesale produce business servicing the Georgian Triangle area since 1953, and in 2014 expanded to a retail market which seemed a natural extension.
They specialize in locally sourced products, organic options and fresh produce.  More importantly though, the Market presents an option to consumers in the Collingwood area.    Maria say, "We are homegrown and proud of it.  We believe that our community is made stronger when we stand together. To this end, we are especially proud to showcase products made by our neighbours.  We carry raw treats and sprouts from Raw Yoga Girl, a lovely local woman with a desire to offer a superior product.  We carry Meredith's Ginger Syrups, where quality really matters.  We carry TeaFrog Teas, a company with local roots and a caring and knowledgeable owner.  We are the only retail carrier of JD Boss Sauce, a superior hot pepper sauce made in authentic Trinidadian tradition right here in Collingwood.  Additionally, we carry Miller's Milk, Kolapore Springs trout, Dinner at Home Meals by Nadine Hughes, Dragonfly Grass Fed Meats, Mum's Original, High on Hemp, My Little Chickpea, Not Yer Granny's Granola and much more."
Collingwood Real Food Market now has 7 employees and in the summer of 2015, they further expanded by participating at 3 local farmers' markets.
Why Collingwood?
The inspiration for this family owned business is local. Maria says there is an abundance of quality, locally grown and manufactured products that can be sourced here, and many suppliers that do not have a venue to showcase their offerings. Couple that with the great outdoor lifestyle Maria and her family take advantage of like enjoying the trails and snowshoeing as well as a thriving, diverse downtown shopping experience – it's the perfect location for them!
Looking to the Future
Collingwood Real Food Market are proud to partner with local entrepreneurs and they envisage a future of continued positive growth that benefits both the entrepreneurs and the surrounding community who prefer to purchase local quality product and enjoy the wide range their unique business can offer them. Visit www.collingwoodrealfoodmarket.com
Getting Started
Dags & Willow Fine Cheese and Gourmet Shop opened for business on December 15, 2005.
The store's owners, Kelly Siskind and Steven Epstein, began their endeavour by selling artisanal cheeses at the local Collingwood Farmer's Market during the summer of 2005. They haven't looked back since. Their love of food and drive for excellence has transformed Dags & Willow into a must-visit destination.
Over the years the shop has evolved, now offering a range of products and services: fresh and frozen prepared foods, breads and bagels, giftware, gift baskets, a host of gourmet packaged goods, and, of course, an astonishing selection of cheeses. Dags & Willow has also developed a thriving wholesale business, distributing both cheeses and foodservice products to local restaurants and Ontario cheese shops.  Today, a trip to Dags & Willow is an adventure! Tasting is not only allowed, it is encouraged , and they pride themselves on expanding each visitor's cheese knowledge.
Named after the owner's dogs – Dagny, a Nova Scotia Duck Tolling Retriever, and Willow, a Collie/Shepherd cross – Dags & Willow Fine Cheese and Gourmet Shop boasts the largest collection of artisan cheeses in the Collingwood area. This coupled with their unique personal approach, makes them a favourite downtown Collingwood destination.
Why Collingwood?
The Collingwood area is a four-season destination spot that attracts individuals seeking intimate service experiences, greater quality of life, and access to some of the best golfing, skiing, hiking, and biking in the area. As owners, we chose to set up our business in the part of Ontario where we could see ourselves living a more meaningful life. The fact that it is home to our target market was an added bonus. Not only do we get to enjoy days snowshoeing and nights at top restaurants, but we also get to interact and serve customers seeking quality products.
Looking to the Future
Dags & Willow is both a destination retail spot that focuses on educating its customers about fine cheeses and gourmet foods, as well as a niche distributor of fine cheeses to shops in central and northern Ontario. We pride ourselves on our knowledge and customer service. As we move into the future, our goals are to continue broadening our range of products to keep Dags & Willow on trend with foods accessible in any major city.
Getting Started
Located at what was known as the 'Old Georgian China Building', The Candy Factory was started in 1972 by Richard Brown with the idea of preserving old fashion recipes and candy making in traditional ways by using proven methods and ingredients.
The current owners, Joe and Mary Dale Matanowitsch purchased the business in 1986. Prior to that, Joe worked at Blue Mountain Pottery until its closing and Mary Dale was a Registered Nurse at the Collingwood Hospital.
Joe and Mary kept the tradition, and the recipes used today are the same, tried, tested, proven-successful recipes from those early days. They invested in more equipment, moved their growing business to the heart of Downtown Collingwood on Hurontario Street in 1990.
Today, there many facets to this fast-growing business. Stepping into the Candy Factory is like stepping back into a time when going to a candy store was a special event. It's filled with everything imaginable to satisfy the sweet tooth from custom truffles and novelty chocolate shapes, to lollipops, fudge and a range of corporate giftpacks and baskets. The creation of the viewing room where the public and school groups are invited to watch as the treats are handcrafted. And then they became importers – importing chocolate and distributing to an extensive network of manufacturers they developed for future processing.
Why Collingwood?
Joe says the lifestyle of living in Collingwood and the future of tourism and recreation potential in 1986 made the decision to get into the business and stay in the municipality easy. "Local residents support us and the tourists have sweet cravings too! In the same manner, we enjoy giving back to our community by supporting fundraisers and other programs.'
The Future
The demand by local corporates for custom gifts has grown and to meet that, new products and flavours are always being developed . A great recent example would be our very successful "Collingwood Whisky Truffles", says Joe. More consistent growth is anticipated with recent medical health studies identifying the health benefits of dark chocolate. And it seems the Candy Factory will be around for a long time here in Collingwood – with one of the next generation of the Matanowitsch family having joined the Candy factory team, with plans to proudly carry on Joe and Mary Dale's legacy for many years to come.
Early Beginnings:
"Kiki's Funnel Cakes" journey began in 2012 when owner, Kim Nolet was teaching the importance, that you can do anything you put your heart and soul into. She explained to her children Michael, Melissa and Samantha that using vision boards was a great method of helping ideas come to life and staying focused.  This is where Kiki's Funnel Cakes was born. The name Kiki was a nickname given to Kim as a child. She was convinced by family and friends that what better name to call her business. The idea to sell funnel cakes was derived from memories of when her children were young and going to the fair was not complete without having a funnel cake before the day was over. They would wait in the infamously long lines for the delicious funnel cakes with ice cream and strawberries sold at the venue. She was always amazed at the length of time people would wait for these tasty treats and how limited they are when wanting to buy them year round.  As her children had grown to young adults, she decided to make this vision a reality, and so Kiki was born.
Kim had no shortage of adversity to overcome before seeing the success of today. She was turned away from several financial institutions. They said, the food industry was a huge challenge especially when opening her first location in a mall, which is what she really wanted to do.  They said she wouldn't survive 3 months with no experience and being in the food industry. Kim was full of determination and never settled with taking no for an answer. Despite all doubt from others, she opened her first location in the Bramalea City Centre in Brampton in 2013. She operated in Brampton for 3 years and was quite successful going full term with 9 employees. They asked her to renew and stay for another 5 years however, Kim had grown and had other ideas. During one of the countless 14 hour days she worked at the mall, Kim suffered an injury that left her entire arm severely burnt from a slip in the deep-fry oil fryer.  After her prolonged recovery, she started to think about the feasibility of the business. Despite the success in Brampton, overhead costs were very high, hours were countless and so she began looking for other markets to enter.
Why Collingwood?
In 2016, she decided to look for a different location to operate her business. The Town of Collingwood quickly came to mind as it was a primary destination that she used to vacation with her good friends of many years. She absolutely loved Collingwood and the surrounding area for all of its beauty and incredible vistas. She believed that the market was perfect for her business and wanted to leverage the constant flow of tourism that Collingwood has to offer during all 4 seasons. She believed that those who are local as well as tourists would enjoy Kiki's funnel cakes and her FUN Fair foods.  After making the decision to sell her home and move to Collingwood she designed and purchased a beautiful, 25-foot custom concession trailer and moved  Kiki's up north to Collingwood as well.  She developed a powerful relationship with the Home Hardware Owner's Brian and Tracey Caron, not to mention their amazing staff that have been so supportive and has helped out whenever Kim needed a helping hand. Jeff, Randy and their team have always been there for her; they are all so much like family says Kim.
Kiki's funnel cakes offer more than just funnel Cakes. The tornado potato is also a renowned hit for her customers. The delicious burgers, ball park dogs and of course, fries are all very popular around town! Being an area where health awareness is a focal point, these recipes make the guilty pleasure a little less guilty. Her funnel cakes have fewer calories than any other recipe, making these cakes perfect for customers in Collingwood. The community within Collingwood has given Kiki's a warm welcoming and this has allowed Kim's business to flourish. She is overwhelmed by the positive wishes that she has received from her customers.
The Future:
Kiki's is truly blessed and is so grateful for the incredibly strong start they have had.  Kiki's Funnel Cakes has been fully operational since February 2017. They are located in the Home Hardware parking lot and are showing no signs of slowing down as they plan to be open for most the year. Kiki's Funnel cakes are currently open 7 days a week. Moving forward Kim plans to re-structure the schedule as well as look towards possibly expanding in the future.  Kim has a great passion for her business. She always believed in herself, and has instilled this characteristic into her children. By overcoming adversity and with the odds stacked against her, Kim is happy to own a successful business in Collingwood. Kiki's Funnel Cakes & FUN Fair Food Truck is a true underdog story, proving that hard work and determination does pay off. For more information on Kiki's Funnel Cakes, visit their Facebook page at www.facebook.com/KikisFunnelCakes.
Early Days
Katherine Maxwell, owner of the Blue Mountain Tea Company, comes from a tea-loving family. She, along with her 2 step daughters, are avid tea drinkers and Katherine, with a business-oriented mindset, started to see a business opportunity unfolding. Having lived in Collingwood for 12 years, she recognized that the demographic here in Collingwood was shifting.  During a ski trip out west, the light bulb went off.  She visited a local loose leaf tea store in a resort town and decided to research whether Collingwood was ready to embrace a locally owned loose leaf tea and herbal emporium.  She determined that more and more people, spanning several demographics, were taking an interest towards the many different benefits of drinking tea and the population of Collingwood, as well as the visitors who flock here, seemed to be an ideal customer base.  With that in mind, Katherine took the plunge and attended the World Tea Expo in California. While there, she obtained a wealth of knowledge about the tea industry and the different products surrounding it. When she arrived home, Katherine began writing her business plan.  She left her corporate job, found a wonderful location and in December 2015 opened her doors to a warm welcome from the community.  Since then the store has built a loyal clientele who visit and order online.
Why Collingwood?
Katherine decided to open her business in Collingwood because she believed that a unique tea shop would be popular amongst the local population as well as the tourist industry. The lifestyle that surrounds Collingwood was perfect for what Blue Mountain Tea Company provided. The health-conscious vibe that is instilled within Collingwood is exactly the mindset that the company operates with. Collingwood is comprised of a dynamic community with a great cross-section of individuals who are seeking out healthy options to support their lifestyle. Blue Mountain Tea's products cater to the local market for this reason. Whether it's the amazing flavors or aromas, or the natural health benefits of drinking tea, Blue Mountain Tea Co. has something for any tea enthusiast. Although many different demographics enjoy tea, one specific target audience that is relatively new to the craze is the millennial generation. This generation is growing very fast in Collingwood and Katherine recognized this upon launching her business. Collingwood is also very community-oriented and the local population love to help one another. Blue Mountain Tea Co. has supported this way of life by donating 1% of their profits every month to a charity that is drawn from a jar of suggestions from their customers. They truly are a brand that is committed to supporting the fundamentals of doing the right thing. Katherine is overwhelmed at the positive response she receives from the community and out-of-town guests and is happy to be a business owner in an area that supports the lifestyle that she wants to promote.
The Future
Katherine and her amazing team are always on the hunt for new trends and flavors surrounding the tea industry. She is also committed to fostering partnerships among other local businesses. She truly believes in collaborative efforts among businesses and as such, works very hard to ensure that her products are able to supplement other businesses success as well as her own. Perhaps what is most important about the future is Katherine's sense of innovativeness. She is an advocate for the fact that tea is very versatile. It can be cold or hot brewed, infused, and even mixed into cocktails. She wants to leverage this versatility towards finding new and improved products for her customers to enjoy. Blue Mountain Tea Company is truly "de-stressing the world, one cup at a time" and Katherine loves the feeling of happiness and positivity that her business instills in each of her customers. She is proud of her amazing team and looks forward to the continued success of her business. For more information on blue Mountain Tea Company, visit their website at www.bluemountainteaco.com.
The Early Days
Paul Luckett worked as a corporate training manager in the retail industry but has always had a passion for food. Paul's success story began when he started making breads and salsas and selling them at a variety of farmers markets. With the support of his wife, Paul realized cooking and creating authentic foods was where he wanted to focus his energy. In 2014, Paul started attending farmers markets even more regularly and was able to get his breads into seven stores from Orillia to Owen Sound.
Paul's goal was to eventually purchase a location where he could sell his authentic Mexican food and in June of 2015, seeing that there was no similar restaurant in downtown Collingwood, he made his dream happen with the opening of the Baked and Pickled restaurant.
Baked and Pickled focuses on authentic Mexican lunch foods providing a wide variety of choices. Through the business relationships Paul has created, he is able to sources all chillies and spices from Mexico! Paul is determined to providing the best quality food to customers, even if it means showing up at 2:30am to prepare the food fresh, which he does every day. Since opening in 2015, Baked and Pickled has provided Collingwood residents a place to go for lunch to enjoy a unique atmosphere, kind employees and delicious authentic Mexican food
Why Collingwood?
Before moving to Collingwood, Paul regularly visited on the weekends to ski in the winter and bike in the summer. Paul eventually moved to Collingwood and worked in retail for eleven years before starting Baked and Pickled. During that time Paul and his wife welcomed two children into their family.
Paul said his number one reason for moving here was because there "aren't too many places in Ontario where you can enjoy shore to slope activities." From a business standpoint, "there is no denying the entrepreneurial spirit that exists here is stronger and more supported than anywhere else I have been," says Paul. Since establishing his business in Collingwood, Paul said that the "support from the town and individuals within Collingwood is pretty phenomenal and the fact that its mostly local business unique to Collingwood along the downtown is pretty special"
Looking to the Future
Paul's plans for Baked and Pickled in the short term include expanding hours to cover dinner and provide more options for customers. This will also include new specials and the introduction of table service evenings with fixed menus. In the long term Paul said he has "expansion on his mind." Paul is looking to expand within the Collingwood area but is also interested in exploring growth opportunities within Wasaga Beach. He intends to perfect his catering business which has taken on a life of its own. Baked & Pickled caters for 12 or more people and has been booked with weddings until fall 2019. Paul said that one of his biggest points of pride is when Mexican workers from Collingwood's diverse community eat at Baked and Pickled and say it "Tastes like home." Come to Baked and Pickled and taste for yourself real authentic Mexican food! Visit www.BakedandPickled.com for more details.
The Early Days
It all started when Steve and Vanessa Walker had an idea to create Walkers OneShot, a Premium Caesar Elixir, handcrafted in Collingwood. Walkers OneShot, with no fuss, it supercharges your classic Caesar cocktail. With humble beginnings, Steve and Vanessa attended various trade shows across Ontario showcasing Walkers OneShot. Steve told us, "after completely selling out of product at trade shows, we knew we had something special."
In early 2018, Steve and Vanessa were featured on Season 13 of CBC Dragon's Den where they pitched Walker's OneShot. Jim Treliving offered a deal for 50% of their business however, Vanessa and Steve decided to take another direction.
In July 2018, Vanessa and Steve opened 1858 Caesar Bar, the 1st Caesar Bar in Canada, in Downtown Collingwood. With 30 difference flavour options, Steve said, "on weekends, lineups were 30-40 minutes long to get in". More than just showcasing the Walkers OneShot, the greater goal was to create and foster a unique, rememberable experience for locals and visitors.
Why Collingwood?
Vanessa and Steve moved to Collingwood 6 years ago as they saw it as an ideal location to raise a family. Steve, who is originally from Mont Tremblant said, "Collingwood has a similar feel" with tons of activities to do all year round. Steve and Vanessa like to spend their summers in and around the lake and their winters skiing.
Steve and Vanessa are also successful business owners of OxiSix Pest Control. You can find OxiSix success story here. 
Looking into the Future
Canada's first Caesar Bar just got bigger!  After only one year of business, selling more than 37,000 caesars and bursting at the seams with eager patrons, they had to expand.Moving to a bigger location meant 1858 Caesar Bar can service more customers at a time and offer more options for food and drinks. Today their new location at 158 Hurontario Street offers even more signature caesar flavours than before, as well as tapas and brunch.
Steve says "we pride ourselves in providing a quick and quality service with a unique and memorable experience".  A memorable experience is right!
For more information about 1858 Caesar Bar, the 1st Caesar Bar in Canada, Click Here!