Community well-being and inclusion focuses on delivering initiatives directed at promoting health and quality of life. This includes working collaboratively with community partners to build environments, programs and policies that support equity, health and connectedness.
Healthy Communities - Activities
Play with the block-based Imagination Playground, an incredible play system for unlocking children's creative spirit. Have fun with giant sized games (Connect Four, Jenga, Tic Tac Toe, Yatzee). Or create your own game at one of the activity stations. The mobile trailer is full of all kinds of equipment, encouraging outdoor, free, recreational activities for children of all ages.
Heritage Park Play
Every Tuesday, begins Tuesday July 25, 2023 at Heritage Park, 451 Third Street.
11:00 a.m. to 12:00 noon
Mobile Park Play
Every Thursday at a new park location
10:30 a.m. to 11:30 a.m.
July 20, Mountaincroft Park, 150 Findlay Drive
July 27, J.J. Cooper Park, 91 Chaberlain Cres.
August 3, Walnut Street Park, 425 Walnut Drive
August 10, Bell Blvd Park, 21 Bell Boulevard
August 17, Kinsmen Park, 43 Lockhard Road
August 24, Morbay Park 39A Bush Street
August 31, Riverside Park, 19 Williams Street
StoryWalk is located along the Train Trail starting at the Station Museum, 45 St. Paul St. in Collingwood. Follow the Train Trail and read the pages of a picture book. Each page is positioned on a metal sign and covered with plexiglass. StoryWalk was created in 2007 by Anne Ferguson in Montpelier, Vermont and developed in collaboration with the Kellogg-Hubbard Library.
What is Geocaching?
Geocaching is an outdoor treasure hunting game using a GPS enabled device. Caches (containers) are hidden at different locations throughout Collingwood, along the trail system. Inside a cache there are trinkets to trade and a logbook to sign. Caches may be hidden behind a tree, under a log or beneath a rock. All of our geocaches have been registered with Geocaching.com.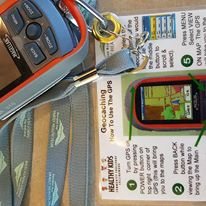 How do I find a hidden cache?
1. Borrow a GPS device from the Collingwood Public Library
OR
2. Download the free geocaching app from Geocaching.com
Geocaching Etiquette
1. Watch where you travel - be aware of the plants in the area, each cache is located close to the trail.
2. Return the cache where you found it.
3. Sign the Log - when you find a geocache make sure you sign the log book and share your experience with others.
4. Be prepared - bring a bottle of water and wear sunscreen. if you have a trinket to trade bring an item and trade it for a trinket in the cache.
Does the Town have sledge for use by the public?
Yes. We have seven sledges and these are stored at Central Park Arena. Ask an arena attendant to help you get a sledge out from storage if the sledges are not already out. They are free to use but you will need to sign a waiver. Pucks are not allowed during public skating.
How will I know which sledge to use? 
When you are sitting in a sledge, your knees should be slightly bent and your feet should be supported on the strap at the end of the sledge. You may need to shorten or lengthen the leg support.
Will an arena attendant help me get in to the sledge?
No. The attendant will tell you how to get in and out but you should be able to do this on your own. If you need help to get into the sledge, you need to ask a family member or friend to assist you.
How do I move myself forward in a sledge?
You will be provided with two sticks that have picks on the ends. Push yourself by digging the picks into the ice. Use caution and keep aware of the people around you.
Do I need good balance to use a sledge?
Yes. You may tip over while trying to use a sledge. It can be very hard to get back upright. Make sure you have a family mamber or friend close by to help you. If you don't have good balance you may want to use a sledge that has anti-tippers. Ask an arena attendant if there are any available.
Can someone push me in my sledge?
Yes but they must wear skates or ice cleats. There is a push bar available with the sledges.
Do I need to wear protective gear while using a sledge?
A CSA approved helmet is reconmmended. You may also want to wear protective gloves and elbow pads.
Chair Yoga
Chair Yoga will return Fall 2023. To access recorded sessions visit the Collingwood Public Library YouTube. When participating in Chair Yoga, suitable footware, comfortable clothing and a water bottle are recommended.
Healthy Communities - Supportive Environments
Water Bottle Refill Station

Water bottle refill stations are available in a number of municipal facilities including the:
Collingwood Public Library
Centennial Aquatic Centre
Eddie Bush Memorial Arena
Central Park Arena
Sunset Point 
Students at all Collingwood elementary and secondary schools can also fill their water bottles at refill stations in their schools.
Keep an eye on the counter on the top right corner to see how many bottles have been filled at each station since 2017.
BlueW
Wherever you are in the world, you won't have to pay for a drink of water when you are thirsty. 
The blueW.org is a unique community-based program dedicated to promoting municipal tap water as a healthy, easily accessible alternative to purchasing bottled drinks. We provide mapped details on where to find clean, free, public and commercial sources to fill your reusable bottle without compelling you to make additional purchases - just look for the blueW.org decal in participating shop and restaurant windows.
To find locations in Collingwood to fill up your water bottle use this map.
Add a 'Walk or Wheel' to your day. Active modes of transportation help:
Support daily physical activity
Create safer, calmer streets and neighbourhoods
Reduce traffic congestion
Improve air quality
Improve mental and physical health
Collingwood is one of 10 municipalities working in collaboration with the Simcoe Muskoka District Health Unit, Simcoe County District School Board and the Environment Network to support On the Move, an Active School Travel Project funded by Ontario Active School Travel, a program of Green Communities Canada. To learn more visit the Simcoe Muskoka District Health Unit webpage On The Move
We all play a role in road safety. For pedstrian and cyclist safety tips please consider the following links:
Pedestrians
Simcoe Muskoka District Health Unit
Ontario Ministry of Transportation
Cyclists
Ontario's Guide to Safe Cycling Manual
Container Gardens
Heritage Park, Sunset Park Community Garden and Collingwood Museum
Healthy Kids Gardens - Collingwood YMCA
Tower Gardens