Collingwood Community Clean-Up Days
April 22 - May 9, 2023
---
April 22 – May 9 are Collingwood Community Clean-up Days. Join this year's efforts to help keep Collingwood litter-free. Community Clean-Up Days 2023 will begin on Earth Day, April 22nd, and continue until May 9th, the Provincial Day of Action on Litter.
To kick off this year's Community Clean-up days, the Town will host a Community Earth Day Event in partnership with the Collingwood Climate Action Team (CCAT).
Earth Day Event - April 22, 2023
Flag Raising, 10:00 am, Collingwood Curling Club, 250 Hume Street
2023 Earth Day flag designed by CCI student Gabriela Vara Molino will be unveiled
Earth Day Proclamation shared by Mayor Yvonne Hamlin
Earth Day Gathering, 10:30 am to 1:00 pm, Collingwood Curling Club, 250 Hume Street
Free Family event
Live Music with Joanna Horning and the Collingwood School of Music
Meet with Town of Collingwood Council members and learn about the Corporate Climate Change Action Plan
Earth Day themed games, crafts and activities
Earth Day 'bingo' to wind door prizes
Learn how to measure your household carbon footprint
Collingwood Poet Laureate Jillian Morris
Local environmental groups including Nottawasaga Conservation Authority, Blue Mountain Watershed Trust, Friends of Silver Creek, the Nature League, the Escarpment Corridor Alliance, Pollinate Collingwood and POW.
For more information visit Collingwood Climate Action Darth Day Fair.
  Getting Involved
We can all do our part to keep Collingwood clean and beautiful while getting outside, spending time being active, and showing our support for a worthwhile project that benefits our Town and our community's well-being. By extending the community-wide clean-up initiative over several days we will help provide more opportunities for residents to lend a hand and help clean-up Collingwood.
Ways to Get Involved
Prevent waste: stop waste before its created. 
Reduce waste: giving old products new life instead of throwing them away. 
Divert waste: recycling or composting materials when and where possible to divert waste away from landfills. 
Report litter and waste that has been rudely dumped in our community, so that Town Staff can respond. 
Share thanks to your neighbourhood sanitation workers for keeping the community clean & safe.
Pick-up litter around Town when you go out for walks to reconnect with nature and get fresh air.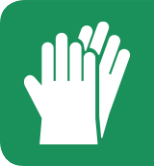 Supplies Provided
Residents can pick-up garbage bags, recycling bags, and gloves from the Collingwood Public Library or alternatively at the Town Hall during regular business hours beginning Tuesday, April 19th. Please note that Town Hall is currently open Monday - Friday from 8:30 a.m. to 4:30 p.m and the Library is open Monday through Friday 10:00 a.m. to 6:00 p.m. and Saturday 10:00 a.m. to 5:00 p.m.
  Bag Collection
When you are finished with your garbage collection you can leave the bags at one of the three designated drop-off locations to be picked up by our Town staff. Our staff will take care of the rest. It's that simple! Look for the drop-off location signage at Millennium Park, Harbourview Park, and Heritage Park. 
  Safety Tips
Below are some additional Community Clean-up Days safety tips.
Location
Be aware of your surroundings at all times.
Do not pick up litter or debris on a roadway surface or too close to the road's edge.
Do not wade into any body of water to retrieve garbage including streams or creeks.
Do not climb any steep embankment or ravine side to retrieve a piece of trash. 
Ensure your work area is kept clear of obstacles to avoid any trips.
Dress for the occasion
Dress for the weather including proper rain gear or sun protection as the weather dictates.
Wear sturdy shoes or boots to protect feet from uneven surfaces, stones, or glass.
Wear reflective vests or brightly-coloured clothing if working near roads.
Wear gloves to protect hands from abrasions, cuts, and chemicals. Replace gloves as needed.
Reapply sun protection as necessary.
Self-Care
Always wear gloves and wherever possible use a garbage picker.
Be sure to bring your own bottle of water and stay hydrated.
Wash hands before eating, drinking or touching your face.
Avoid restricting postures or take frequent breaks to avoid any strains.
Set up a home base location in your clean up area for the large bags, for example near an existing park garbage can. Participants should fill smaller bags, place them into the large bags at the centralized location, and tie the tops when they are full. There is no need to move full large bags.
Know your location and what to do in emergency situation. Consider bringing a personal first-aid kit
Watch & Avoid
Do not touch or pick-up items whcih may be hazardous or that you cannot identify, including barbed wire, glass, needles, pipes or other drug paraphernalia.
Wild animals, animal burrows, insects, hives and nests.
Noxious weeds such as poison ivy and giant hogweed.
Debris with sharp or rusted edges.
Chemicals, dead animals or birds.
Discarded needles or other drug paraphernalia:
All needles, sharp objects and biohazards found in parks, along trails or around Town facilities are to be removed as soon as possible since they may pose a risk to residents, visitors and staff. Please mark the location  with a stick, do not touch and call Parks staff, 705-444-2500.
For information on what to do if you find a needle on private property please visit Simcoe Muskoka District Health Unit Found Needles Fact Sheet.
Provincial Day of Action: Act On Litter
Why it matters
We generate nearly one tonne of waste per person every year in Ontario. It is estimated that almost 10,000 tonnes of plastic debris enter Ontario's lakes and rivers each year.
In Ontario:
Almost 50% of waste is diverted through blue box or green bins
 
70% of general waste materials from residential, commercial and industrial locations end up in landfills. 

When food and organic waste breaks down in landfills it produces harmful greenhouse gases. Ontario's greenhouse gases from solid waste in landfills totaled 3.4 million tonnes CO2e (carbon dioxide equivalent) in 2018 . Waste that doesn't get recycled or go to landfills ends up as litter in our environment, which can have a negative effect on local ecosystems. Litter along our shorelines, in our green spaces and on our streets can spill into our waterways and break down into micro-plastics in the environment, which can hurt or even kill wildlife and damage ecosystems.
How to take action: What you can do
Your actions matter.
Recycling one aluminum can saves enough energy to run a TV for three hours, or one game of hockey.
Almost every plastic item we've made since the 1950s is still in our environment.
Consider:
donating gently used plastic toys instead of throwing them away
using your own dinnerware instead of plastic or paper plates
swapping your plastic water bottle for a reusable one when you're on the go
being part of our Community Clean-Up program
Step Up and Pick Up
Form additional information on the Provincial Day of Action: Act on Litter and to learn more about how you can help our environment visit https://www.ontario.ca/page/act-on-litter