Annual Collingwood Art Crawl is Back for 9th year in 2021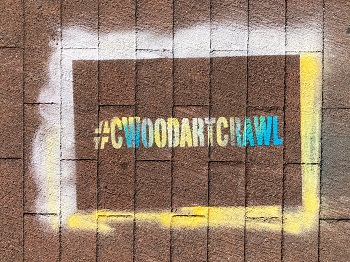 Collingwood, ON [September 9, 2021] – The Collingwood Art Crawl returns on Saturday, September 18, 2021 with music and art throughout historic Downtown Collingwood. Presented by the Town of Collingwood and Butter Gallery, the free, self-guided art walk, will feature artists and musicians from across the region inside more than 30 venues on Saturday afternoon. 
Shops, boutiques, restaurants, and storefronts will host visual artists featuring photography, jewelry, painting, mixed media and more, and musical acts from across Ontario. This all-original music features a range of genres, from folk to jazz, and everything in between. 
An Online Gallery will introduce crawlers to each registered artist and musician with individual profiles featuring artist biographies, images of current works, links to performances, social media and online stores.  
A map available at official venues, as well as online, will provide details on which artists and musicians will participate in-person and at which locations. Venues will be following all COVID-19 health and safety protocols. Crawl hours have been extended and outdoor components have been removed to alleviate large gatherings.    
The Collingwood Art Crawl is presented by the Town of Collingwood and Butter Gallery and generously sponsored by the Collingwood Downtown Business Improvement Area (BIA), The Jen Scholte Team, Fram/Slokker, and The New Shipyards. 
Visit www.collingwoodartcrawl.com for full details and follow @CollingwoodArtCrawl on Facebook and @Collingwood.artcrawl on Instagram to keep up to date. 
About Collingwood
The Town of Collingwood is a progressive community located in the heart of a four-season recreation area on the southern shore of Georgian Bay. The area is well known for its many natural amenities and its rich heritage. Collingwood is a destination for tourism and many business, sporting and cultural events. Collingwood acts as a gateway to the South Georgian Bay region, with stunning landscapes that encourage an active lifestyle and inspire the local arts and culture community. Downtown Collingwood might just surprise you with 30 plus restaurants, 60 plus boutique shops, spas for relaxing, live music for grooving…all in the only downtown core recognized in Canada's Registrar of Historic Places! More recently, the harbourfront area is emerging as an extension to the downtown district. Plans for expanding the amenities and events in the harbourfront area promise to make this a much more prominent tourism destination.
For more information:  
Manager, Culture & Events
Karen Cubitt
T. 705-445-1030 Ext. 3711
kcubitt@collingwood.ca
Manager, Public Relations & Communications
Christa Carter
T. 705-445-1030 Ext. 3274
ccarter@collingwood.ca