Collingwood Chalk'n Talk: Mental Health Matters
Category:
Parks, Recreation, & Culture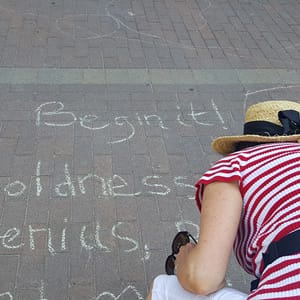 Add your voice, join the conversation and get loud about what mental health really is. Write a positive message, words of kindness or an image on Collingwood's Chalk'n Talk sidewalks.
May 6-12th is Mental Health Week supported by the Canadian Mental Health Association (CMHA). The focus of Mental Health Week is to reduce the stigma of mental illness and promote good mental health for all Canadians.
We all benefit from celebrating, promoting and acknowledging the role of good mental health. Mental health is something we all have.
Guided by research from around the world, the CMHA highlights six features of good mental health as part of this year's theme, 'Get loud about what Mental Health really is.' These common features include a sense of self, a sense of purpose, of belonging, contribution, enjoyment and resilience.
"Collingwood's Chalk'n Talk invites the community to be actively involved in Mental Health Week and to share words or images of what mental health looks like for them" said Jennifer Parker from Collingwood Parks, Recreation and Culture.
Chalk'n Talk will be happening at Town recreation facilities, Collingwood library, community organizations and schools across Collingwood. To get involved in the community Chalk'n Talk, visit the sidewalk in front of Town Hall on Tuesday May 7th starting at 10:00 a.m.