The Collingwood Museum and OPP Museum face off in Final Round of County-wide Competition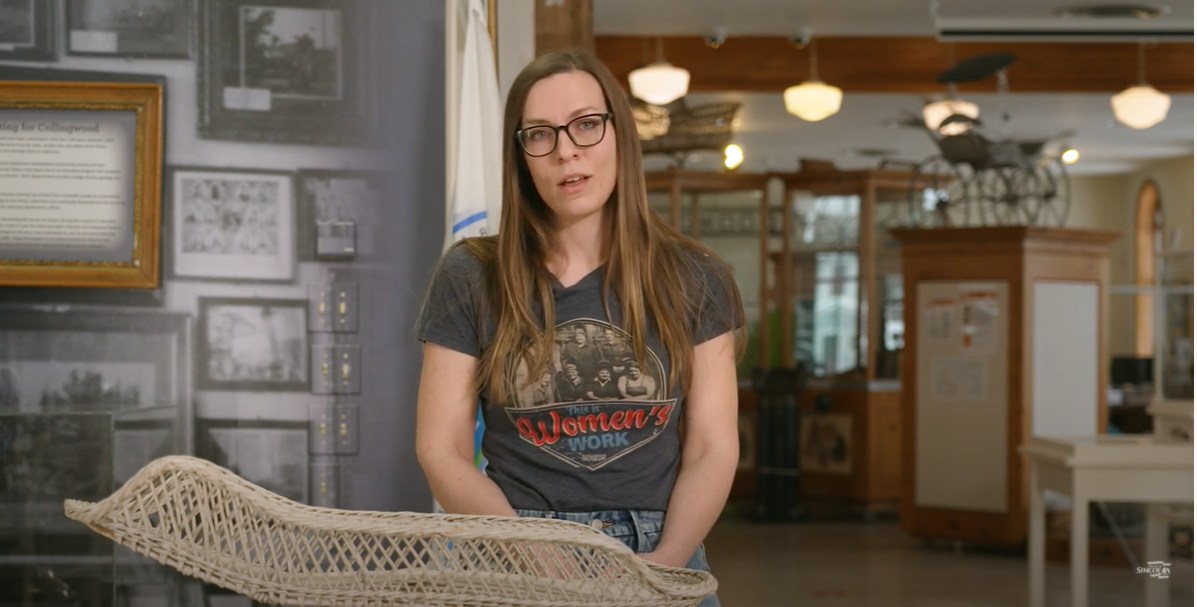 The Collingwood Museum has made it to the third and final round of Simcoe County's March Madness artifact showdown! Led by Simcoe County Museum, this initiative has provided local heritage sites with a great opportunity to share their collections and reach new audiences. 
Voting for Round Three of the March Madness competition runs from March 22 to 24 at 4:30 p.m. Visit experience.simcoe.ca/sumac to watch the Round Three video and vote for your favourite artifact! 
This friendly competition has pitted eight Simcoe County sites against one another to show off their chosen artifact. Each round has featured new videos with staff making their case for why their institution's artifact should win. Now, more than ever, the Collingwood Museum needs your vote!
The OPP Museum is showcasing the oldest known OPP patrol vehicle, a very rare 1931 Henderson KL motorcycle. The Collingwood Museum has selected a wicker baby scale that was used by Nurse Ethel May Dawson, often referred to as Collingwood's Florence Nightingale. 
Nurse Dawson's kindness and hard work were so renowned, she is still remembered 122 years after she began her career. Many Collingwood residents remember Nurse Dawson in her role as school nurse, where she provided essential services to the town's children. She was also known for delivering more than 2000 babies, collecting supplies during the influenza epidemic of 1918, and operating a clinic for mothers and babies at All Saints' Anglican Church. The Collingwood Museum is honoured to highlight the legacy of this local hero and has saved the story of Nurse Dawson's most touching gift to the community for the last video.
If you missed the first two rounds, the Collingwood Museum's video submissions can be found on www.collingwood.ca/museum. Each video contains new information about Nurse Dawson's legacy
For more information, contact:
Elise Barr-Klouman
Education Programmer
Collingwood Museum
T. 705-445-4811 Ext. 7223
eklouman@collingwood.ca
    
Christa Carter
Manager, Public Relations & Communications
Town of Collingwood
T. 705-445-1030 Ext. 3274
ccarter@collingwood.ca