Collingwood Museum partners with Rogers tv for Virtual Shipyard Social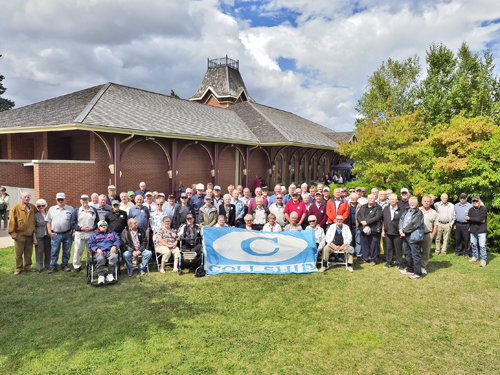 Collingwood, ON [Friday, September 11, 2020] - The Collingwood Museum is excited to announce that a recent partnership with Rogers tv will result in a broadcast of archival shipyard footage throughout the month of September.
Saturday, September 12, 2020 marks the 34th anniversary of the Collingwood Shipyards' closure and would have been the date for the Museum's flagship community event, the annual Shipyard Social.
To honour the event in a virtual format, Museum staff and Rogers tv have joined forces to ensure that the spirit and history of the shipyard is shared with the viewing public. The special feature will combine the Collingwood Museum's 1994 production of Collingwood Shipyard Trades alongside launch footage from Rogers' video archives.
The special will air on the local Rogers station at 8:00 a.m., 10:00 a.m., 11:00 a.m., 12:00 p.m., 3:00 p.m., 6:00 p.m., and 9:00 p.m. on September 12, 2020. A full listing of air times for the month of September can be found at www.rogerstv.com. The special can also be watched free of charge on the website. 
Last year's Shipyard Social attracted 97 former workers and approximately 200 community members to the Museum grounds in a community celebration of the men and women behind Collingwood's legacy of shipbuilding.
For those interested in visiting the Museum on September 12th, 45-minute self-guided tours may be booked in advance by calling 705-445-4811 Ext. 7211. Please note that capacity is limited and a face mask or covering is required at all times in the building. Public washrooms are not available at this time.
Stay tuned to the Museum's Facebook page and website for additional updates throughout the month of September.
Image courtesy Dave West Photography