Collingwood Public Library works to restore further services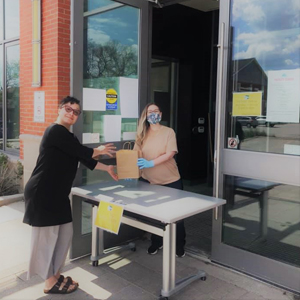 On June 8, the Premier of Ontario announced that some public libraries are permitted to partially re-open under stage two of the second phase of the government's framework for reopening the province. What libraries are allowed to offer is restricted to only a few services: they may reopen with limited on-site services, such as computer access and contactless book pickup and drop-off. Patrons are not permitted to handle books or materials on shelves. Libraries should operate in adherence with public health guidelines on physical distancing, capacity and hygiene procedures (e.g., disinfecting returns and high-touch areas like computers).
"We will work to make this happen. First, we are insuring we have proper safety protocols in place. The Province isn't ordering libraries to re-open on June 13, it is saying that some libraries in certain parts of Ontario may reopen to offer limited services, but only if they can do so safely. In the meantime, while we work to put in place the proper barriers and signage, we will continue to offer curbside pickup, which has proven to be quite popular with our community. We will continue to keep everyone informed as decisions are made and plans confirmed," says Ken Haigh, Collingwood Public Library CEO.
Curbside pickup started just over two weeks ago. Over 7000 items were in circulation in the community when the service began. To date, library staff have received and safely processed over 2300 returned items. Curbside pickup and dropbox hours continue Monday to Friday from 12:00 PM to 6:00 PM. Place a hold online at www.collingwoodpubliclibrary.ca or by calling. Library staff notify patron when items are ready for pickup during regular curbside hours.
In the interim, CPL encourages patrons to continue to enjoy the many online offerings that are available: eBooks, eMagazines, eAudiobooks, databases (like ancestry.ca), children's songs, stories and crafts, lectures, tech talks, online yoga, etc. These can be found www.collingwoodpubliclibrary.ca and via social media at www.facebook.com/collingwoodpubliclibrary.
New offerings to online programming include the start of the TD Summer Reading Club, iPhone photography workshops, genealogy workshop, and Canada Day author talk, with more being added regularly.
Staff are responding to voicemail and email from Monday to Friday, 10:00 AM to 6:00 PM. Contact the library at 705-445-1571 or email info@collingwoodpubliclibrary.ca. For more information and updates, please visit www.collingwoodpubliclibrary.ca.