Council Highlights - Monday, April 29, 2019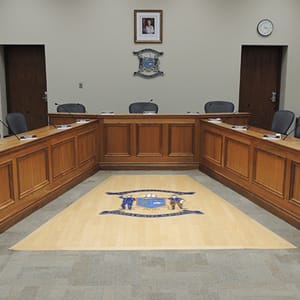 The Rogers TV broadcast of this meeting will be available online at rogerstv.com.
Community Announcements:
Council encouraged the new Anti-bullying Club which recently held their first meeting at the Collingwood Public Library.
Council commented on the public engagement that was experienced at a recent Urban Forest Management Plan Open House.
Council encouraged the community to visit www.mayorsgolfchallenge.ca to learn about the upcoming Mayor's golf tournament.
Public Meetings:
Council heard Staff and public comment on Proposed Building By-law and Fees to be enacted under Section 7 of the Building Code Act. This new by-law will be given future consideration.
Council heard Staff, Developer, and public comment on Proposed Official Plan Amendment, Zoning By-law Amendment, and Plan of Subdivision relating to Panorama North. These amendments will be given future consideration.
Development & Operations Services Standing Committee:
Council received the Collingwood Heritage Committee minutes from April 3, 2019.
Council approved a zoning by-law amendment for proposed towhnhouse development located within the Shipyards Side Launch 2 development.
Council appointed Ms. Robin Shugan as the Risk Management Official and Inspector for the South Georgian Bay Lake Simcoe Source Water Protection Plan for the Town of Collingwood in accordance with Part IV of the Clean Water Act 2006 
Council adopted the Official Plan Amendment to the Wellhead Protection Areas and Contaminated Site sections within the Town of Collingwood Official Plan
Council supported the new route and changes to the County of Simcoe LINX transit system.
Bylaws:
Council appointed Meckenzie D. Wright and Helena J. Beck as Municipal Law Enforcement Officers for the Corporation of the Town of Collingwood.
In-Camera:
Council appoints new members to the Collingwood Heritage Committee.
Agendas and Minutes are available online at: https://collingwood.civicweb.net