Council Highlights - Monday, April 8, 2019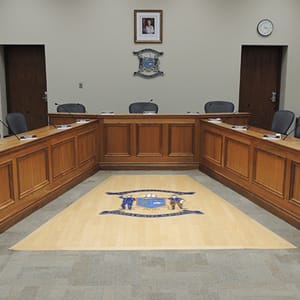 The Rogers TV broadcast of this meeting will be available online at rogerstv.com.
Community Announcements:
Council thanked and acknowledged all the volunteers in Collingwood in celebration of Volunteer Week.
Mayor Saunderson introduced the new Director of Planning and Building Services Mr. Adam Farr and welcomed him to the Town of Collingwood.
Corporate & Community Services Standing Committee:
Council approved the discontinuation of the Collingwood Elvis Festival as a municipally-managed event following the 2019 edition.
Council approved the reallocation of resources, currently allocated to the Collingwood Elvis Festival, to initiatives that support the Community Based Strategic Plan objective of "supporting and expanding the diversity of community events and festivals" for consideration in the 2020 budget deliberations
Council requested the process to transition the festival to a private operator be referred to staff for further information on the process including consideration or requirement of a competitive proposal process.
Council directed staff, through the special event permitting process, to support the transition to a private operator for the purpose of maintaining the Festival's quality standards and brand reputation.
Council approved the removal of the existing Heading Dockside mural and the commission of a new mural at the same location.
Council received the report on the allocation of the 2019 Community Recreation and Culture Grant Program.
Bylaws:
Council approved the by-law to authorize the execution of the Clearview Wastewater Management Agreement.
Other Business:
Council heard a preliminary presentation on the Development Charges Study.
Councillor Jeffery provided an overview from her recent participation at the Federation of Canadian Municipalities (FCM) meetings regarding current FCM initiatives, advocacy work, and changes to their vision, mission statement, and strategic plan.
Councillor Doherty provided a review of the recent Bike Summit Event that she attended in Toronto, and requested clarification on the use of Federal Gas Tax Funds on installation/implementation of separated bike lanes on various streets throughout Town.
Council requested a Staff Report for information on the inventory of developments currently in the books, and if possible, those that have been applied for that have not received approval, to determine how it compares with the current population forecasts in the Official Plan as established through the Provincial Growth Plan for 2031.
Council requested a Staff Report including an update on the budget, money spent to date, money in reserves, timeline, and specified user groups that will benefit from or have contributed to the construction of the field house at Fisher Fields.
Agendas and Minutes are available online at: https://collingwood.civicweb.net