Council Highlights - Monday, August 26, 2019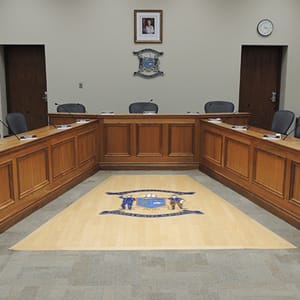 The Rogers TV broadcast of this meeting will be available online at rogerstv.com.
Community Announcements:
Members of Council thanked Phragmites removal volunteers, congratulated the BIA on great events, commented on the fun of Sidelaunch Days and Elvis Festival, asked for the announcement of the Sunset Point Park Playground Family Engagement Workshop and Fisher Field Open House, shared memories of a former Collingwood High School teacher, promoted Collingwood Colts games, Library programs, My Friend's House Women's Wellness event, Youth Centre documentaries, Frozen Voyage community art, shared that the Mayor's Golf Tournament raised $46,000 for charity and programming, and welcomed new staff members.
Public Meeting:
The public had an opportunity to review and provide comments on the proposed Official Plan Amendment and Zoning By-law Amendment for 360 Raglan Street, which would include an addition to the existing building with an 18 metre setback and a rezoning of the lands to an Industrial exception category.
Strategic Initiatives Standing Committee:
Council enacted and passed the Development Charge By-Law, which includes a phasing in of the non-residential development charges beginning January 1, 2020.
Development & Operations Services Standing Committee:
Council approved a Part Lot Control Exemption for 3 lots within the Riverside Subdivision.
Council received the Staff Report on the Analysis of the Demolition of Heritage Designated Buildings & Structures.
Council approved the Part Lot Control Exemption to allow for the creation of 11 freehold lots for townhouses, one block for 72 apartments in 2 buildings, and an associated common element condominium at the Blue Fairway - Phase 3 development.
Council approved a Site Plan Control Agreement and a Zoning By-law Amendment at the North Pine Street Shipyards Harbourfront Collection Townhouses.
Council approved an Application for Permit to Destroy Trees at 70 Huron Street, with conditions.
Council approved the Application for Approval to Expropriate Land for the purpose of Storm Drainage Work at 70 Huron Street.
Council received the Staff Report on the Environmental Services: 2019 Midyear Operations. A date will be set for public consultation.
Motions:
Council instructed staff to prepare a report to establish a policy for the installation of public benches on municipal property including but not limited to locations, quantity, and future donor rights or obligations; and that a moratorium on the installation of additional benches outside of the projects already approved for 2019 be established until a policy is reviewed and approved by Council.
Bylaws:
Council authorized the execution of an Ontario Transfer Payment Agreement for the SBEC Program.
County Report:
Deputy Mayor Hull reported on waste pickup delays, LINX ridership successes, the Collingwood to Barrie Rail Trail, and the Simcoe Airport purchase for future expansion.
Other Business:
Councillor Comi provided an update on Ontario Active School Travel, the Hamilton Drain Trail Crossover project, and Crossing Guard recruitment.
Deputy Mayor Hull requested a School Board report to Council.
Councillor Jeffrey encouraged all to contact the police if unsafe driving behaviours are observed.
Councillor Hamlin suggested a street-play initiative.
In-Camera:
Council went in-camera to discuss a) Pretty River Estates LPAT, b) Collingwood Heritage Committee Appointments , and c) Potential Property Acquisition.
Agendas and Minutes are available online at: https://collingwood.civicweb.net