Council Highlights - Monday, July 22, 2019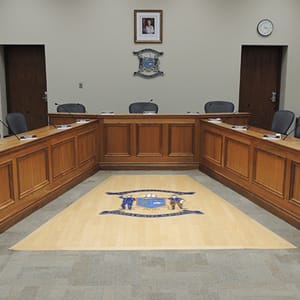 The Rogers TV broadcast of this meeting will be available online at rogerstv.com.
Public Meeting:
The public had an opportunity to review and provide comments on the 2019 Development Charges Background Study, related Staff Reports, and the proposed Development Charges By-Law. Development Charges are levied against new development, and are a primary resource of funding for growth-related capital expenditures. The 2019 Development Charges Background Study relates to the provision of eligible DC Services (ie. Library, Fire Protection, Police, Parking and By-law, Outdoor Recreation, Indoor Recreation, Administration, Transit Services, Roads and Related, Water and Wastewater Services).
Deputations:
Representatives from Nottawasaga Valley Conservation Authority presented on recent changes to core mandate for conservation authorities.
Representatives from Sunset Point Residents Association (SPRAC) presented on various matters at Sunset Point. 
Strategic Initiatives Standing Committee:
Council approved the Auditor's Report of 2018 Financial Statements.
Council authorized a budget increase of $650,000 for the Wastewater Treatment Plant Diesel Generator Replacement Project.
Development & Operations Services Standing Committee:
Council authorized the discharge of a Site Plan Control Agreement from the remnant lands of the Wyldewood Cove project located at 11616 Highway 26.
Regarding the Monaco Development at 263 Hurontario Street & 1 Hume Street, Council enacted and passed Authorization By-laws to execute a Site Plan Control Agreement, Encroachment Agreement, and Hoarding Agreement, with conditions. Council also approved discharging the Site Remediation Agreement from the title of the lands to be developed, with a Site Remediation Agreement remaining on all other lands listed in the Site Remediation Agreement, with securities being retained until works set out in the Agreement are complete. 
Staff Report:
Council received an update on the Fisher Fieldhouse Project. A public meeting will be held at a future date.
Motions:
Council instructs staff to commence the process of eliminating all single use plastics in municipal facilities and report back to Council in 6 months to provide an update on the progress.
Council requests a staff report to provide options regarding the future of the Collingwood Grain Terminals further to the 2018 engineering report, and that the report include but not be limited to consideration of public private partnerships, full divestiture, Waterfront Master Plan integration, public consultation, and potential third party expertise to facilitate and guide the process.  
Council approved support in the amount of $75,000 in 2019/20, to be used at the discretion of the CAO for assisting the 'Out of the Cold Program' with expenses to be drawn upon primarily for staffing once the program coordinator and overnight staff are in place, and that additional annual funding be considered during the budget deliberations following receipt of an annual program review to be provided to Council. 
Agendas and Minutes are available online at: https://collingwood.civicweb.net