Council Highlights - Monday, March 25, 2019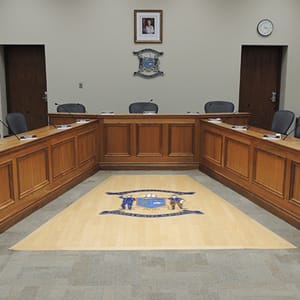 The Rogers TV broadcast of this meeting will be available online at rogerstv.com.
Community Announcements:
There will be booths set up around Collingwood for the Canadian Cancer Society's Daffodil Campaign.
YMCA "Move To Give" fundraising event is on April 6. Activities may include cycling and aquafit.
The sale of the Collingwood Regional Airport has closed.
Public Meetings:
Council heard Staff, Developer, and public comment on Proposed Zoning By-law Amendments relating to Bridgewater on Georgian Bay. This amendment will be given future consideration.
Council heard Staff, Developer, and public comment on Proposed Official Plan Amendment and Zoning By-law Amendment relating to Pretty River Estates. These amendments will be given future consideration.
Deputations:
Trevor Henson presented on the recently launched Anti-Bullying Campaign and Club.
Various groups presented on the Living Waters Site Plan.
Development & Operations Services Standing Committee:
Council approved a by-law to authorize the execution of a Site Plan Control Agreement for property municipally addressed as 201 Raglan Street between Jasper Group Inc., Bay Haven Nursing Home Incorporated and the Town of Collingwood.
Council granted a permit with amendment for tree-cutting on vacant lands prior to site plan approval for the Sunbelt Rentals development.
Council approved an Encroachment Agreement for 33 Ste. Marie Street.
Council approved a Development Agreement for 25 Katherine Street.
Council authorizes an amending Site Plan Agreement for Living Waters - Phase 4.
Council approves the 2018 Annual Wastewater Compliance Report and the Clearview Wastewater Management Agreement.
Strategic Initiatives Standing Committee:
Council receives the Town's Strategic Financial Plan.
Council approves changes to Council Renumeration.
Council authorizes the pre-budget procurement of Capital budget items as outlined.
Staff Reports:
Council receives a report on 2018 Statement of Renumeration Paid to Council and Appointed Board Members.
Council receives a report on expenses excluded from the 2019 budget.
Bylaws:
Council approves the 2019 Operating & Capital Budget
Other Business:
Councillor Jeffrey reports on key items from the FCM, which include a one-time doubling of gas tax money, $950mil for green access, rural broadband expansion, and federal/municipal relationship strengthening.
In-Camera:
Council appoints new members to the Trails Advisory Committee and the Museum Advisory Committee.
Agendas and Minutes are available online at: https://collingwood.civicweb.net