Council Highlights - Monday, May 27, 2019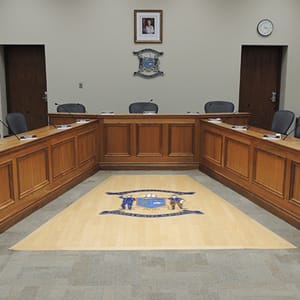 The Rogers TV broadcast of this meeting will be available online at rogerstv.com.
Community Announcements:
Council promoted a number of community events, including but not limited to National Health & Fitness Day, Treeplanting at Harbourview Park, Accessibility Info Fair at the Library, the Water Summit, and the Golf with the Mayor event.  
Deputy Mayor Hull promoted the Simcoe County Collects waste management mobile app.
Councillor Hamlin encouraged residents to view the new Interactive Development Maps at www.collingwood.ca
Deputations:
Huronia Community Foundation presented on Community Fund opportunities.
Consent Agenda:
Council approved Municipal Regional Review comments.
Council approved Town involvement in an economic development trip to Katano, Japan.
Development & Operations Services Standing Committee:
Council approved the new Building By-law and Permit Fees.
Council approved repeal of By-law No. 2005-033 with amendment.
Council approved the request for a new Plans Examiner Position.
Council approved the discharge of Site Plan Agreement; 1104558 Ontario Inc. (Van Dolder); Registered Plan 51M-1154
Council approved a Part Lot Control Exemption By-law to allow 18 lots to be created within Block 3, 4, 5, 6 of Registered Plan 51M-1124.
Motions:
Council approved an amended motion regarding comment on the Ontario Government's Bill 108.
Other Business:
Mayor Brian Saunderson commented on a recent tour of Simcoe County's new affordable housing complex in Collingwood.
Councillor Comi and Director MacDonald commented on the planned construction of a crossover at the Hamilton Drain Trail Crossing at Hurontario Street.
Agendas and Minutes are available online at: https://collingwood.civicweb.net