Council Highlights - Monday, October 28, 2019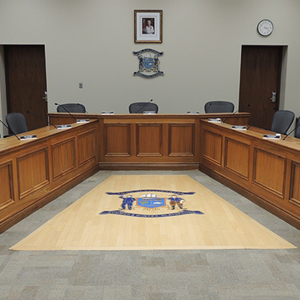 The Rogers TV broadcast of this meeting will be available online at rogerstv.com.
Community Announcements:
Members of Council promoted Active Transportation, Poppies for Remembrance Day, Remembrance Banners, Everest Challenge, BIA Black Harvest, Santa Clause Parade, BIA Social, Halloween Road Safety, Lighthouse Support Concert at Simcoe Street Theatre, Georgian Triangle Humane Society Remembrance Pins, Hospital Fundraiser Ski Films, Order of Collingwood Nominations, and Museum Word Share.
Deputations:
Takako Ito, Consul-General of Japan discussed Collingwood's upcoming delegation to Japan.
Ron Kilius of the Never Forgotten Memorial Foundation of Canada requested a resolution of support for building a memorial.
Steve and Vanessa Walker of 1858 Caesar Bar request a Patio Extension.
Consent Agenda:
Council approves support for the Town of Penetanguishene as a primary location for Francophone University.
Development & Operations Services Standing Committee:
Council approved Heritage Committee minutes including two recommendations.
Council approved the Expropriation Plan for 70 Huron Street Drainage.
Council approved with amendments the Authorization By-law to execute a Site Plan Control Agreement at 84 Hurontario Street - The Regent.
Council approved the Official Plan Amendment, Zoning By-law Amendment, & an Authorization By-law to execute an amendment to the Site Plan Control Agreement at 360 Raglan Street.
Council approved the Sandford Fleming Drive Conveyance.
Other Business:
Council directs Staff to prepare a report outlining opportunities for the municipality to fill apartments and vacant spaces within the downtown core, through incentives and partnerships with stakeholders.
CAO Fareed Amin provides a 2020 Work Plan.
Director MacDonald discusses plans and initiatives for Town roadways and crossings.
Mayor Saunderson announces details about the Towns involvement in a UN Habitat initiative.
Agendas and Minutes are available online at: https://collingwood.civicweb.net