Council Highlights - Monday, September 30, 2019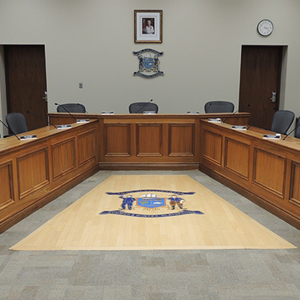 The Rogers TV broadcast of this meeting will be available online at rogerstv.com.
Community Announcements:
Members of Council promoted the Care Gala, students at WeDay, Climate Strike March, Order of Collingwood Nominations, Art Crawl successes, trail rules (no motorized vehicles permitted and cycling speeds), Rosh Hoshanah, the new Kinsmen Club, National Breastfeeding Week, Pink Week and Run For The Cure, International Walk to School Day, regional arts strategy, and a potential regional performing arts centre.
Public Meeting:
The public had an opportunity to review and provide comments on the proposed Official Plan Amendment for Balmoral Village, which would increase the maximum number of residential dwelling units for the whole of Balmoral Village from 300 units to 313 units, and on Blocks 2, 3, and 4 from 210 units to 217 units.
Consent Agenda:
Council approved giving proclamation for Pregnancy and Infant Loss Remembrance Day.
Council carried supporting a Mississippi Mills resolution on reducing waste and litter in our communities.
Rogers TV will not be livestreaming the Oct 21 Committee Meeting due to Federal Election coverage.
Council carries that Ho Ho Holiday 5K designated as a Municipally Significant Event for the purposes of a Special Occasion Permit.
Development & Operations Services Standing Committee:
Council extended draft approval for the proposed Trails of Collingwood Plan of Subdivision for a further year.
Council decided to not authorize the installation of all-way stop control at Third Street and Cedar Street as the intersection does not meet the requirements of the Town's stop sign policy.
Council approved a Subdivision Agreement for the development referred to as Summit View.
Council approved a Site Plan Control Agreement for Parkbridge Lifestyle Communities Inc.'s National Headquarters and directed Staff to proceed with a non-standard procurement process for the Town's storm sewer infrastructure works in conjunction with the Site Plan Control Agreement.
Motions:
Council approved proceeds from the 2019 Mayor's Golf Tournament be allocated as follows: 50% to Special Olympics and 50% to Home Horizons Youth Reconciliation and Placement Programs.
Notice of Motion:
Councillor Berman gave Notice of Motion proposing the Town of Collingwood officially declare a Climate Crisis based on the UN Climate Report.
Other Business:
Councillor Jeffery provided an FCM Update.
Agendas and Minutes are available online at: https://collingwood.civicweb.net