Council Highlights - Wednesday, October 16, 2019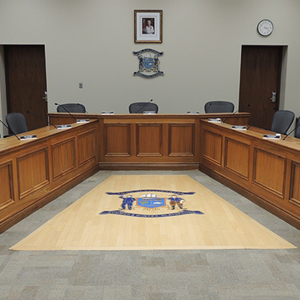 The Rogers TV broadcast of this meeting will be available online at rogerstv.com.
Community Announcements:
Members of Council commented on the date change for the Development & Operations Standing Committee Meeting, the Everest Challenge, Georgian Triangle Humane Society Volunteer Info Session, Flu Shots, Poppy Season for the Legion, FCM Scholarships for young women, TED X event, Banners for Remembrance, the Winter Farmers Market at the Trinity Church, and a recent concert and play at the Simcoe Street Theatre. 
Consent Agenda:
Council discusses Joint and Several Liability Consultation with the Township of Springwater, a Call for restriction on vaping and flavoured e-cigarettes by the Simcoe Muskoka District Health Unit, an introduction of the Citizens for Collingwood group, Integrity Commissioner Matters at the Town of Blue Mountains, and development of a new YMCA in Barrie.
Corporate & Community Services Standing Committee:
Council approved meeting minutes from the Collingwood Downtown BIA Board of Management, Museum Advisory Committee, and the Trails Advisory Committee.
Council approves the Town of Collingwood Cycling Plan and directs Staff to implement the recommendations through funding requests during budget deliberations. It is noted that the Cycling Plan would roll out in pieces over time as budgets can allow.
Council approves the signing of a donor agreement for a very generous Tree Donation.
Staff Reports:
Council approves a Part Lot Control Exemption By-Law to allow for the creation of 85 lots for 71 townhouse dwelling units and 14 semi-detached dwelling units within the Summit View Subdivision.
Motions:
Council approves with amendment a declaration of climate crisis and directs Staff to investigate actions and resources to combat climate change. 
Other Business:
Deputy Mayor Hull reports that $55,000 had been raised for United Way of Simcoe Muskoka.
Councillor Jeffery requests a Staff Report on the feasibility of hosting an FCM board meeting and participating in FCM international programming.
Deputy Mayor Hull announces that the Aquatice Centre will be re-opening after a construction delay.
In-Camera:
Council went in-camera to discuss fire negotiations and the Judicial Inquiry.
Agendas and Minutes are available online at: https://collingwood.civicweb.net