Curbside pick-up to launch at the Collingwood Museum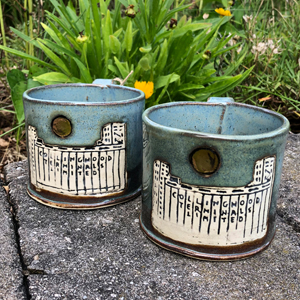 The Collingwood Museum is pleased to announce that it is taking steps to return to services. While the building is not yet ready to re-open to the public, staff will be offering curbside pick-up, commencing Monday, August 17.
A limited supply of Collingwood Terminals mugs made by local artist Kirsty Wilson will be available as part of this offering. These mugs were the Museum's top-selling item in 2019 and will go quickly!
Museum staff will be available to receive and process orders by telephone Monday to Friday, 9:00 AM to 4:00 PM. Please note that prepayment is required.
All pick-ups will be appointment-based, occurring Monday to Friday between 10:00 AM and 3:30 PM at the Museum's entrance on Veteran's Crescent. Please note that same-day pick-up may not be possible.
Please direct all inquiries and gift shop orders to 705-445-4811 Ext 7211.
Discover more about the Collingwood Museum at www.collingwood.ca/museum