Enjoy the Collingwood Christmas Market in your festive historic Downtown!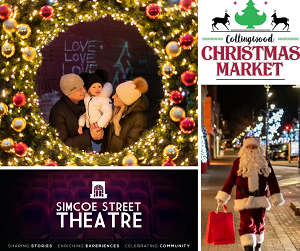 Mark your calendars for each Friday evening in December to experience the tradition of the outdoor Christmas Market in beautiful downtown Collingwood.  Starting on Friday, December 3 and continuing each Friday evening from 5:00 p.m. to 8:00 p.m. until December 17, the downtown will come alive with lights, entertainment, food, and fun.
 
The stores are full of wonderful gift ideas and Christmas cheer. The selection will be expanded with the return of your favourite Farmers' Market vendors who will line the sidewalks of Hurontario Street during the Friday evenings.
 
The downtown has been dressed in beautiful holiday lights for you to enjoy – including festival 'selfie' stations – even the 'CWOOD' sign at Town Hall has turned red and green in celebration of the Christmas season.
 
The evening will be full of entertainment for you, friends, and family to enjoy! Enjoy the magic of the dancers from Fleetwood Dancentre and 5678 Dance as they perform in the windows and on the street.  You will be amazed by the strolling entertainers – stilt walkers, lighted hula hoops, jugglers and more!
 
And of course, a Christmas celebration wouldn't be complete without a visit from Santa himself. Santa is looking forward to visits with children of all ages in his big red sleigh each evening beside the brightly lit Christmas tree. Make sure to tell him the wishes on your Christmas list this year.
 
NEW! to the Christmas Market experience this year, tickets are on sale now for the Christmas Concert Series at the Simcoe Street Theatre. With concerts following the December 3rd and December 17th Christmas Markets and an additional performance on December 4th, the Collingwood Live & Original Music Initiative and Collingwood Unity Collective are thrilled to welcome concertgoers back to the Simcoe Street Theatre for three fabulous shows:  
 

Sultans of String - Christmas Caravan Concert
December 3
Doors 8:00 p.m., Simcoe Street Theatre, $25
Take a world music tour with award winning ambassadors of musical diversity, Sultans of String, while they expand the traditional notion of Christmas music with their new, genre-hopping disc, Christmas Caravan.
 

Sultans of String - Refuge & Sanctuary Concert
December 4
Doors 8:00 p.m., Simcoe Street Theatre, $25
This ambitious, diverse, inclusive and passionately artistic experience puts Sultans of String face-to-face with a VIP roster of global 'ambassadors', some of whom are recent immigrants and refugees to Canada, as well as important Indigenous voices.
 

The Pairs - The Magic of Music Concert
December 17
Doors 8:00 p.m., Simcoe Street Theatre, $25
The Pairs create acoustic harmony pop tunes grounded in unique rhythms that will hug your ear drums and inspire you to dance. Add some holiday songs to brighten the season and you have the making of a magical music experience.
 
COVID-19 guidelines, including mandatory proof of vaccination upon theatre entry and masks must be worn. Refreshments provided by Low Down Bar.
 
Show Tickets and more information about the Christmas Market are available at www.collingwoodchristmasmarket.com
 
The holidays may be different this year, but the businesses of your downtown are ready to help you make it special. We invite you to enjoy the festive lights that adorn the downtown while shopping.  Rest assured that we are keeping your safety in mind all while ensuring you can find that perfect gift. Support local and shop your neighbourhood this Christmas!
 
The Collingwood Christmas Market is presented by Collingwood Downtown and the Town of Collingwood with support from the Province of Ontario and BruceGreySimcoe.