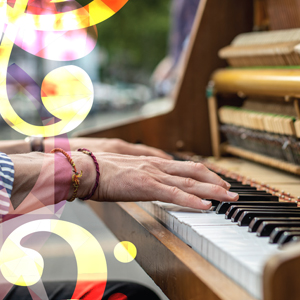 Street Pianos set to sing again throughout Collingwood's Historic Downtown - Saturday, August 3 to Monday, August 5
The Keys to Collingwood Festival on Civic Holiday Weekend marks the return of the popular Street Pianos! Beautifully restored pianos will be installed on the streets of Collingwood's Historic Downtown for all to enjoy. Once again, the pianos will feature iconic images commemorating our community's history. 
Talented musicians are scheduled to play for more than 50+ hours on the ten street pianos during the launch weekend. Performances are Saturday, August 3 to Monday, August 5 from 11:00 AM to 3:00 PM each day, featuring music of all genres, including jazz, blues, rock, classical, and gospel.
Returning again this year is the Monster Ground Foot Piano, located at Sheffer Court - 186 Hurontario Street, between 3rd and 4th Streets. Come on downtown and let your dance moves create some musical tunes!
Remember…the fun continues through the month as the pianos remain on the streets for your pleasure and enjoyment. The unexpected often happens when someone sits down at one of these wonderful musical instruments.
For a complete line-up of performers, bios, and piano locations, please visit www.collingwooddowntown.com.