Mainstreet Gets a Digital Makeover - Interactive app revitalizes the downtown Collingwood experience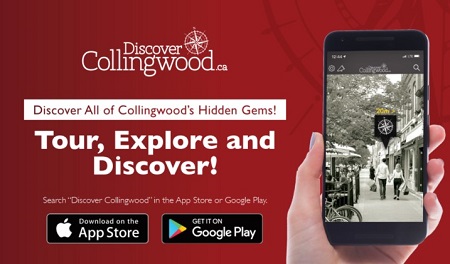 There's a new way to experience the heritage charm and fresh features of downtown Collingwood, and it starts with your mobile device. 
 
The brand new, Discover Collingwood app, one of the first of its kind in Ontario, is now available for free in the Apple App Store or Google Play Store, and is compatible with iPhone and Android devices. Scanning a QR code on wayfinding signs throughout Town, also known as Discovery Hubs and Pedestrian Experience Finding, will also prompt your device to download the free app, or simply search "Discover Collingwood".
 
The Discover Collingwood app is more than just a digital map. It offers several virtually guided tours with narration, images and text to enhance your exploration. Harbour Hike, Heritage Walks, Architectural Tours and a Good Food Stroll are the themes around which the tours and signage are designed. It's like having a local guide in your pocket! Additionally, the use of augmented reality for iPhone users (compatibility with Android launching later this year) make the tours even easier to self-navigate.
 
"We're thrilled that this initiative marries technology with traditional storytelling. Collingwood is steeped in stories about its rich heritage and up-and-coming culture and community. The app and signage give residents and visitors a chance to learn more about our vibrant town in an innovative and exploratory way," says Brennan Kenny, Manager of Economic Development for the Town of Collingwood.
 
Beyond the Discover Collingwood app, upgrades have been made to municipal parking lot signage, with wayfinding stations and a new contactless way to pay for parking via the HotSpot app. Eight Discovery Hubs throughout Town feature artistic renderings of noteworthy areas, as well as information about nearby businesses and heritage buildings. Clad in black steel frames, the signs are a nod to Collingwood's shipbuilding and railway industries of the past.
 
The digital makeover was borne out of a desire to offer a sustainable and innovative pedestrian experience that not only meets COVID-19 guidelines but can serve the community and its visitors for years to come. The flexibility of an app allows for information to be updated and disseminated in a convenient and contactless way.
 
Download the Discover Collingwood app in the Apple App Store or Google Play Store for free today by searching "Discover Collingwood" and start your tour of Collingwood! 
 
For more information about Discover Collingwood, visit www.discovercollingwood.ca.
About Collingwood
The Town of Collingwood is a progressive community located in the heart of a four-season recreation area on the southern shore of Georgian Bay. The area is well known for its many natural amenities and its rich heritage. Collingwood is a destination for tourism and many business, sporting and cultural events Collingwood acts as gateway to the South Georgian Bay region, with stunning landscapes that encourage an active lifestyle, and inspire the local arts and culture community.  Downtown Collingwood might just surprise you with 30 plus restaurants, 60 plus boutique shops, spas for relaxing, live music for grooving…all in the only downtown core recognized in Canada's Registrar of Historic Places!  More recently, the harbourfront area is emerging as an extension to the downtown district.  Plans for expanding the amenities and events in the harbourfront area promise to make this a much more prominent tourism destination.
For more information, contact:
Christa Carter
Manager, Public Relations & Communications
Town of Collingwood
705-445-1030 ext 3274
ccarter@collingwood.ca
    
Brennan Kenny
Manager, Economic Development
Town of Collingwood
705-445-1030 ext 7421
bkenny@collingwood.ca