Mayor, Fire Chief, & OPP Inspector Provide a Community Update
Category:
Council, Fire & Emergency Services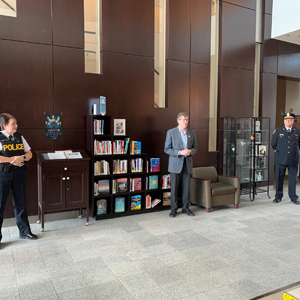 On Thursday, April 9, Mayor Brian Saunderson, Fire Chief Ross Parr, and Inspector Mary Shannon (OPP) provided an update to local media in the lobby of the closed Collingwood Public Library.
They stressed the importance of staying at home, exercising physical distancing, and self-isolating so that we can limit the spread of COVID-19 in our community. Local cases of COVID-19 have been confirmed and the virus is now spreading through community transmission.
Fire Safety
Open Air Burning Permits ARE REQUIRED for ALL outdoor fires within the Town of Collingwood.
Do not burn your yard waste. 
You must exercise physical distancing and avoid gathering in groups. 
Please make safe and healthy decisions when deciding to have a campfire. 
Enforcement
Enforcement of Traffic Offences continues
Public education is underway regarding closures, physical distancing, and essential services
For neighbourhood concerns (noise, property issues, parking, animal control, etc), reach out to Collingwood's By-Law Enforcement Officers at bylaw@collingwood.ca or 705-445-1030 ext. 3256. Online Complaint Form 
Report minor crime online at opp.ca/reporting
For emergencies call 9-1-1
Town Updates
The Town of Collingwood has proactively implemented a number of temporary measures to help get ahead of COVID-19 and to protect residents, staff, and businesses. The Town is closely monitoring the situation and is ready to ramp up Business Continuity and Essential Services Plans in the event that COVID-19 escalates further. Town Staff and Council are working hard to safeguard the best interests of the community while continuing to successfully deliver Town Services.
The Town's critical and essential services, including fire services, drinking water & wastewater treatment, enforcement of priority bylaws, and essential front counter customer services will continue (online and over the phone). The Town has isolated critical Staff so to ensure the continuation of essential services.
The Town of Collingwood will continue to track financial costs and will look for additional ways to collaborate with the County, Municipal partners, and the local hospital.
Learn how to protect yourself and your family and support our community at www.collingwood.ca/covid