Media Release: Weather and waves cause damage at Sunset Point and Heritage Drive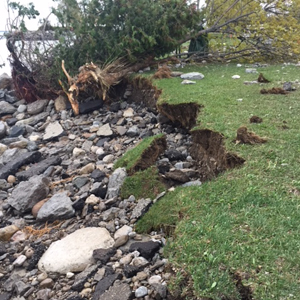 Collingwood, ON [1 November 2019] – Sunset Point and all of the Collingwood coastline was hit hard last night due to the high winds, rain and waves, causing major damage and dangerous conditions.
The best efforts that staff could take in preparation yesterday were not enough and the foundation of the Inuksuk is now exposed as well as more land lost along the park shore.
Residents are asked to avoid the park at Sunset Point, as well as the trail and roadway at Heritage Drive. Waves have undermined some of the trail there and the roadway is covered in water.
Town staff continue to assess and work with contract engineers on solutions that may reduce damage to Town property
-30-
For more information, contact:
Director, Parks, Recreation & Culture
Dean Collver
T. 705-445-1030 Ext. 3238