New Pedestrian Crossover at Hamilton Drain Trail Crossing Opens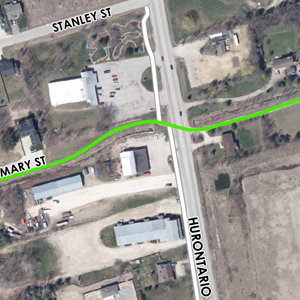 Please take notice that the pedestrian crossover on Hurontario Street at the Hamilton Drain Trail Crossing, which is south of Stanley Street, is now open and activated.
Crossovers are a way for pedestrians to easily and safely cross the road. By law, drivers and cyclists must stop and yield to pedestrians intending to cross the road, and wait for them to completely reach the other side before driving. This new crossover has a button pedestrians can push to activate flashing lights.
Signage will be in place informing drivers of the new crossover. The OPP has been asked to monitor driver behaviour.
This new crossover also ties the trail system together on the Hamilton Drain Trail.
Drivers, cyclists, and pedestrians should pay extra attention while getting familiar with this new crossover.
Pedestrians
Make sure drivers or cyclists have enough time to stop before you begin to cross.
Make it clear that you want to cross.
Press the push button to activate the flashing lights.
Make sure the driver or cyclist sees you before you begin to cross.
Cross when traffic has come to a complete stop and you feel it is safe.
Drivers and Cyclists
Watch for pedestrians who would like to cross the road.
Stop for pedestrians at the marked yield bar.
Allow the pedestrian to cross the entire width of the road before driving.
Do not pass any other vehicle within 30 metres before a pedestrian crossover.