NOTICE OF PUBLIC INFORMATION CENTRE: RAYMOND A. BARKER WATER TREATMENT PLANT EXPANSION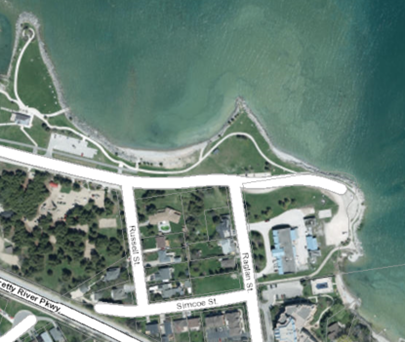 A Public Information Centre (PIC) has been scheduled to provide an opportunity for all interested parties to review the design details of the Water Treatment Plant (WTP) expansion, and to discuss the project with the design team. The PIC schedule is as follows:
    
Date: Wednesday, October 26 2022
Time: Drop-in sessions 2:00 - 4:00pm and 5:30 – 7:30pm
Location: Collingwood Library, Community Rooms B & C, 55 Ste. Marie St, Collingwood, ON L9Y 0W6 
Project Background
Following the completion of the Class Environmental Assessment planning process, the Town of Collingwood has continued with the design of the Phase 1 expansion of the Raymond A. Barker Water Treatment Plant (WTP). A further expansion will be necessary to meet the ultimate water supply requirements.
Project Scope
Phase 1 will increase the plant capacity from 32,000 to 59,000 cubic metres per day. The design includes interim installation of UV disinfection; a new membrane and UV disinfection building; expansion of the high-lift pumping facilities; repurposing the existing membrane building for additional chlorination, administration and storage; climate mitigation including site and shoreline improvements; and site features including public washrooms, and Saugeen Ojibway Nation information, history and art.     
The Town has retained the services of AECOM (in partnership with Ainley Group) to complete the design and contract administration of the Phase 1 WTP expansion. The Raymond A. Barker WTP is located on Raglan Street. The map below illustrates the proposed works currently under design.
Project Budget and Schedule
The opinion of capital cost of the Phase 1 expansion of the plant is $121 million. Funding for the Phase 1 expansion will be provided through the Town's Allocated Water Reserve Fund (funded through water rates), Development Charges, and the establishment of Water Agreements with other municipalities.    
Comments
Comments in response to the information presented at the PIC will be received until November 25, 2022. If you are unable to attend the PIC, presentation material will be available on the Town of Collingwood's website at  www.collingwood.ca as of October 26, 2022. To obtain additional information or to provide input, please contact either of the following members of the study team:
Ken Kaden, P. Eng.
Project Engineer, Environmental Services
Town of Collingwood 
705-445-1581
kkaden@collingwood.ca 
Mike Ainley, P. Eng., PMP
Project Director
Ainley Group
705-444-4466
mike.ainley@ainleygroup.com
Any input received during this process will be maintained on file for use during the project and may be included in project documentation. Information collected will be used in accordance with the Freedom of Information and Protection of Privacy Act. With the exception of personal information, all comments will become part of the public record.