NOTICE - Temporary Sidewalk Closures
Category:
Public Works, Temporary Road Closures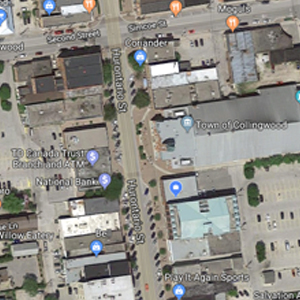 Please take notice of this service interruption.
Beginning on Wednesday, July 31, the sidewalk in front of Town Hall will be unavailable during the day due to brick restoration. Sidewalk access is being rerouted to the west side of Hurontario Street via the pedestrian walkway to Second Street/Simcoe Street.
Town Hall main entrance can only be accessed from the north by heading south along Hurontario Street from Simcoe Street while the sidewalk in front of Town Hall is closed.
At the end of each work day, the restoration contractors will push the fence back so that the sidewalk can be re-opened.
Thank you for your patience and understanding.
For questions or concerns, please contact clerk@collingwood.ca or 705-445-1030.