NOTICE - Waves Cause Damaged Shoreline at Sunset Point Park. Stay Clear!
Category:
Parks, Recreation, & Culture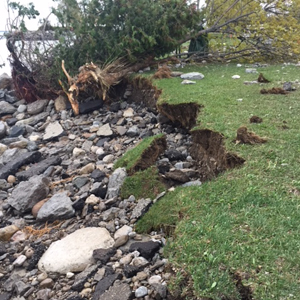 Please be advised that there is significant damage to the shoreline at Sunset Point Park as a result of winds and waves that have been active since Thursday, October 17.
In some cases, up to 8 (or more) feet of formerly stable land has been taken by the water. Large barrier rocks that have been the shoreline defense against waves have been removed completely by the waves, leaving exposed sod at the water's edge, which is now vulnerable to wind and water. These conditions leave the shoreline prone to slides and sinkholes.
Protective barriers are in place at the park to indicate where it may be dangerous to walk. The public is cautioned against walking near the Sunset Point Park shoreline. Please stay clear. The public should be cautious on all shorelines as a result of these high water levels.
Town Staff are working on a responsive action while ensuring public safety.