Register Now for the Habitat in Towns - Collingwood World Summit
Category:
Corporate Service, Events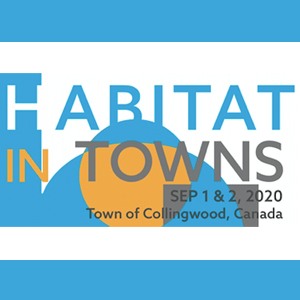 Join the Urban Economy Forum (UEF), in collaboration with UN-Habitat and the Town of Collingwood, for the Habitat in Towns - Collingwood World Summit on Tuesday, September 1 and Wednesday, September 2, 2020. This virtual summit will work toward realizing the 17 Sustainable Development Goals (SDG), and in particular the urban SDG: creating resilient and sustainable towns and communities.
Dr. Eduardo Moreno, Head of Innovation and Knowledge Branch of UN-Habitat, will highlight the City Prosperity Initiative (CPI), an urban assessment tool for prosperity, and the role urban assessment and data has to help towns and cities maximize the value of their local resources.
Speakers from the around the globe will share their practices about sustainability, help create synergies for collaboration and efficiency, and encourage leaders to elaborate and exchange their experiences about transition towards sustainability. Central governments, international agencies, and the private sectors will also be called on to support town and city leaders and invest in securing a sustainable future. 
In the process of urbanization, the role of towns in the world is important because in many countries and societies, towns are centrally placed in the process of urbanization and climate change. They are faced with all the same problems as our metropolitan cities, but at a different scale. Towns have many opportunities to solve these problems within their own context. These opportunities can create a great change and transformational movement in the world. 
The Town of Collingwood, the host town, in collaboration with UN-Habitat and Urban Economy Forum, is honoured to invite all the city leaders, town/urban managers, and relevant stakeholders to come together and join in this international initiative. 
Collingwood World Summit Themes:
Urban Assessment towards realizing Sustainable Development Goals
Urban assessment is an important path toward sustainable development. City Prosperity Index is one of the main tools to evaluate a city's progress on SDGs. It can help identify the challenges that towns face and to recognize priority programs that towns should follow. Understanding the methods and tools for measuring and evaluating SDGs is crucial. This is the first step towards implementing SDGs, particularly SDG11: sustainable and resilient cities and communities.
 
Sustainable Resources, Urban Economy, Municipal Finance, and Investment Opportunities
One of the main issues for most municipalities is access to financial resources. Cities need financial sources to support sustainable programs. Thus, urban economy is one of the most important components of SDG11. Urban economy progress must be clearly monitored and the best strategy should be defined accordingly.
 
Families: Women and Youth as a fundamental component for Sustainable Town Development
Women and girls represent half of the urban population and, consequently, they contain half of the cities' potential. Gender equality, in addition to being a human right, is vital to achieve nonviolent societies and full human capacity and resources to move toward sustainable development. Moreover, any society needs empowered women to achieve economic prosperity, justice, or developed urban areas. It is also essential for women to achieve equal opportunities in access to urban developmental benefits. Finally, women have an essential role in the family and community. They can deeply influence a change in lifestyle, which is an important factor to realize SDGs.
 
Impacts of COVID-19 on Town Development and Sustainability
COVID-19 has created an unprecedented challenge for our urban centres and towns may be among the hardest hit due to their demographics and lack of resources. Understanding how towns can become more resilient and self-reliant is crucial. This is especially important to reduce negative consequences from unexpected events, such as Covid-19 or other disasters.
For further information and to register for Habitat in Towns - Collingwood World Summit please visit: https://www.ueforum.org/habitatintowns or email alex.venuto@ueforum.org.