Road & Sidewalk Construction Underway, includes expanded Treeplanting
Category:
Parks, Recreation, & Culture, Public Works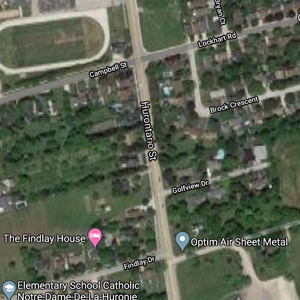 The Town of Collingwood has begun growth-related construction improvements on the intersection at Hurontario Street and Lockhart Road/Campbell Street.
Lockhart Road will have a dedicated left hand turn lane for vehicles turning south onto Hurontario Street. Campbell Street will have a dedicated left hand turn lane for vehicles turning north onto Hurontario Street. Traffic lights will be replaced and an accessible crosswalk at the intersection will be installed. This crosswalk will feature accessible curbs, tactile indicator plates at the curbs, accessible push buttons, and an "APS" audio system for those with visual disabilities.
A new watermain will also be installed on Campbell Street, from Maple Street to Hurontario Street. This watermain replacement is an asset management project that replaces an old, undersized watermain with one that will improve the overall water system in the area. 
This infrastructure project will also include a new sidewalk on the east side of Hurontario Street from Lockhart Road to the new Tracey Lane (Indigo Estate Subdivision). This new sidewalk will be wider than a standard sidewalk at 2 metres, and will offer appropriate space for required utility locates, grading constraints, snow storage requirements, and the planting of new trees. Drainage infrastructure will be installed with this sidewalk to collect surface water. The sidewalk portion of this infrastructure project will connect the active transportation route along Hurontario Street, further enhancing accessibility and encouraging active transportation in Collingwood.
Town Council has directed staff to replace any removed trees in the community with new trees at a ratio of 2:1. So, 118 new trees will be planted in Collingwood to replace the 59 trees that are being removed out of necessity at this infrastructure construction location. 21 new trees will be planted along the new sidewalk on Hurontario Street, with spacing to ensure tree health and transportation safety. An additional 97 trees will be planted at proposed locations elsewhere along Hurontario Street, along Findlay Drive, along Highway 26 East, and at Legion Park.
This infrastructure enhancement project is one of many efforts the Town is undertaking to achieve community goals for safe and modern road networks, expanded active transportation and accessibility, and management of our vibrant urban forest.