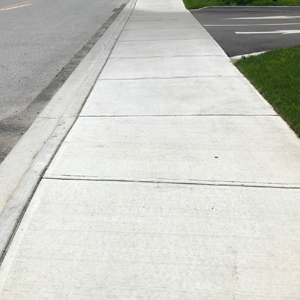 Every year, the Town of Collingwood inspects and repairs approximately $50,000 to $60,000 in heaved or damaged sidewalk. These repairs involve removing the severely damaged and heaved sidewalk and replacing them with new sidewalk. In some cases, grinding out a sidewalk hazard is an option. Yearly, the Town makes hundreds of repairs and grinds to our municipal sidewalks.
Inspection of municipal sidewalks is currently underway. During the inspections, paint is applied to the hazardous locations so to provide an additional warning to the walking public. The Town follows this up with the necessary replacement, repair, or grind at a later date.
 
The Sidewalk Repair Program occurs annually because every year frost, trees, or other elements impact the sidewalks of Collingwood.