Town of Collingwood Seeks Residents' Feedback on Fireworks
Category:
Parks, Recreation, & Culture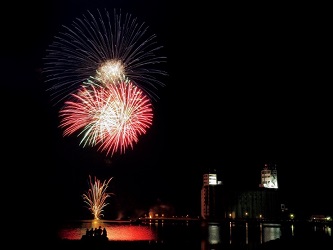 The Town of Collingwood is seeking feedback from the community regarding Town displayed fireworks and the role they play in the Town's annual Canada Day festivities. 
For decades, firework displays have accompanied various annual celebrations nationally.  The Town of Collingwood wants to hear from the community on how fireworks may or may not play a role in our Town events going forward.  This is a result of members of our community having expressed concerns about fireworks and the challenges they can present with respect to noise, environmental impacts, and pet welfare. To better understand these concerns and the community's desire to continue or discontinue firework displays, the Town has issued a survey to collect community feedback. 
The survey can be found online at https://engage.collingwood.ca/fireworks-in-collingwood. Paper copies are also available at Town Hall, 97 Hurontario Street. The fireworks survey is open now until December 9, 2022.  
Feedback gathered through this survey will help staff make informed recommendations to Council about fireworks or firework alternatives, such as drone shows, at future Canada Day events and other potential times throughout the year. 
It is important to note that this survey does not pertain to personal, backyard fireworks, but large-scale public displays only.
Photo: Dave West Photography 
For more information, contact:
Manager, Culture & Events
Karen Cubitt
T. 705-445-1030 Ext.3711
kcubitt@collingwood.ca
Manager, Public Relations & Communications
Christa Carter
T. 705-445-1030 Ext. 3274
ccarter@collingwood.ca