Claudia Ferraro, Poet Laureate 2020-2021

Claudia was born and raised in Collingwood and completed her honours degree in English and Creative Writing at Dalhousie University in Halifax. During her term as Collingwood's second Poet Laureate, Claudia made numerous appearances at community and civic gatherings, created poetry installations for our parks and trails, led workshops and hosted events and offered us words and prose that brought joy and hope to the commuity during the pandemic while reminding us of the importance of the arts to our health and well-being. Thank you Claudia! 
Telling Our Stories Through Poetry
On April 21, 2021, Collingwood's Poet Laureate Claudia Ferraro hosted a free, virtual discussion and reading with four incredible published Canadian poets in celebration of National Poetry Month. We hope you enjoy the recording of this event:
Authors: Phoebe Wang, Laura Ritland, Randy Lundy and Michael Fraser
 
With financial assistance from The Canada Council for the Arts through The Writers' Union of Canada

Michael Fraser has been published in numerous national and international anthologies and journals. He is published in Best Canadian Poetry in English 2013 and 2018. He has won numerous awards, including Freefall Magazine's 2014 and 2015 poetry contests, the 2016 CBC Poetry Prize, and the 2018 Gwendolyn Macewen Poetry Competition. 
Laura Ritland is a poet, teacher, and scholar whose poems have appeared in magazines across Canada including The Walrus, Arc Poetry Magazine, CNQ, Maisonneuve, and The Malahat Review. Her debut collection East and West was published with Véhicule Press in 2018 and shortlisted for the 2019 Pat Lowther Memorial Award. She is also the author of a chapbook Marine Science (Anstruther Press, 2016) and recipient of the 2014 Malahat Far Horizons Award for Poetry. Born in Toronto and raised in Vancouver, she currently lives in Berkeley, California, where she is a PhD candidate in the department of English at UC Berkeley. 
Phoebe Wang is a writer and educator based in Toronto and a first-generation Chinese-Canadian. She is the author of Admission Requirements (McClelland and Stewart, 2017), nominated for the Trillium Book Award. Her second collection of poetry, Waking Occupations, will appear in Spring 2022. Her fiction and nonfiction has been included in The New Quarterly, Brick and The Unpublished City, shortlisted for a Toronto Book Award, and she co-edited The Unpublished City: Volume II, The Lived City. Her work has also appeared in REFUSE: Canlit in Ruins (Bookhug, 2018), What the Poets are Doing (Nightwood, 2018). She works with the organization Poetry In Voice and as a Writing and Learning Consultant for ELL students at OCADU.
 
Randy Lundy is Cree, Norwegian, and Irish and is a member of the Barren Lands First Nation. He was born in the mining community of Thompson, MB, and grew up in the logging community of Hudson Bay, SK. Randy has published four books of poetry, most recently Blackbird Song (2018) and Field Notes for the Self (2020) with the University of Regina Press, where he currently serves as editor for the Oskana Poetry and Poetics series. He recently joined the English Department at University of Toronto, Scarborough, following the University's TRC-response search in Creative Writing, Indigenous Literatures, and Oral Traditions. 
 
The PoeTree sprouted!
For the month of April, Claudia crafted a poetic installation in the Collingwood Arboretum. Built out of old, found books and new, original poems, the tree offered a visual connection between art and nature to foster a symbiotic relationship between the two and enact the theme of National Poetry Month - Resilience. All the hanging poetry was penned by community members during the pandemic, inspired by the prompts previously posted along the Boardwalk Trail. 
This section is where you can share your poetry. Please submit any original poem you'd like considered (as a Word document attachment or in the body of an email) and send it to poetlaureate@collingwood.ca. Let us know if you'd like to be acknowledged as the poet or be published anonymously. We'll read every submission and publish what we can. We look forward to seeing your work!
Click on the name of the heading below for the full poem
Mother Nature's April Fools Message
This Angry World by Faye Austin
Dresden Cup by Susan Wismer
Parts of Speech by Day Merrill
Love Will Never Die by Sandra Parsons
The Greatest Show on Earth - Anonymous
New in Town by Ella Pankatz
lifesong by Jaclyn Jarvis
Returning by gloria kropf nafziger
Vs by D.C.
Simple Pleasures by Faye Austin
Launched by Val Losell
Untitled - K. Burland
Weather by Jake McArthur
Life by Gloria Kropf Nafziger
Just Float by R.C.
True Glory by E. Beyer
November by Susan Wismer
Mother Nature's April Fool's Message
Local poet Kirsty Stevenson has penned a powerful poem entitled "Mother Nature's April Fool's Message." Here is a link to Medium, the online platform where it appears >>
This Angry World by Faye Austin
The world is angry, spitting fire and ash.
How many eruptions must it create?
Where must it next open earth and roar?
It's had enough of our senseless squabbles.
Its threat is real, we should abide, revere its mighty roar,
fear its inevitable outcome, desist our squabbles.
One potentate after another trying to fight – not play.
To destroy – not create.
To pollute our destiny with destructive toys.
Cease and Desist!
We have what we've been given the use of –
not the right to
destroy each other,
tower over,
defeat
mankind and its companion species,
inhabitants of this great blue sphere
we all call home.
Germany  1943 
Found 
by the roadside
three cups, three saucers
spare beauties of shape
      uncertainties,  loss
                  some hesitant hand
             brushed paint     upon porcelain,
blue rise of line       over curve, up to lip        
            small waver,  split into
            horns of a ram or
fern tendril rising in spring
            from wet earth, soft curls at the back
of a small daughter's head
                                    Carried them
with her                         after the war                           never said much
                              about
            work in dark nights      her doctor hands bloodied
scalpel and morphine      sirens      Red Cross           her children
            in Canada                    safe                 far away              so      little
                                          
                       could be saved.
            England 1945
What endures is by chance –
the fragile made
sacred by circumstance.
Canada 2019
I want
hot black tea, this Dresden cup
warm in my hands,  steam pearling the air
afternoon's burnished half light 
to imagine
the artist lifts up a cup
                    tips brush to paint
                                places
                                             one small last dot
                                                                     below each tender curl.
 
Parts of Speech by Day Merrill
The morning the towers fell, 
I ran outside, sobbing and wild-eyed 
              into the arms of my neighbor. 
 "Why do they hate us so much?" my first response. 
No rhetorical question, that, for an unthinkable event. 
Unthinkable by me, at least. 
By us, by a country unfazed by warning shots 
              fired over bows in Yemen's harbor and elsewhere.
Blindsided is what happens when you look straight ahead. 
You lose perspective, 
              see only where you are going. 
You may remember where you've been, 
               but not what your being and doing did to those outside your story. 
That was not in the textbooks for what was called, bizarrely, Social Studies. 
I stand on the wrong side of so many dates:
Not just 09-11, but 1066 and all that ensued from that frank encounter. 
1492 and the ocean blue that was really red with the blood of those pushed
               to the margins or killed by sword, gun, disease. 
The Crusades: rosy English knights in those improbable helmets, 
               parading across the story books of my childhood. 
The Salem Witch Trails, an ancestor the Hanging Judge, 
               condemning wise women for the threat their knowledge posed.
The twin suns of Hiroshima and Nagasaki, 
Napalm and Agent Orange in the Mekong Delta, 
decimating both us and them.
Us and them, always us and them. 
And now Babylon again, the real weapons of mass destruction sown like bad seed 
               as we make others them over and over and over.
Brother, sister, where art thou? 
Where is knowing each other as who, not what? 
First person singular, second person familiar, 
               declined into he and it and them. 
I want new language. 
Rules of a higher order, interdependent, universal. 
Grammar that holds us to lines 
               we must parse in parallel with No. 2 pencils mightier than any sword. 
Exchanging the pluperfect subjunctive of "if only we had known, we would have"  
               for future perfectible, less tense than taut. 
Beating imperatives 
               into tempered actions that plow the soil we share.
Planting together adjectives and adverbs that, 
               twining round each other's hearts,
tell us who we are and how we can become.
Love Will Never Die by Sandra Parsons
As you lay your head upon your pillow
your dreams go silent as you lay still
your family stands waiting underneath the willow
as your spirit merges from over the hill
like a deer you run so fast to see their faces
you stop a distance so they know it's you
you've come to stay forever at one of your favourite places
you realize it's your final dream come true
although you're sorry you didn't say goodbye
you never ever wanted to make them cry
please kiss the boys and tell them why
I'll love you always, for love will never die.
The Greatest Show on Earth - Anonymous
The Show
Come One, Come All
To the Greatest Show on Earth
One day, one call
Feel what a connection is worth
Want, need, hope
A connection, a hand
Please give some rope
Tie us together, see the band
Glittering with gold
Hands show off our bond
To have and to hold
Nights flew by, mornings dawned
We were marching to the same beat
Heart, Body, Soul
Everything took a back seat
We were on a roll
But it all took a toll
We lost ourselves in each other
I became a troll
You, no longer a lover
Love was lost
Words were said
What a hefty cost
Without a marital bed
Disconnected
Was it the greatest show on Earth?
Where did the fireworks go?
Where went the passion
For life, for each other
Was it you, was it me?
Now that you're gone, no rebirth
Only memories, dreams crushed so
No more conversation
Hurt, heart, try again why bother
Why can't I just let it be?
Afraid, afraid, afraid
To hurt that much again
Hibernate from the world
Don't want to trust again
Never again to feel close
I sit alone trying to be brave
All I want is a friend
Experience the joy of words
Wanting to mend
A wish, but unable to approach
I have found this trail on a city map
along White's Bay leading to  an isle
called Hens and Chickens – a farm,
succulents?  I am about to discover,
 hoping for green, a glimpse of spring.
Pieces of ice break off with a crack,
Meld with the water, liquid at once.
Redwing blackbirds cling to branches,
screeching, proclaim  their  territory.
Wings of geese whistle overhead.
Mergansers bustle to and fro.
Willow catkins and moss by my feet,
 velvety pillows greeting. All around 
celebration, spring is here.
Abruptly, the path to the island ends.
A footbridge has been taken out 
by ice and winter storms. Over there,
I see some mounds, homes of muskrats.
Water birds weave through the marshes.
A swan detaches from yellow grasses,
head held high, white wings pristine,
he floats through the gap a few paces 
from me. He doesn't care that I am there,  
so sure of his domain.
if in the silence
there is no plea
to echo off the heavens
like waves crashing
against shallow tides
if in stillness
we listen to
earthen rhythms
the pounding of atriums
nestled amongst willows
if in this peace
fraught with transient eternity
anointed by a network
of venation
fragile; ephemeral
if such quietude
can abide ancestral quaking
rending sacred binds
millennia of aching rifts
tethering the hallowed to the lost
am I heard amidst the breathless chant of
the world?
Returning by gloria kropf nafziger
Surrounded by succulent sweet crab apple blossoms
dripping in the wind, the ground a pink carpet, creeping flocks,  
red yellow tulips alive and dead, deep purple iris,
a wicker chaise lounge cushioned  comfort,
filled with memories,  fields of wheat undulating,
unfamiliar beauty, wildflowers,
climbing  above constant change.
The Bay calls me, the heat,
invites perhaps demands,   jump,
like cool mountain streams at the end or middle
of those days welcomed toes and feet
filled with  bygone knowledge,
Roman,  medieval,  visible ruins.
I walk now on land,  remembering, that
where  I walk…"Indian children used to play…"
called to be aware to notice, history here.
 " Jesus carried his burdens,"  he said
she replied "  I am not Jesus, and he was not sixty." 
Yesterday, after the vegetable beds, were mulched, 
and seeds were planted,  the labyrinth was mowed and
dainty blues forget me nots were placed in vases, 
I watched rain fall, glee filled,
holding knowledge of thunderstorms,
in the valley, on distant mountain ranges, 
rain covers over packs,  swelling stick clicks on earth,
petitioning for five  more kilometres of grace.
You wave as you go by,  " welcome home,' 
familiar comfort on your face.
I met him, for the first time at the airport,
heading to St.  Jean,  three meetings later, he fell
into my arms,  a mountain climbed, descent accomplished,
we lost each other on day five.
She gave me my wedding album, forty three years ago,
I was nineteen,    so young and wise,  
now changed.
Forty countries more or less 
                            gifted me
with wisdom
                  from their citizens.
my pack sits empty on the floor,  
not put away,
not yet. 
I am my own arch nemesis,
bound to lead myself to death
In the time between now and then
I will use my heart, my courage, and my voice
to make my enemy
my friend.
Simple Pleasures by Faye Austin
Morning sun beams through the blinds,
warms my face as I gaze out the window.
My teacup nestles between my hands.
I raise it to my waiting lips and tip.
Its golden elixir slides smoothly
over my teeth, onto my tongue.
The sweet flavour runs down my throat.
I swallow. Breakfast tea.
I sigh, smiling at the pleasure
it brings me every morning.
Each day a good beginning.
The boy is gone; he's launched
and left a gaping space
wet towels, drums and reeking rugby shirts
used to fill.
It's too quiet now; the sparkle's gone.
Gabe shared his joys and passions easily;
kept his sorrows and fears for his friends.
No more, "Hi Mom!" though truth be told,
we'd heard it less of late.
Now sometimes over skype,
him sprawled on his dorm bed,
I'll say, "So, how was your day?"
watch him stroke his beard and calculate
what he's willing to share (while
admiring himself in the camera).
Just a few weeks gone and he's already
pitched a ticket home to catch
Viking Metal in TO. (oh ya,
and dad's birthday too, I guess).
He's already jamming at a friend's,
prepping for open mike,
fishing in Ste. Mary's River
and shaving with his KA BAR knife
by the campfire.
Yes, he's launched.
I'm happy he's so full of his own life now,
but I also wish he were still six,
and I were still the apple of his world:
As he will always be of mine.
 
Untitled - K. Burland
I.
Thankful 
for blessings, opportunities, challenges
Praying 
for strength and guidance
Giving
my best always
Commitment 
to high ethics
Continuing 
with optimism, renewed energy, and commitment to service
Goals ahead, and no task beyond
I am thankful.
II.
Life is full of peaks and valleys.
Mountain tops are barren,
in valleys find opportunity for true growth.
Talents, dreams, backgrounds, occupations.
Not exactly like anyone else, 
these differences provide good for the common goal.
Peace, Tranquility, Freedom.
Giving thanks to be blessed with friends, laughter and fun,
a heart that is always grateful.
I delight in weather
I flow in the passage of weathers
I don't wield umbrellas to ward off the rain
or deflect the brilliance of solar light and heat
I don't live buffeted by the chaotic imagined vagaries of weathers
I revel in the stillnesses and breezes and buffets of true air flows
I don't moan about the dim and damp of wet summers
I search for secrets and treasures in the shadowed picnics of the dark
I don't shiver in the midst of winter blizzards, yearning for spring greening
I sing lullabies to sleeping embryos and cuddle the icebergs of silence
I delight in weather
I don't plant cultivated gardens or water weedless lawns
I write symphonies for wildflowers and float blinded by oceans of dandelions
I don't gasp in panic with summers passing and the turning, falling of leaves
I dance in harmony with the penultimate colours drifting to their birthing graves
I don't listen to the manic meteorological dramatizations of media prophets
I watch cloud patterns, leaves and cows and open my nostrils to shifting scents
I don't get worked up by weather
I flow with it
I delight in it
I'm grateful for weather … of any kind … on any day
affirming every moment …
I'm alive.
© Jake McArthur 2009 
Exasperated with the whines and complaints and sighs from people reacting to a summer of more than average rain; the emotional pot-stirring of media around weather forecasts and the endless cycles of complaining about the cold in winter, the heat and humidity in summer and the wishing for something else than what is. Stop … feel blessed!
Climb, refuse to 
give up.
speak, forward
stand back
speak back
be afraid 
with nothing to admire
listen 
empty 
repeat.
And then the tide recoiled
when the urge to grow 
wealthy as an ocean
was more futile than 
the strength it took 
to float.
True Glory by E. Beyer
And then the bicycle
glided,
the air
to ground
cool
on a breeze,
more spectacular
than the automobile
it took to arrive in.
Snow came swiftly this year        
Thick folds over unraked leaves
White piles upon garden chairs
I thought I had more time
Today, again more snow
I'm shoveling the walk tulip bulbs
wait patiently in bags in the garage
The garden hose stands frozen in curves
I left it there one recent rainy day
Maybe the snow will soon melt
I'll rake the snow-sodden leaves
onto the vegetable beds,
Trowel through frost-crusted earth,
Place bulbs into holes 
–a little blood meal to discourage the squirrels–
Carry the hose to the basement    
Stack garden chairs under the eaves   
Pile flower pots upside down
I thought I had more time
We invited local writers to select a park in Collingwood where they have a connection and create a poem about it. Fueling our imaginations and bringing to life the character of a place, is something poets do best and the result is a unique storymap called Place Holders including a video of each poet reciting their poem in the park. Click on the Place Holders logo to go to the storymap.
The Starving Artist Always Feeds Their Audience by Claudia Ferraro
The poems at the link below were written by Claudia during the ongoing pandemic. Despite the stagnancy of our current situation, slowing down and re-meeting this mysterious town has been personally rewarding. All of its roads are familiar, but not all of its shops - like the same house with new furniture. For some reason I never considered that a place might have its own lifespan, that it might develop its own interests and styles and change despite me. This visible shift is a reminder that I don't own the town I came from, or the town I'm in now. I only own the lessons and the memories that these places gave me. I only own the words I wrote there. 
If you would like to see a poem written about a specific place or event, send all requests to poetlaureate@collingwood.ca. 
Hello from your gracious poet laureate - thank you for visiting my blog! This page is where I will be posting and discussing the many, wonderful poetry books that I recommend as good company during this often quiet, lonely, and no doubt confusing time. Poetry books differ from fiction and non-fiction literature - they are not just mementos of a character or a story, but rather are reflections on a moment or a feeling. They can be read, never finished, put down and picked back up without any consequence to the reading experience. This resistance to literary rules is where a lot of the power of poetry lies: they are borderless, non-restrictive, and accessible. They hold many of the values that our society so desperately needs to strengthen. In this way, reading poetry is not just a solitary act - it is also a social, political, and important one.
The book recommendations will vary in style and content as I hope to touch on something for everyone because, well, poetry is for everyone! Yet regardless of the type or author, all these books have something in common: they are food. They are nourishing, and necessary, and will leave you feeling different - hopefully better - than before.
So, I encourage you to pick up one of these books (almost all of the recommendations can be found at The Collingwood Public Library), pick up a cup of something yummy, and settle down in the good company of these authors.
Don't hesitate to reach out with any author or book suggestions!
February 2021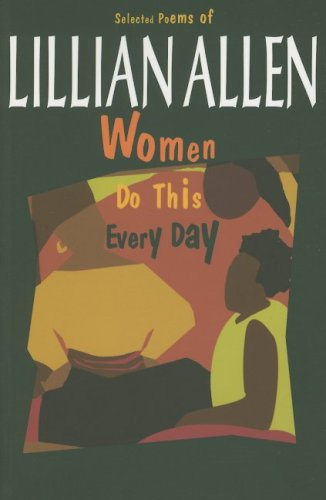 Women Do This Every Day, by Lillian Allen 
I first came across Lillian Allen on Youtube, performing the poem "Social Worker" from her collection Women Do This Every Day (1993). This was a few years ago, and even though I had been studying poetry and creative writing at the university level for some time, I had never heard poetry like this. While performing, Allen was not just a poet, but a DJ, and an actress, and a singer, and a dancer, and a teacher, and a protestor. She was not just speaking words to an audience, but wrestling and playing with the words herself. It felt improvised in the most polished way and I was in awe as I watched her create the poem right in front of my eyes. I would later learn she was practicing a style called "dub poetry" - the forerunner of spoken word. 
A native of Jamaica who migrated to Canada in her early adult life, Lillian Allen is a grassroots activist, a cultural activist, and a professor of creative writing at the Ontario College of Art and Design (OCAD). She was instrumental in introducing dub poetry to Canada and is considered a godmother of rap/hip hop, sub, and spoken word in North America. The fact that she grew up, both politically and aesthetically, under the influence of reggae is evident in all of her work. Allen treats the poems in this collection not just as a literary genre, nor exclusively a musical style. Instead, they are almost everything in between. She creates a space that is welcoming of both high and low art, that uses literary analysis alongside rap jargon and sharp beats, merging the two until the hierarchy is so convoluted it no longer exists. 
In true feminist fashion, the poems in this collection rise up off the page and march towards their reader, ready to ensure that they will be heard. Each poem is a specific and loving tribute to women; each is set within a specific historical event and charged with political contexts. She dances through heart-wrenching moments with a spirit that is stronger because of its female ancestors, stopping and repeating words only to ensure that every name she mentions is remembered. Her flow is so impenetrable that a reader trips only when it is intended. This reading experience felt like attending church and learning, or maybe just knowing, that God is a woman. Allen begins her collection with a preface that explains her belief that words do not need pages. This notion exemplifies the living, beating heart of these poems - their activism, their youth, and their feminine energy. They do not need to be pinned to these pages. They need to be read aloud, perhaps even shouted. But they exist in this collection because, as Allen contends, pages do need words. 
Finna, by Nate Marshall 
Definition of finna, created by the author: fin•na /ˈfinə/ contraction: (1) going to; intending to [rooted in African American Vernacular English] (2) eye dialect spelling of "fixing to" (3) Black possibility; Black futurity; Blackness as tomorrow. 
If someone was to ask me what emotion I was trying to hold onto these days, it would be the one I was left with after reading this poetry collection by Chicago poet, hip-hop artist and playwright Nate Marshall. That emotion can be described as an informed knowing of history alongside a hopeful gaze to the future and all of its possibilities. It is a feeling of responsibility and achievability, which somehow become aligned in Marshall's Finna. 
The book is laid out in four sprawling, interconnected sections that explore identity, community, and the role of Black language and vernacular in imagining a liveable future. Marshall is a wizard of the anecdote, finding resonance without ever over-explaining. Every poem is a window that is easy to enter, each story and character made so real, that I only experienced any difficulty when leaving them. The hospitality in these poems was so great I grew immediately comfortable and never wanted to reach the exit. He takes on the persona of all the other possible "Nate Marshall's" out there, exploring identity and grappling with the common experiences among them, as well as contemplating the spaces they cannot share due to differences. This powerful act of empathy is most evident as he takes on the voice of a white supremicist in an impeccably courageous and loving manner. None of his poems shy away from politics, violence, and the role of the media in sensationalizing it, but he also does not shy away from stories of the simple love, joy, and lives of Black people in America. 
Marshall's poetic voice is always assured in this poetic celebration of Blackness. He is constantly experimenting with verse, portraying rap easthetics in a literary way and weaving African American Vernacular English (AAVE) into the fabric of conversation at every pedigree: colloquial, familial, professional and academic. His words slip between stream of consciousness and more traditional, canonical structures to show that artistry does not need to occur within the accepted conventions. I was most struck with his investigation of the unexplainable magic of Black vernacular, all of it's built-in "-isms" that non-Black authors never get right no matter how hard they try. Together, all of the stories become a generational commentary on the stories and lies told to, through, and about African American peoples and their culture. They become a promise that AAVE will expand the notion of possibility, giving Black people a new (or refurbished) language of hope. This collection is a testament to the notion that one can be both incredibly "woke" to all of the injustice of the world, and still be incredibly hopeful, new, and happy. 
From The Poplars, by Cecily Nicholson 
In the North Arm of British Columbia's Fraser River lies an uninhabited island: Poplar Island. It is green, beautiful, and quiet - with a long and terrible history. Having been the traditional territory of the Qayqayt peoples and the locations of one of the first Indian Reserves in the province, the island is undoubtedly a landscape marred by colonization. Cecily Nicholson is an emplaced poet and resident of New Westminster, British Columbia who gives voice to this land in her poetry book, From The Poplars. With this collection, she contributes greatly to the existing narratives on decolonization in Canada by getting to know Poplar Island like no one else has before. 
This book is as stark and reaching as it's cover page suggests. It is the culmination of a longer, poetic research project that Nicholson undertook in order to uncover the island's stories - a grand gesture of eco-poetry and paying poetic attention. She spent multiple years walking the land, visiting it over long periods of time in different instances and seasons, and studied all the possible archives relating to the island that she could find. This allows for a work of poetry that is rigorously committed to place, and enormously generous with time - the exact opposite of how we take in and process information today, which is largely broad, global, and stays with us for only a matter of minutes. Nicholson's work is emblematic of the famous North American long poem Zong! by M. Nourbese Phillip's in length, as well as in the way they both center the natural elements and decentralize the human experience. These choices are not as formal as they are necessary - all this space is needed in order to deal with the deep erotics of the land and the felt labour within it. 
Reading this collection offered me reprieve from the ephemeral feeling of our modern, virtual world. Every minute spent with these poems was like a minute of meditation, and I turned over it's last page feeling satisfyingly grounded and yet newly alert. Perhaps humans do not just have a third eye, but a third ear that needs great care in order to unplug. In each sliding poem, the island is the main character that the reader is getting to know - it emerges as a subject, as much as it is also an object, of the ebb and flow of industrial development and white colonization. 
This collection takes the time to listen and hear the island's story, responds to it always with tones of love and understanding, and sustains a conversation that extends well beyond the local. Nicholson plays with the subjective and objective in order to catch important glimpses of them constituting each other, all the while witnessing and honouring the island and its singular resilience. This text is an investigation of historical memory, and a call to connect to the hard matter of ugly history in order to revive ourselves towards responsibility and, finally, be free of it. 
At it's best, this is an act of time travel: a projection of the poem, of the self, and of the island, far into the past and the future until we don't know anymore. But fear not, Nicholson seems to say, the earth still does. 
 
January 2021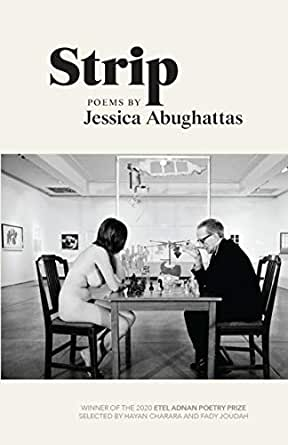 Strip, by Jessica Abughattas 
I received Abughatta's poetry book as a Christmas present last month, and it could not have come into my hands at a better time. I entered into the holiday season a little less joyful than usual this year - by December of 2020 I was feeling pretty tired and defeated. Reading Strip alongside a mug of coffee and baileys helped me to recharge. One of this book's selling features is the attention Abughatta places on narrative and setting in each and every poem - true escapism. With romance and tons of grit, her stories span the globe and read like the journal of a modern-day rock star. Desire and dispossession take the form of lover, home, and self as the narrator speaks with the awareness of a wise elder - if a wise elder swore. Most timely, Abhugatta highlights the body as universal, as problematic, and as the home we are all quarantined within. The most startling and necessary, however, is her ability to use language to force space between the body and the soul until their distinctness is undoubtable.  Abughatta's voice is grounding; it is fun and familiar and reminds me of all the close friends I haven't seen in person in months. She speaks through her poems as if she's conversing with the reader on the drive home, after the party is over, after everyone else is out of ear shot and you are finally free to say everything you were holding in. It's refreshing and exciting - especially if you are someone coming out of a rigid institution, or trying to break free from that inner credit who edits thoughts before they are even formed. Strip is confessional and witty, and I think honesty and humour are two tools that will help carry us through this next year. 
Homie, by Danez Smith 
The cheeky and charged front cover of this book, from the title-word "homie", to the font and colour in which it is written, perfectly exemplifies the unapologetic, playful, and modern energy that Smith brings to the most serious of moments in his third poetry collection. Collectively, all of the poems within Homie act as an ode to friendship, to family, and to solidarity and its important place in survival. Although always bold and direct in his language, Smith moves slow enough to pay careful attention to quiet, invisible acts of kindness or moments of beauty. He does the hard work of noticing and we, as readers, reap the comforting rewards. Despite his poetic playfulness, the topics Smith takes on are often grievous, such as American politics and modern racism. Homie reminds us of all that is truly sustaining us right now in his anthem's for the underdogs. He builds safe spaces for the marginalized with his words, reimagines physical, social and environmental violence, and anchors all the despair and bloodshed of the last few years in hope. It was Smith's steady hold on the value and power of love that got me through this often turbulent, but always rewarding, read. Homie doesn't just expose humanity's downfalls, but shines light on the simple joys and intimacies of our nations that are often overlooked. Like a flower growing between concrete, it is aggressively hopeful. 
RENDANG, by Will Harris 
RENDANG is a collection for anyone who questions their relationship to the land they live in - although it is not set in Collingwood (SON), it's application is broad and healing. As in Smith's book, the aesthetics of Harris' cover page are doing important work. The stitching and blocking pattern of the letters introduces a story that is essentially one big mosaic. Each poem in this collection is working overtime to pull together fragments that time has pulled apart, perhaps an overarching metaphor for our modern attempts to reconnect to the earth we have changed so much. RENDANG felt like reading the most beautiful textbook, because its lessons were so hard-hitting it was as though they were carefully crafted curriculum - a poetic lesson plan on strained connections. His poems take on long, often ruptured forms that visualize the human attempt to construct the self in relation to our surroundings. Harris draws on his Anglo-Indonesian heritage generously as a way to think about the contradictions of self-identity and cultural, ancestral memory. His voice shifts often, taking on new languages and personas as he greets readers in the forest, on the bus, and in their living room. No matter the location, voice, or visual of each poem, Harris is always asking questions: What do you remember? What do you forget? Why?
November 2020
Ocean, by Sue Goyette (an author, professor & poet laureate from Halifax, Nova
Scotia)
Ocean was one of the first poetry books I read in one sitting. Doing this is not necessary, but it is rather easy to accomplish because of the natural way the poems within weave together. Ocean centers around its title: it is the exploratory story of the people who live by the Atlantic Ocean in Nova Scotia, but it is also the story of the ocean itself, as its own entity, with its own voice and experiences. It is a radical act of eco-poetry, as Goyette gives herself over completely to the ebb and flow of the waters that inspired her writing. Her poems listen and only speak when necessary, they use strange and exciting metaphors to question things we often don't, and they are playful and lyrical in ways that make a reader cry - and then cry again from laughing. If you love Canada and nature you will cherish this book. If you are new to poetry, this book will introduce you to the genre with an ease that isn't unlike wading into warm waters.
 
even this page is white, by Vivek Shraya (a transgender author and professor living in Calgary, Alberta)
It's hard to believe that even this page is white is Shraya's first foray into writing poetry. In a single collection, she manages to master such a wide variety of poetic styles - from lyrical to visual to prose. Her previous work with music and the visual arts contributes to the way she allows herself to play with the page and it's "whiteness" through the careful positioning of words: as lists or borders or images. She never shies away from a challenge as she questions white supremacy using so many experimental possibilities, and gently guides the reader to do the same. Her voice feels like a grandmother's hand as they comb through the tangles of your hair, always starting at the roots, not knowing where the brush will catch or glide smoothly. The reader is the child that trusts completely. The rawness and vulnerability within her work is unprecedented, and incredibly powerful. She takes readers on an intimate, accessible and timely journey as she interrogates the meaning of "skin": where it comes from, what it means, and what it can and cannot do. It is a brave and important piece of writing that asks the questions that are often hard to pose without the nuances of poetry. even this page is white is a book that deconstructs and, in this way, has the power to rebuild and bring readers, regardless of race, closer together.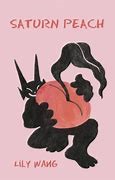 Saturn Peach, by Lily Wang (an author, editor and student from Toronto, Ontario)
Saturn Peach is Wang's debut into the field of poetry - a timely and poignant debut, at that. The book explores the strangeness of a technological world using a narrative voice that is at once wise and tender, as soft as the skin of a peach. It is a book for all ages: those who grew up with an IPad in their laps, and those who struggle to comprehend how to use Google. Not only is the topic of these poems incredibly relevant to the times we are living in, but these poems also offer readers an escape into a dream-like sort of world that Wang creates with her syllabic and surreal structures. She floats between the head and the heart with such care that the two begin to grow closer - she is in complete control as she decides to let go, and I found myself willingly letting go alongside her. Reading this book was like taking a deep breath I didn't know I needed. I swallowed her words whole, and still turn to them often as they remain nestled comfortably in my belly. I recommend picking up this book whenever your eyes, and mind, grow tired from engaging with a screen and are craving a little clarity about this virtual world we find ourselves in.
Trying to get published in the poetic, literary world can be intimidating... especially for someone with no previous publication experience. Rejections often feel personal - especially when the work you are releasing is so dear to your heart - and the whole process can feel tedious and unrewarding. However, that first acceptance letter will make all of this worth it. So, where do you start? Who do you contact? How do you enter into the publishing world when you don't already have your foot in the door?
Below I've curated a list of possible places (journals, magazines, and chapbooks) in Canada that are known for publishing up-and-coming artists. Their contact information and submission guidelines are also laid out. Remember to keep your cover letter concise - the description of your work should be no longer than a few sentences. Try to create the biggest impact in the smallest amount of space so that, even if a publisher just glances over it, they are forced to stop and read deeper. 
Finally, good luck! You are not alone in this arduous pursuit, and every rejection is the step in the right direction! Don't hesitate to reach out for more guidance. 
The Fiddlehead: a creative-writing journal that publishes English writing, or translations into English, from all around the world in a variety of styles. A well-known publication, they put out fours printed publications per year and distribute globally. They are as famous for their rejection notes as they are for their display of amazing, new writers… but don't let this deter you. They especially appreciate excerpts of larger fictional or poetic pieces. 
fiction and poetry
Accepts submissions year round
Payment: $60/page 
The Antigonish Review: the third-longest running creative-writing journal in the Maritimes and one of the oldest continuing literary magazine in Canada. They are published in print and online bi-quarterly, distributed around the world, and offer an eclectic array of poetry and prose from both emerging and established writers. 
Fiction, non-fiction, poetry
Accepts submissions year round 
Payment: $50 plus 2 copies
Arc Poetry Magazine: a poetry and prose magazine based out of Ottawa that focuses on publishing work from brave, new Canadian voices. They put out three editions per year. 
Poetry only 
Accepts submissions each Fall
Payment: $50/page 
Room: One of Canada's oldest feminist literary journals, Room publishes four editions per year out of British Columbia. They showcase writing and art by women, (cisgender and transgender), transgender men, Two-Spirit and nonbinary people. 90% of the work they published comes from emerging figures who have not yet established their careers.
Fiction, non-fiction, poetry and art
Accepts submissions year round
Payment: $50/page
The Dalhousie Review: a literary journal published in print tri-annually by Dalhousie University in Halifax, Nova Scotia. They invite submissions from both established and emerging writers in Canada and around the world. 
Fiction, non-fiction, poetry
Accepts submissions year round
Payment: 2 copies of the issue
Canthius: a poetry and prose journal that is published bi-annually, both online and in print, on the unceded territory of Anishinaabeg and the traditional territory of the Ojibway and the Mississaugas of the New Credit. They celebrate work by women, transgender men, nonbinary, Two-Spirit, genderqueer, and gender non-conforming writers
Fiction, non-fiction, poetry 
Accepts submissions year round
Payment: $5/page plus one copy
Vallum is a biannual poetry publication based out of Montreal, Canada that provides a forum for emerging writers to be published alongside established figures. They are one of Canada's top poetry journals that is internationally distributed and recognized. 
Poetry
Accepts submissions year round (submissions April 30th for next edition) 
Payment: none
Untethered Magazine is a Toronto-based literary journal that publishes poetry, fiction, non-fiction, visual art, and anything in between. They put out multiple issues a year, online and as hard copies, and never publish the same author twice in a row so as to give all up-and-comers a chance. 
Poetry
Accepts submissions year round (submissions due March 15th for next edition)
Payment: $10 honorarium 
subTerrain magazine is published 3 times a year in Vancouver, BC that produces a fusion of fiction, poetry, photography, and graphic illustrations from up-and-coming Canadian and International artists
Fiction, non-fiction, poetry
Accepts submissions year round (submissions due June 1st for next edition)
Payment: $50/page
Spadina Literary Review is an artistic and modern online literary review that focuses on publishing short, snappy pieces alongside local, abstract art
Fiction, memoirs, poetry
Accepts submissions year round
Payment: none 
Day Merrill, Poet Laureate 2018-2020 

"It has been my honour and privilege to serve as Collingwood's first Poet Laureate. Poetry is the most compact and efficient way to express thoughts and feelings and engender a deep response in others. The role of Poet Laureate has given me the opportunity to share my love of poetry and the spoken word as well as inspire both committed word fans and those new to the power of poetry"
Click on a title below to go to the poem:
Dearest Collingwood, it's been an honour to serve you, teach you, learn from you and play with words together. As I take my leave, I'd like to share  a poem that I wrote to mark my final official act, a doubly virtual appearance at the October 19 Standing Committee of Council Zoom session, pre-recorded the day before due to hip replacement surgery scheduled the same day. 
This poem is dedicated to Tanya Mazza, who started as my "boss," shortly become my co-pilot and whom I now I happily call a dear friend. I couldn't have done this without you, Tanya. All thanks and blessings.
Words of a Feather by Day Merrill
For Tanya
To every season, there are birds.
Even in the depth of winter, we are not alone–
The blue jays announce themselves from the cedars 
with raucous jay, jay jay! bright as their blue feathers 
while the little chickadees chitter chickadee, dee, dee!
as they swoop to the feeder.
Woodpeckers knock on the door of spring, 
We hear their rat-a-tats bouncing off the birches
while our hearts leap at the first sighting of a robin, 
head cocked toward the ground, tugging at hapless earthworms, 
singing cheerily, cheer up, cheer! up from the yet-bare trees.
Summer is a cacophony of bird song– 
the keening cry of gulls as they wheel over the harbour,
the whir of tiny hummingbirds sipping nectar,
the liquid melodies of red-winged blackbirds 
swaying on tall marshland rushes.
The song of autumn is one of leaving, 
none more poignant than the beckoning call of the geese.
No longer content to graze on the soccer fields 
or wheedle cracked corn at the edge of the bay,
they are restive now, rehearsing their departure.
My earliest memory is of geese in autumn.
Sitting in some pram or wagon on the way home from some outing,
I heard their dirge and the beating of their wings
and looked up to see them forming and reforming V's
in the dark sky as clouds scudded across the face of the moon.
Struggling to find words my young mind did not yet possess,
I merely pointed skyward with my own cry of That! That! That!
It would be many more seasons before the words I needed
alighted and came to roost, but when they did, 
I welcomed them greedily, eating up each sound and syllable.
And when I had filled myself up with enough words for a lifetime,
I began letting them go, sending them off into the world as poems.
Like the geese, they flew alone for a while, then gathered together into a flock.
And my time came to use my pen like a beak, cutting the air so that others could fly.
Now my words drop back so new ones can forge ahead.
I slip back into the vanguard, assured we will keep moving forward
new leadership out in front supported by fellow words of a feather
who may never head the V but hold the flock together, 
the constant, steadfast beating of their wings what really makes
flight 
possible. 
By Day Merrill
 
Community Over Covid by Day Merrill
Recited by Council for the virtual 2020 Canada Day Celebration
A year like no other, and now here we are 
celebrating Canada Day from afar.
Despite social distance, let us remember
the reason we gather is more valid than ever.
Today is for claiming all that is good
about TBM, Blue and our own Collingwood.
Ringing the Bay at the Escarpment's base
from peak to shore, we honour this place.
This is our piece of the giant mosaic
that makes up our nation, hardly prosaic.
Rich in resources, including each other
this land is our land, our nurturing mother.
Our leaders, imperfect as they may be
have steered through this crisis like a ship on the sea.
Though waves keep shifting and tossing our boat,
we refuse to go under, determined to float.
That's who we are.
We do things for each other, like put on a mask,
even though it may feel like an awkward task.
We stay at home to protect those who need it
and if there's hunger we find ways to feed it.
We remember to check in on neighbours and such
reaching out with our hearts when our hands cannot touch.
We mow lawns, teach kids, do errands and bake,
always looking for ways we can give, and not take.
We call friends and family, connecting on Zoom
to visit each other while not leaving the room.
We learn new skills for work or for fun
and go safely outside for a walk or a run.
We stage drive-by birthdays, hold virtual graduations,
and gather online for worship and celebrations.
We learn how to sew, so we can make masks
to support front-line workers in their Herculean tasks. 
That's what we do.
So let's keep perspective for as long as it takes.
Our distance brings safety and reduces mistakes
made by places whose number still grow 
while ours disappear like the last late spring snow.
We know it's a challenge to get through these times
with little to cheer us, save these paltry rhymes. 
But words have the power to lighten and heal
as together we share what we think and we feel.
As much as our many thoughts and emotions,
our actions have shown our embrace of the notions
of compassion, community, all pitching in
to make dark days brighter, until once again
we can stand side by side, true North free and strong
and greet one another with a hug and a song.
We'll celebrate then all the days we've survived
and show that together, we've actually thrived.
We the Wood and we got this!
-    Day Merrill, 2020
 
20/20 Vision by Day Merrill
Written and recited at the Mayor's Levee, January 2020
Even before the turn of the year, the phrase "20/20 vision" emerged as
both a descriptor and goal for the new decade.
But despite what we may have believed,
turns out there's no such thing as "perfect" vision.
Does this mean we should jettison the meme
for another, like "The Roaring '20s"?
Probably not, as that decade a century ago was marked by
boom times followed by the bigger boom of global markets going bust.
So what else can we do with these omnipresent integers?
How do we make meaning of this 2020 year thrust upon us?
For humans, our 20's are a time when we reach
adulthood, if not maturity.
In science, 20 is
the atomic number of calcium,
the third magic number in physics,
how many amino acids are encoded by the standard genetic code.
In sports, 20 is
            the maximum field of horses in the Kentucky Derby,
            the number of legal starting moves for each chess player,
how many questions you get in the guessing game.
Back in the day before cell phones,
"Hey Good Buddy–what's your 20?" rang across the CB airwaves
as trucks drivers and other road warriors
shared the location of the cheapest gas or the best pie,
warned each other of potential dangers,
kept each other company on long-haul drives.
From coast to coast to coast, that one question encompassed
Where are you now?
Where are you headed?
 What's going on where you are?
Are you OK?
Rather than striving for the impossible goal of perfect vision,
perhaps our first act of the decade should be to check in with one another,
leaving the arrogant certainty of the teens for a more measured approach  
Finding the strength all the way down in our bones to
to step forward into the unknown with purpose tempered with humility
to recognize that the only magic numbers are those that include all of us
to admit the need for connection and community embedded deep in our genetic code.
We are not in a horserace in which there can only be one winner.
We get more than twenty moves or twenty questions.
We are traveling this road together and more then ever
We need each other.
So rather than presenting a vision as a fait accompli
Let us enter into dialog with each other to seek the answers to the important questions:
Where are you now?
Where are you headed?
 What's going on where you are?
Are you OK?
 Hey Good Buddy-what's your 20 for 2020?
"Re-Membering" by Day Merrill
Some wars are just, or at least justified, others based on greed or graft.
All wars are an admission of defeat–
a failure of diplomacy, civility, love.
If the pen (or keyboard) is mightier than the sword, 
then poets are well equipped to take up arms.
But to what end?
The job of poetry is neither to exalt war nor to condemn it.
It is to stand clear-eyed, a caring yet objective witness and recall 
without flinching what we do to each other and ourselves
in war.
It is not just the battles that exact the toll, 
but each of us– those who fight, those who send 
others to do their fighting for them.
Drenched in righteousness or shame, we are all culpable 
and as members of one human race we all pay the price–
the loss of limbs, loves, lives.
The poetry's in the pity, one poet wrote
our words both barb and balm 
as we write our way to right a world that yearns to live
in peace.
 
The Quilt of Turtle Island
Written and performed at the Niibi Water Series at the Awen' Gathering Circle, August 2019
This quilt has been a long time in the making. 
At its centre, its core is an ancient turtle,
rising up from the earth, still bearing dirt and plants on its back.
Woven around the turtle are patches of deerskin, pierced with porcupine quills 
and decorated with slivers of mica so fine they look like tiny rainbows. 
Next come the trees–the 7 Grandfathers ringing the turtle along with the 7 Grandmothers, the ancient animals that still call this place home.
Surrounding the skins is a border of hemp, rough-cut rope worn smooth 
by hands hauling it over the sides of ships, now looped into a frame. 
Shards of cotton, linen, muslin–softened by time and wear punctuated by 
embroidery thread with names and words cross-stitched for practice and memory. 
Now the circle grows, encased by tightly woven grain bags speared by hand-forged iron nails, bent into pleasing shapes with hens and chicks scampering around the edges.  Next, a loose border of maple leaves rampant on a field of red and white, poppies bowing their heads, trilliums of all shades. 
And more: pieces of rich silk from saris conjoined with Dickey overalls, the collar of a golf shirt rimming a Loonie like the flute of a white flower guarding its precious core. 
At the outermost part, not a finished edge but a fringe, ready to add more as the quilt continues to grow over time.
This is our quilt; there are others all over the country–
our native or chosen land. 
Each unique to the people and places that have informed its story.
Each the same as one section of a larger quilt that connects sea to sea to sea.
This enormous quilt is so beautiful and various and new that it shines like the beacon of a lighthouse, shimmers like the northern lights, glows like a city on a hill or in a vale, 
a mosaic big enough to cover us all in this our home–Canada. 
What is a Community?
Presented at the Inauguration Ceremony of Collingwood Council, 2019
The roots of the word are far from clear–
It's not just those whom we live near
It's that which we hold in common, and share:
Fair land, clear water, fresh air
Some of it's shaped by geographic forces
Part is our principles, history, resources. 
It's the circumstances that bind us together
When we take initiative to make things better
It's what we fight to keep or to change 
But never want to give up or exchange
It's the functions and duties borne by us all
Carried out from home as well as Town Hall.
It's all who come here to live, work and play
In a place many decide they will stay.
What makes us a community? This in a word:
The choice to be here, and be seen and heard
A place when we talk, we're heard and believed
Where in life we're supported and in death we're grieved.
The place that we start from or end up our days
That nourishes us in so many ways.
If we look, it's where we can always find good.
It's the place we call home, our dear Collingwood.