Collingwood Live & Original
The Collingwood Live & Original Music Initiative aims to create opportunities for musicians to connect, collaborate, and cultivate their craft. Empowering artists and fostering a community culture that values live and original music unlike anywhere else. 
---
Upcoming Events
Spencer MacKenzie
"Goodbye Lucille is the best musical tribute to BB King I've ever heard." — Blues Matters Magazine (UK).
At 22 years of age, Spencer Mackenzie celebrated three 2019 Independent Blues Awards Nominations for Blues Rock CD, Best New Artist and Best Contemporary Blues Song, Niagara Music Awards Blues Artist of The Year, Maple Blues Awards New Artist of The Year, 3rd Place International Songwriting Competition winner in Blues Category, and Toronto Blues Society Talent Search Winner.
He accomplished this and recording his new album while completing four years of college as a music major and now honours graduate at Mohawk College in Hamilton, Ontario. Four years later, surviving through a Global challenge the music industry faced during Covid 19, Spencer's highly anticipated new album is set to release August 13th, 2022.
Preach to my Soul, Mackenzie's third studio album, pushes the boundaries with his talent, passion, and an incredible team behind the album with Emmy Award Winner and Juno Nominated producer Ross Hayes-Citrullo and Juno award winner Steve Strongman special appearance on Paranoia Blues, and many more talented musicians all giving their incredible talent to this album.
Spencer has developed a tone, a vintage sound, a style that resonates and phrasing of a seasoned pro. Music is language. Words matter as do notes. Where they reside in a solo and how when layered they sometimes crunch and distort, at others sing and sting, is where his artistry resides in this new album.
JULY 97:00 PM
Shipyards Amphitheatre
Sohayla Smith
A Live & Original Alumni that never disappoints!
Canadian country singer-songwriter and multi-instrumentalist, Sohayla Smith, recently released "What's a Girl Gotta Do" (Feb 2022), now playing on CBC Sirius XM Channel 171, followed up by a catchy Country-Latin song, "Si Tú Quieres" (March 2022). And, coming out later this summer, "City Girl", produced by Jeff Dalziel. Sohayla was a supporting act for The Jim Cuddy Trio in 2020, and 2021. Sohayla is also a Celtic harpist, classical pianist, and a flamenco guitarist.
JULY 98:00 PM
Shipyards Amphitheatre
Whisky River
Mature, bold, and sophisticated.
Whisky River is a group of four "mature" aged gentlemen, who come from a wide variety of musical experiences. This latest ensemble consists of vocals, guitar, harmonica, keyboard and drums/percussion. They have written and recorded much music, both separately and in collaboration with each other. Their sound crosses many borders, from rock to folk and a wee bit of country. The vibe of the band is having a good time, listening to good, well played music. Music which has something to say. That vibe is something that we could all use right now.
Since entering the Live and Original showcase in Collingwood, they have enjoyed playing at several venues throughout the city. They are more than happy to help this important cause and hope that you will enjoy their performance. We also hope that, in the not too distant future, you will be able to catch them live.
JULY 237:00 PM
Shipyards Amphitheatre
Blackburn Brothers
At their core, Blackburn is a band of brothers – literally.
Duane (lead vocals), Brooke (guitar), Cory (drums) and Robert (harmony vocals and songwriting on the newest release) all share the Blackburn name; a name that has become truly connected to Toronto music history. Musically, the Blackburn name has been forever imprinted in our ears by Bobby Dean Blackburn, an R&B artist who gained legendary status in the Toronto music scene, performing the city circuit for over 30 years.
Beyond the music, other history runs deep too. The Blackburn name is tied to the history of the Underground Railroad, and there is a direct connection to the musical talents that we know and listen to today. A thread of Soul in almost every track the band records.
Blackburn received the Maple Blues Award for BEST NEW BAND in 2010, a JUNO nomination for BLUES ALBUM OF THE YEAR in 2016,
Duane Blackburn received a Maple Blues Award nomination for KEYBOARD/PIANO PLAYER OF THE YEAR 2019 and in 2020,
Cory Blackburn received a Maple Blues Award nomination for DRUMMER OF THE YEAR in 2020.
JULY 238:00 PM
Shipyards Amphitheatre
Jake Good
Electric, engaging, and entertaining - simply as Good as it gets!
Jake Good is a self-taught singer-songwriter from a small town in Northern Ontario, Canada. Through the years, he has captivated audiences from amphitheatres to cafe's with his powerful 5 octave vocal range. His ability to tell a story through his songs brings the listener through a heartfelt journey soulfully delivered from the heart.
Jake's music has been featured on TV, CBC Radio and the legendary series - Records & Rockstars with Jeff Woods to name a few. He has also had the privilege of sharing the stage with Juno award winner Serena Ryder, French Canadian album of the year and male artist of the year Stef Paquette, Canadian guitarist of the year Jamie Dupuis and many more. With a long list of accomplishments, Jake has more to add to the list. He has been nominated for Best Vocal Performance of the year in 2015, 2017 & 2019, in 2016 he took home first place at the Live & Original Music Series, a series based on the performance of original music and in 2017 he was awarded the Northern Arts Grant by the Ontario Arts Council. He is currently working on new music with Juno nominated producer/engineer Ben Leggett which will begin to release in the fall of 2020.
AUG 137:00 PM
Shipyards Amphitheatre
Bernadette Connors
Her new music has a unique, yet classic sound that's been missing in Canada.
Bernadette's style is truly authentic and pays no attention to what conformities the industry demands. She had developed a dynamic and expressive vocal range, earnest and emotional lyrics, and playful interpretation of song-craft.
Her album "Monarch" was produced by Canada's own John-Angus MacDonald (Guitarist for "The Trews) and recorded during the pandemic.
It touches on the magic of small-town Ontario and highlights the importance of one's local community. Bernadette gives back to her community with the song "Georgina", which gives the world a glimpse into what makes the small Ontario town so special.
Her new music has a unique, yet classic sound that's been missing in Canada, and can truly be described as Canadiana taking listeners on an intimate and exciting journey that resonates with audiences of all ages.
AUG 138:00 PM
Shipyards Amphitheatre
The Pairs
Family is what ties The Pairs together.
With soaring harmonies, they share stories of life's hope, hilarity, and hardship. An honest, quirky stage presence and their unbottled chemistry, quickly connects them with their audience. The line between the stage and the crowd becomes blurred as if we've all pulled up a seat around their family's lively kitchen table. Powered by three classically trained vocalists and a former punk rock drummer, The Pairs offer a unique blend of music that will hug your eardrums and inspire you to dance.
AUG 277:00 PM
Shipyards Amphitheatre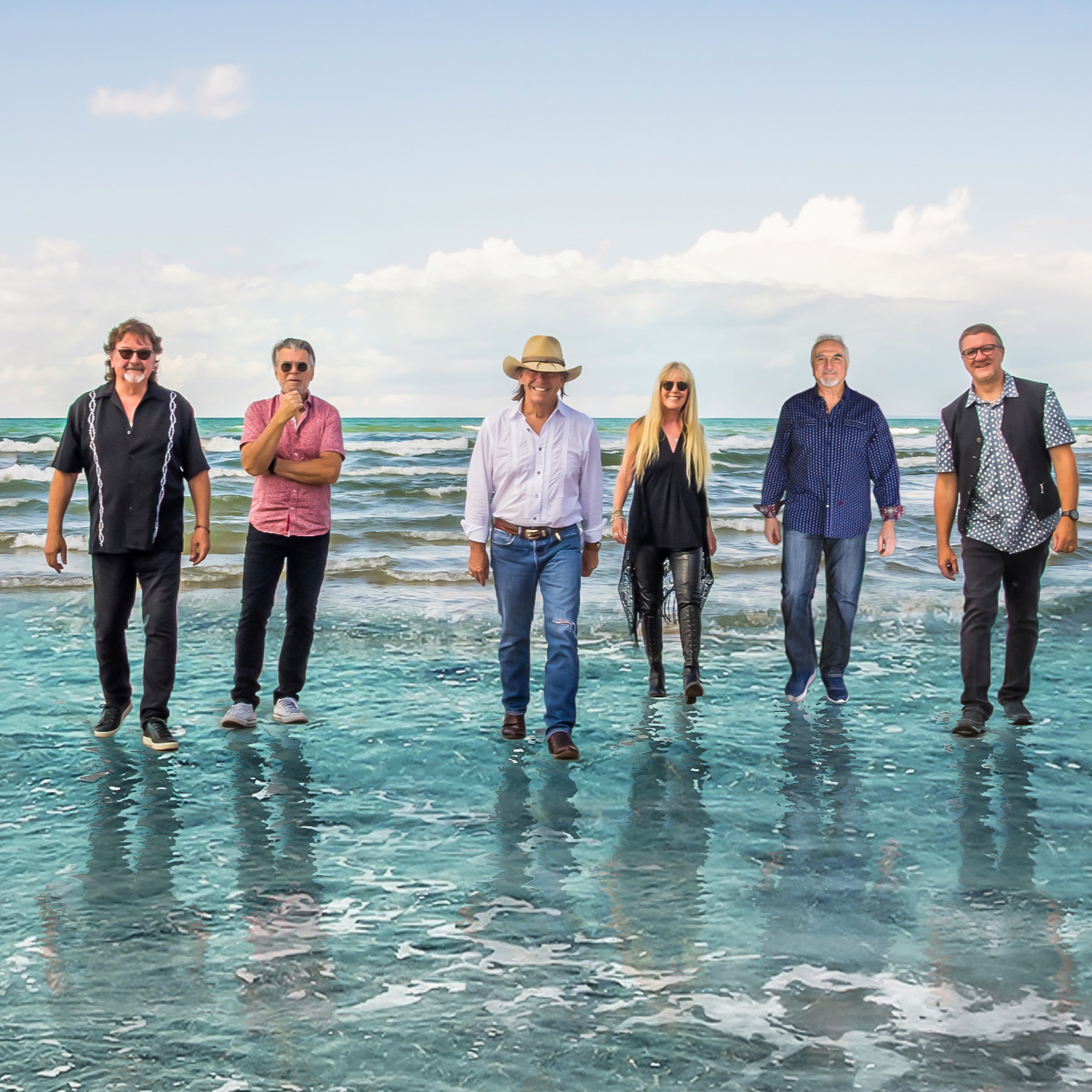 The Mike McCarthy Band
Mike and Erica McCarthy have been performing together for 30 years.
Mike and Erica McCarthy are "The Mike McCarthy Band" and have been performing together for 30 years. Mike was born and raised in Toronto and Erica was born and raised in Montreal, they have been a part of the Georgian Triangle music scene since 1993. The band's secret weapon, and the force that pulls all its diverse influences together, is the voice of Mike McCarthy, an expressive instrument brimming with gritty soul combined with the sweet harmonies of Erica Prinn-McCarthy. Their blend of southern rock, blues, folk, and soul make them hard to pigeonhole, but easily accessible to anyone who loves good music. Add Joey DiMarco (drums), Len Fligg (bass), Gabor Szepesi (keys), Tony Moretta (lead guitar), and you have all the ingredients that makes fire burn.
AUG 278:00 PM
Shipyards Amphitheatre

Live & Original Spotlight is our premier virtual show that delivers an entertaining and engaging experience to our music community, wherever they might be. Hosted by John Eaton (The PEAK FM) & Tyler Cleary (Town of Collingwood), each episode shines a spotlight on local musicians, venue owners, and music industry leaders. Revealing helpful advice, entertaining stories, and great music! 
Spotlight SEASON TWO airs the second Monday of each month at 7:00 p.m. on the Simcoe Street Theatre Facebook Page.
|   | Season One  is available for streaming now! All 20 episodes in one convenient place. |
| --- | --- |
| | The debut episode featured the musical talents of Craig Smith and the industry leadership of Darrell Mussel, owner/opperator of the Huron Club. Like most test flights, our first episode didn't quite get off the ground smoothly. But we stuck the landing and the music and messages remain just as important. |
| | Laura Conning and partner Nelson Beattie chat Route 26 and play us a tune. Josh Maitland from Red Room Recordings and of the band Swampy & the Note Troll, talks about recording and performs his new single Wage Slave. |
| | Special guest Patti Kendall, from the Blue Mountain Village Association, talks digital performances and the new landscape of events and musical guest Ryan MacIntyre brings us all together with the sound of music. Oh, and Tyler get's a hair cut! |
| | Singer-songwriter, author, and founder of Great Big Sea, Sean McCann shares his music with us while Industry guest, and local music champion, Steve Vipond - owner of CROW. Bar and Variety and Bruce Wine Bar, talks about bring folks together for music. |
| | Special guests are musical dad & daughter - Chuck and Ella Baker - and Tori Hathaway - Artistic Director for Emerging Artist program at Ontario Musicians Co-operative Inc. |
| | Joining us this episode is Warren Copnick, Director of National Promotion at Sony Music Canada, along with the amazingly talented electric violinist, Victoria Yeh. |
| | Brandon Houston, The Collingwood Foundry and CEO of Switch Video, talks digital delivery. Susan Cook, manager of the Blue Mountain Foundation for the Arts, maps recovery for the arts. While local musician and all around cool guy, Jason Redman, treats us all to some tunes! |
| | Live & Original Alumni, Sohayla Smith & Adrian Smith joins us to perform a couple songs from her new album, I'll be the Meteor. Also joining us is the president of the South Georgian Bay Music Foundation's, Charlie Gudaitis. |
| | Joining us this time is Bernadette Connors, hot out of the recording studio with John-Angus MacDonald (from The Trews)! Also joining us is Mark Cameron, Reginal Program Director of Central Ontario, Corus Entertainment, to share some intel on how to get played on the radio. |
| | It's our 10th episode and we've got Mike McCarthy & Erica Prinn-McCarthy of The Mike McCarthy Band, Creative Space Developers, Richard & Anke Lex, and Karen Cubitt, Manager of Culture & Events with the Town of Collingwood, sharing details on our Virtual Canada Day festivities. |
| | Joining us this episode is musical father-son duo Fran and Adam Webster - with special appearance from wife/mom, Annalee Webster. Also joining us is film producer, Tom Strnad - the multi-talented man behind the Mountain Goat Film Company Inc. |
| | Joining John Eaton and Tyler Cleary on this episode is pop singer-songwriter and recording artist, Brian Miessner, also joining is the man behind the music for many live shows in the area, Roger Robinson, President & CEO of CHS Productions. |
| | Local singer-songwriter and recording artist, Shane Cloutier shares his latest music video Rain Check and upcoming release of new single, Catching Up. Producer, engineer, and musician Shawn Kelly of QV Studio also joins us to share wisdom on recording practices. |
| | John's on vacation and Tyler is flying solo as host! Joining him is Ryan MacIntyre and Rosemarie Garrity O'Brien to discuss Collingwood's busking program and the busker video series. We also checked in with a few of our past guests for updates, too! |
| | With John still away, Tyler has a clip show extravaganza to share! With special updates from Jason Redman and Swampy & the Note Troll's Josh Maitland. We also take a walk down memory lane as we look back at some great Music Lab performances from 2019.  |
| | Not quite done reminiscing, Tyler hosts the last of the Clip Show Extravaganza. This time with updates on The Mike McCarthy Band, a special music writing video from Stephen Stanley. Another stroll down memory lane with more video clips from the vault. We'll also checkout a clip from another great online series called From Home and a short video from the band JULY TALK! |
| | After sleeping in, hosts John Eaton and Tyler Cleary are back with another episode of Spotlight. Joining them is singer/songwriter Romney Getty and artist manager Hanna Cameron.  |
| | Artists, musicians, and brothers - Ben & Kyle Hannah - otherwise known as Mountain Head - do everything but Make it Mundane as our musician guests! Also joining in on the fun is the man with the charismatic voice and plethora of music knowledge, nonother than musicologist Jeff Woods! |
| | Digital-duo John Eaton and Tyler Cleary are joined by Villa Sound owner & recording engineer, Adam Fair and talented musician, Jamie Ciotka. We also share some details on what our friend Chris Scerri is up to that has helped bring music back to the streets of Collingwood safely. |
| | John Eaton and Tyler Cleary close out the first season of Spotlight with returning guest Ryan MacIntyre and the psychedelic siren of Sunday music, Madison Galloway! We also take a look back at our series and thank past guests and our wonderful viewers that made this a success! |
The annual Collingwood Art Crawl is a celebration of art and creativity in all its forms. In that spirit, Music Crawl is the self-guided tour of Collingwood's musical soundscape! Immerse yourself in the zenith of creativity as you explore a variety of artists, mediums, and musicians in the re-imagined and virtually presented 2020 Collingwood Art Crawl. Bring the noise home by checking out the Crawl Musicians below or check out the complete list of unmissable artists by visiting the Collingwood Art Crawl page and get inspired!
 
 

Alyssa Tess

A singer/songwriter who used her circumstances to challenge herself to write new music based on random prompts. Listen in and hear what she created.

Ryan MacIntyre

An in depth look at the inspirational story behind the original song Everything is Fine.

Sohayla Smith Band

Sohayla Smith and band play some of her lesser known originals coming out on her next album, as well as a few hits off her latest record, I'll Be the Meteor.

The Mike McCarthy Band

The Mike McCarthy Band performs a collection of original songs performed at their first live, physically distanced, outdoor concert at Duntroon Highlands Golf Club.

Madison Galloway

An emerging artist with a soulful voice performing catchy original folk-rock tunes with guitar and harmonica, along with drummer, Carmelo Papazoglou.

Jessica Spurrell

A musician and songwriter drawing inspiration from folk, indie and pop styles resulting in warm atmospheric sounds with meaningful lyrics full of feeling.

Marc Anderson DesRochers

A singer songwriter blending varied musical interests into something he calls his own.

The Honeyrunners

A northern band with southern roots, hot-blooded and rife with heartache.

Triple John Music

Music inspired by eclectic influences makes this a unique must hear.

The Decklan Funston Band

A trio of college students who recorded in a rental rehearsal room in Toronto. You'll hear a selection of their own original music compositions.

Jessie Gosling

A singer/songwriter whose dramatic and honest songs pull from the folk genre with pop influences.

Alan Small

A local songwriter and performer sings four original songs with images and energy of Georgian Bay and our town.

SOUP

A jazz inspired band, formed in highschool, and influenced by indie, jazz and experimental music genres.

Melissa Dawne

A recording artist who embraces her roots in an electric folk, indie genre, with a unique style and soothing vocals.

The Treeline

A band who strives to capture the personalities and diverse landscape of rural Canada with thoughtful arrangements and graceful melodies.

Miranda Journey

An indie folk rock singer and songwriter, inspired to pursue her craft through relatable songs that are close to her roots.

Megan Anne

An award-winning indie pop musician, whose music is described as approachable and perceptive.

Glacial Erratic

A quartet whose banjo-funk, rock-fusion, produces a powerhouse of groovy sounds complimented by comedic lyrics.

Bureh BK & The Shop

Jazz quartet Bureh Bk & The Shop perform a set of their originals recorded live from Dreamland Studios in Toronto.

Tyler D. Reed

A musician who writes and records emotional soundscapes and beautiful melodies, browsing ideas from ambient, jazz, and post rock music.

 Hubbards Hustlers 

A four piece band that blends modern rock with an upbeat surf vibe that gets everyone singing and dancing.

Sohayla Smith

Playing her original compositions on her Celtic concert lever harp, this songwriter incorporates her arrangements of her favourite pieces by Irish harpist O'Carolan as a medley.

Jay Kipps Band

This special, physically distanced set recorded exclusively for The Collingwood Art Crawl features songs from their first record How to Polish Your Longhorns and new material yet to be released.

Brianna McGowan

Performing a selection of songs on the banjo, this folk-style singer songwriter enjoys writing expressive songs that draw audiences into her performance.

Whisky River

This 4 piece group of seasoned musicians performs original songs inspired by their individual musical tastes from a variety of genres.

The Matthew & Richard Duo

A father & son jazz duo performing original compositions, American standards, and pop songs with a classic jazz sound and our own original flair.

Myrle

Jamie Clarke and Brandon Munday team up with sculptor Nathan Sowrey and his Woven Woods.  Witness Nathan as he creates to the music in his own back yard.

Sydney Riley

A performing songwriter well-known for her heartfelt originals including her first single, I Am the Ocean.

Drew McIvor

Simple things matter to this musical artist who isn't afraid to "make a splash" with influences in roots, world and acoustic soul melting into a storybook of song.

Swampy & The Note Troll

A blues rock band comprised of music professionals from songwriters to production techs, who draw their inspiration from a weekend jam when they needed music the most.

Mountain Head

An alternative rock band channelling a mixture of psych-rock, alt-rock and elements of electro-pop and jangle pop into their own unique sound and contagious melodies.
Music Labs are the motivational and inspirational gatherings of harmonious sound, collaborating creatives, and seekers of experimental freedom. It is a hub where people of all ages, abilities, and tastes can collaborate with one another, share ideas, and test out new sounds. Guest-host musicians kick things off - sharing their experiences, connecting participants, and facilitating the discussion. Whether you're just a fan of live music, looking for feedback on your latest original composition, or just want to jam with the band – there is always a reason to come to, tune up, and jam out. 
All ages and experience levels are welcome. Bring your instruments!
Music Labs: On-Demand are the continuation of our popular Music Lab series. Based on demand and hosted by Collingwood's music leaders. On-Demand provides more opportunities for musicians to collaborate and explore their creative boundaries collectively, while the Simcoe Street Theatre provides the space.
Live & Original Presents proudly showcases our emerging artists, established acts, and renowned talents. Presents is a partnership opportunity for musician's that increases public exposure through promotional support and reduces financial barriers by offering performance space. Liberating the artists so they can focus on what matters most – presenting their music! 
Supporting local artists and passionate individuals is our path to fostering a more inclusive and creative community. Which is why we're always looking for opportunities to collaborate with others. If you're interested in being part of the Live & Original Music Initiative - then let us know!  
To reach event organizers, contact:
Town of Collingwood
P.O. Box 157, 97 Hurontario Street
Collingwood, Ontario L9Y 3Z5
705-444-2500 x3382
Email: prc@collingwood.ca