Collingwood Harbourlands Park
Harbourlands Park was created in 2000 and is situated on the south shore of Nottawasaga Bay, which constitutes the southern extension of Lake Huron's Georgian Bay.
Residents and visitors alike enjoy the rugged beauty of a once active shipping/grain storage area. The backdrop of the Collingwood Terminals with its huge white columns rises up from the once wasteland "spit area", now a series of beautifully landscaped walkways and gardens with a memorial walkway lined with plaques and granite plinths marking the history of the area.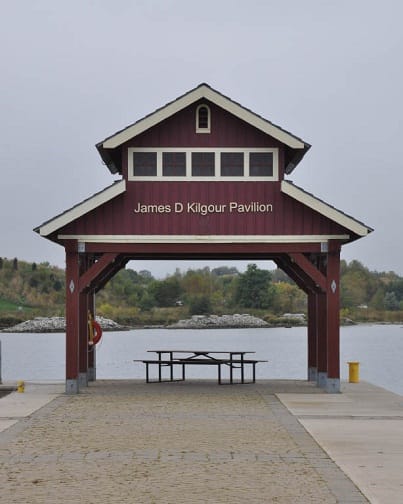 In the 1980's, Collingwood Harbour was identified as one of the 43 Great Lakes Areas of Concern as part of the binational agreement to restore and protect the Great Lakes. The Governments of Canada and Ontario assembled a Remedial Action Plan team, with a goal to improve the harbour's ecosystem quality and restore or maintain both human and non-human uses that the harbour supports. In 1994, Collingwood Harbour was the first Area of Concern to be delisted. 
Harbourlands Park offers the ever-changing grandeur and scenic beauty of Georgian Bay for the many people who drive or walk to the Park. There are benches for reflective moments or to watch the quiet beauty of sailboats filling their sails as they make their way out of the historic Collingwood Harbour.
Contact
Recreation Service Representatives
Address: 451 Third Street, Collingwood
Phone Number: 705-444-2500
Harbour Attendant (summer only): 705-441-2109
e-mail: prc@collingwood.ca
(photo right) James D Kilgour Pavilion Photography by Matthew Wells © 2013