Open for Self-Guided Tours • Tuesday - Saturday, 10:00 a.m. - 4:00 p.m. 
The Museum will be closed on Saturday, September 24 as staff will be at the Museum booth at the GNE. 
Admission to the Collingwood Museum is by donation with a suggested $4 donation per person.
Please note: high-touch exhibits that cannot be easily sanitized between tours have been removed.
---
Hope and Healing Canada
Hope and Healing is a body of work by Métis artist Tracey-Mae Chambers used to illustrate connections between Indigenous and non-Indigenous peoples, while also addressing the decolonization of public spaces.
Tracey-Mae's #HopeAndHealingCanada will be on display inside and outside the Museum until November 17, 2022.
Groups of 10 or more wanting to come in to see the installation should call the museum at 705-445-4811 ext. 7211 or email museum@collingwood.ca
Visit Tracey-Mae's website for more information.
---
Children's Programming
Museum programs are a fun way for children (ages 6-12) to spend an active and heritage-inspired morning. Participants enjoy exploring Collingwood's heritage through storytelling, craft-based activities, and group games. 
Stay tuned for upcoming PA Day programs and registration information. 
---

Gift Shop
Curbside orders are processed by telephone and are subject to staff availability. Please note, prepayment is required, and same-day pick-up may not be possible.
Call 705-445-4811 Ext. 7211 to arrange curbside pick-up. 
No visit is complete without browsing the Museum's quaint gift shop. You will find a wide selection of books, games, clothing, small gifts, prints, postcards, and more.
Please note, inventory lists may not reflect what is in store. 
Vintage-Inspired Apparel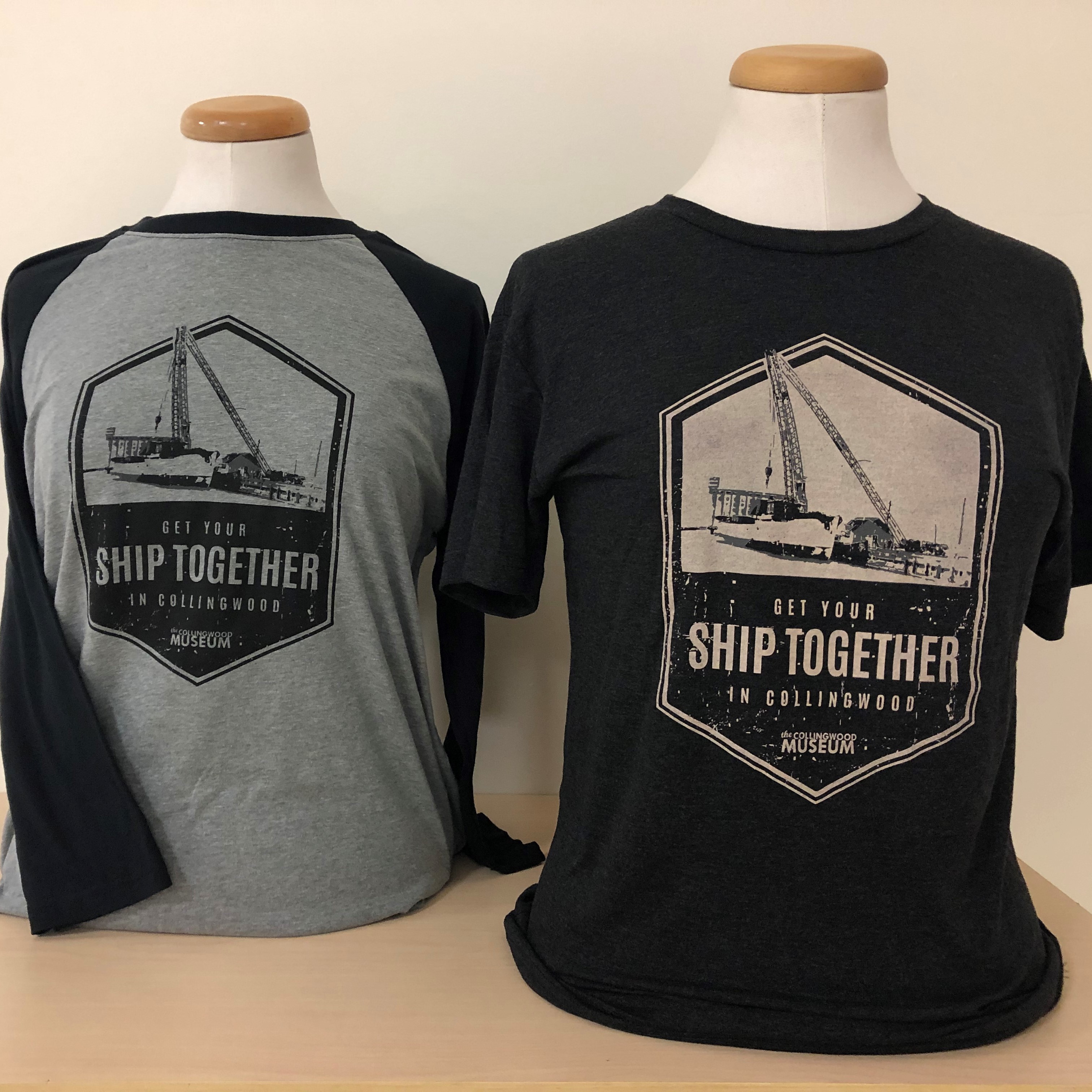 T-shirts are $29.95+HST. 
"Get Your Ship Together in Collingwood!" shirts celebrate Collingwood's shipbuilding heritage and features the iconic shear leg lowering a boiler into a corvette built to traverse the Atlantic during World War II. The Collingwood Terminals bore witness to this history.
---
Stories from Another Day - A Collingwood Museum Podcast 
Stories from Another Day travels through Collingwood's past to find the people, events and stories that made this town into the jewel it is today. Join the Collingwood Museum and host Ken Maher to explore over 160 years of tragedies and triumphs, disasters, and determination.  
Season Two kicked off on September 6. Stay tuned for new episodes monthly. 
Where to listen: ​​ 













---
Collection and Research 
The museum houses an archival collection that is accessed by researchers from around the world. Photographs of Great Lakes vessels, Collingwood's historic homes, downtown, and early industries are amongst the most popular items. 
Contact museum staff to learn about more research services and photograph reproductions.  
Search these directories by using the "Ctrl+f" function in the PDFs. 
Collingwood was, and still is, directly affected in many ways by the marine history of the community. From the very early years of the 1850s when the harbour was used primarily for boat building, through its era as a vital east-west link across the continent, to its importance as a shipbuilding town, Collingwood maintained strong marine roots.
The Collingwood Museum has made it possible for you to explore the Town's shipbuilding heritage at virtualmuseum.ca with more than 100 photos, detailed text and audio in their virtual exhibit titled "Hulls on Hurontario: Collingwood's Maritime Legacy" 
Collingwood residents have a long and impressive history of actively collecting and telling the stories of our community. In good times and bad, residents have documented local and global events that have changed the way we live, work, and play.
The COVID-19 Pandemic is a historic global event that we are experiencing both together and apart. The routines of daily life, business operation, school life, and community interactions have been dramatically altered. In 100 years, what do you want the residents of Collingwood to know about the challenges we are facing today and how we are overcoming them?
The Collingwood Museum wants to hear how COVID-19 is impacting you. We understand that your stories may be challenging to tell due to the traumatic reality of the virus and we thank you for taking the time to assist in documenting this event for future generations.
All content submitted to this collection may be used by the Collingwood Museum for future research and reference, education, exhibitions, programs, marketing, reproductions and promotional purposes.
---
How can I contribute to this collection?
Contribute Now
Online forms can be submitted multiple times to capture changing experiences. Contributors must read and understand the informed consent release form. 
Contribute later
Keep a physical or digital journal documenting your daily/weekly/monthly experiences for submission after the outbreak. Use these journaling prompts to help you get started.
Donate a physical object that best represents COVID-19 in Collingwood. Please note that this collecting effort does not intend to take away resources from our community and front-line workers.


---

If you have any questions, please contact Melissa Shaw, Museum Supervisor, mshaw@collingwood.ca or by telephone at 705-445-4811 ext. 7222.

Thank you for sharing your story with us.
Mountain View Elementary Hounours Veterans 
The Collingwood Museum was proud to partner with Mr. Larmer's Grade 6/7 class to display their 2020 and 2021 Remembrance Day posters in a virtual format. 
Click the links below to see all the great research done by Mr. Larmer's students. Good job, everyone! 
Mountain View Remembers WWII Veterans (2021)
Step inside a modern take on Collingwood's 1873 train station, but don't let the exterior fool you! The Collingwood Museum's collection stretches far beyond Collingwood's transportation history. 
Popular curiosities include a razor-sharp bill from a sawtooth shark and a twisted piece of metal recovered from the Halifax Explosion. You'll also find paintings by local artists who trained under the Group of Seven, as well as a 140-year-old statue carved by Sir Sandford Fleming's brother.
The sounds of Collingwood's shipbuilding legacy ring through the gallery as a ship is side launched into the harbour on a loop of vintage film. Try your hand at turning a brass ship's wheel, and get up close to models of Collingwood's most famous ships, including the Chi-Cheemaun. Exhibits range from the evolution of local business and industry to the region's First Nations people who inspired the establishment of the museum's predecessor, the Huron Institute, in 1904.
You're also just steps away from an extensive trail system that runs along the shores of Georgian Bay, so why not pack a picnic lunch and start your day at the museum?
First known as Hen and Chickens Harbour, with Hurontario Mills and the mill pond located at the east side, Collingwood was renamed in 1854 to honour one of Britain's most noted naval heros, Admiral Lord Cuthbert Collingwood, second in command to Admiral Horatio Nelson. By 1843 settlers had arrived and located on the shores of Georgian Bay near to where Collingwood is now situated.
A saw mill and a flour mill were erected on the shores of the bay by 1846 near the mouth of the Pretty River on the east side. The mills were a blessing to the settlers, since previously they had to carry their wheat and grains for grinding on their backs to Barrie, a distance of more than 36 miles.
While the townships around Collingwood were sparsely populated with few immigrant families as early as 1832, the settlements were far apart, with miles of dense woods between them. Although there had been talk for years of connecting Collingwood and Toronto by railway, it wasn't until 1851 that a company was formed and money obtained to begin the actual construction work after Collingwood was chosen as the northern terminus for the Ontario Simcoe and Huron Railway line (later the Northern Railway of Canada) out of Toronto.
It was the arrival of the railroad in 1855 that cemented Collingwood's worth as a centre for shipping and shipbuilding, since the rail line offered the ability to transport goods, materials and people easily and efficiently through the Great Lakes and points west.
Shipping began to gain importance with Collingwood being an early transfer point for emigration to the United States or western Canada. Freight and passenger traffic between American ports and the town was so heavy at one point, that Collingwood boasted a United States consulate. Shipping by water meant that local wooden boat building flourished during the 1850's and 1860's.
Following the completion of the Queen's Dry Dock at the foot of Hurontario Street in 1883, corporate shipbuilding industry prospered. By the turn of the century Collingwood was fast gaining an international reputation for consistent quality work and innovative design under the banner of the Collingwood Shipbuilding Company.
Shipbuilding continued to play an important role in the fabric of the community's economy, with more than 1,000 employed during peak periods. While the closure of the Yard in 1986 dealt a serious economic blow to Collingwood, recovery was swift and stable.
Not a member yet? Membership to the Collingwood Museum has its privileges. 
Become a member and help support our efforts. In addition to free admission and discounts in the gift shop, members receive monthly e-newsletters that keep you up-to-date on museum projects and events. 
To become a member, please print out the attached form and submit with cheque to:
The Collingwood Museum
P. O. Box 556
Collingwood Ontario
L9Y 4B2
You may also contact staff to process your membership payment by phone at 705-445-4811. Have questions? You can also contact us at museum@collingwood.ca
Member benefits include:
Free admission to the Museum – all year round!
20% discount in our gift shop*
20% discount on photographic services
Free access to the archival and research collections (by appointment)
Invitations to special events and exhibit receptions
*Some exceptions may apply
Department Information
Hours of Operation:
Tuesday - Saturday
10:00 - 4:00
Location:
45 St. Paul Street P.O. Box 556 Collingwood Ontario L9Y 4B2