Trails 
The Collingwood Trails encompass over 60 kilometers of recreational trails for cyclists, walkers, joggers, skiers, and snow hoers as well as adults and children commuting to work and school. There is a Trail leading to every major point of interest in the Town and its surrounding municipalities, including the beaches of Sunset Point, the scenic lookout at Millennium Park, the tranquil gardens of the Arboretum, the Labyrinth, the historic Station Museum, and the Collingwood Downtown to mention just a few.
Engaging in outdoor activities is a great way to improve both mental and physical health. The Collingwood's Trails is making it easier for everyone to be physically active and to move easily from destination to destination. The well-marked trails can get people around town and its surrounding areas safely and quickly. In addition to its ever-expanding network of nature trails, Collingwood is also expanding its in-town bike routes, bike parking stations and safe crosswalks to promote and encourage active transportation and alternative modes of travel in the area.
Active Transportation
Active Transportation refers to the movement of people or goods through human powered activities. These activities may include walking, cycling, cross-country skiing, snowshoeing, rollerblading, skateboarding as well as hybrid-mobility aids such as e-bikes, wheelchairs or scooters. Since 2015 Collingwood has been steadily expanding its active transportation infrastructure with a network of different pathways, bike lanes, multi-use trails and widened sidewalks to allow for a safer movement throughout our Town, neighborhoods and between various destinations. These upgrades not only help in promoting a healthier lifestyle but also in reducing emissions, saving energy, saving cost and making Collingwood a cleaner, healthier and more livable community. 
BFC Award
The Bicycle Friendly Communities (BFC) program was launched in 2010 by Share the Road Canada to provide assistance and guidance to municipalities to actively support cycling in their communities. The BFC program evaluates cycling related achievements in four different categories: Engineering, Education, Encouragement, and Evaluation & Planning. To be eligible for an award (Bronze, Silver, Gold, Platinum and Diamond) achievements must be made in all four categories. Collingwood achieved the Silver level award in 2021  and is aiming towards gold in the future.
Click here for more information on the Bicycle Friendly Community Award
Find your trail!
Learn more about the Collingwood Trails with our short video
Projects Planned for 2021 (subject to budgets and timing)
Train Trail: Upgrade road/trail crossings and signage and resurface
Maple St: Develop and implement Neighbourhood Bikeway pilot project
Sixth St/Hamilton St: Upgrade road/trail crossings and signage
Ontario St: Upgrade road/trail crossings and signage
Sunset Point Trail: Rehab/relocate the trail in the park to prevent future washouts
Wasaga Beach connection: Upgrade signage
Raglan St: Upgrade signage
River Trail: Extend River Trail south from Siding Trail to Riverside Subdivision 
Winter Trails
Which trails are maintained in the winter months?
Recreational trails are not maintained in the winter except the trails within Harbourview Park and the Georgian Trail.  These trails are groomed when there is adequate snow to pack down (not plowed or sanded).
The Ontario Federation of Snowmobile Association (OFSA) maintains their snowmobile trails which include a portion of the north side of Poplar Sideroad and the Black Ash trail heading north to Canadian Tire and then heading east to Birch Street in Harbourview Park.
Are snowmobiles allowed to travel on trails?
The Town allows snowmobiles along the Train Trail (from the OPP station to Poplar Sideroad) and along the Hamilton Drain Trail (from the Train Trail to Saunders Street) for local access to the OFSA trails as per Bylaw 2015-095.
Snowmobiles need to follow the Highway Traffic Act when operating on the roadway and should not use pedestrian sidewalks.
Trails Newsletters
Hidden among the trees along the Train Trail beside Central Park Arena is a series of forest creatures. Day or night, try to find them all! Find our more and download the game card at this link >>
There is a trail for you!
The trails are four-season, multi-use paths for walkers, joggers, cyclists, skiers, and snowshoers. Crushed stone, concrete, wooden walkways and dirt-paths join street bicycle routes to help get you around town. Most surfaced trails are flat terrain and generally accessible for the physically challenged. Snowmobiles have town access via specially marked trails. No other motorized vehicles are permitted.
Again, the trails provide access to every major point of interest in town. Drop into the Collingwood Museum at The Station. Enjoy the lakefront view and the amenities of Sunset Point Park. Wander through the Arboretum and enjoy a moment of contemplation at the Labyrinth. View the Harbour from Millennium Park or the boardwalk on the Hens and Chickens Trail. Check out the downtown stores. Visit the facilities at Central Park. Explore the Nature Trails in the Eleventh Line area. Follow the Heather Pathway, a series of Town trails linked together from Millennium Park to The Hen & Chickens Boardwalk that gratefully acknowledges a very generous anonymous donation toward trail development. And if you are looking to travel further afield, you have direct access to the Georgian Trail to Thornbury and Meaford or the Train Trail to Stayner.
So park your car, put on your hiking shoes, jump on your bike, or get out those snowshoes. There's a trail for you. 
Trail map locations
Comprehensive Trail Maps are available free (or if you are able, for a minor donation) at many locations around town.
Trail maps are available from
Town Hall, 97 Hurontario Street
PRC Department Office, 55 Ste. Marie Street
The Station Museum, 45 St. Paul Street
Collingwood Public Library, Ste. Marie Street & Simcoe Street
Plus 100 businesses serving visitors throughout the Town
Map boxes at strategic locations on the trail
Map boards
In addition, to make it easier for people to navigate the Collingwood Trails, map boards have been installed around town so that everyone can quickly determine where they are and plan a route to where they wish to go. Map boards are located at Sixth Street and Black Ash Trail, Poplar Sideroad and the Train Trail, Marine View Drive and Highway 26, and beside the bicycle Outdoor Repair Station in Sunset Point Park. 
For further information contact:
Collingwood Parks, Recreation & Culture at 705 444-2500
Click here for the Collingwood Trails map
Click here for the George Christie Nature Trails map
Explore Collingwood's history, Features on the Trail
In order to preserve the rich history of Collingwood, we are using the trails to locate natural and historical sites by installing interpretive panels at important locations. The Trail Maps highlight the names and location of all these panels.Travel the trails and expand your knowledge of Collingwood history.
Additional potential sites have been identified, but in order to proceed with more Sign Sponsors and suitable historic images are required. If you wish to sponsor a sign or have historical pictures that could be useful, please refer to the Donor Gift Program on this website.
GPS Coordinates
For those  interested in using a GPS, click here to view a table of Features on the Trails the coordinates.
Features on the Trail
 
Whites Bay Feature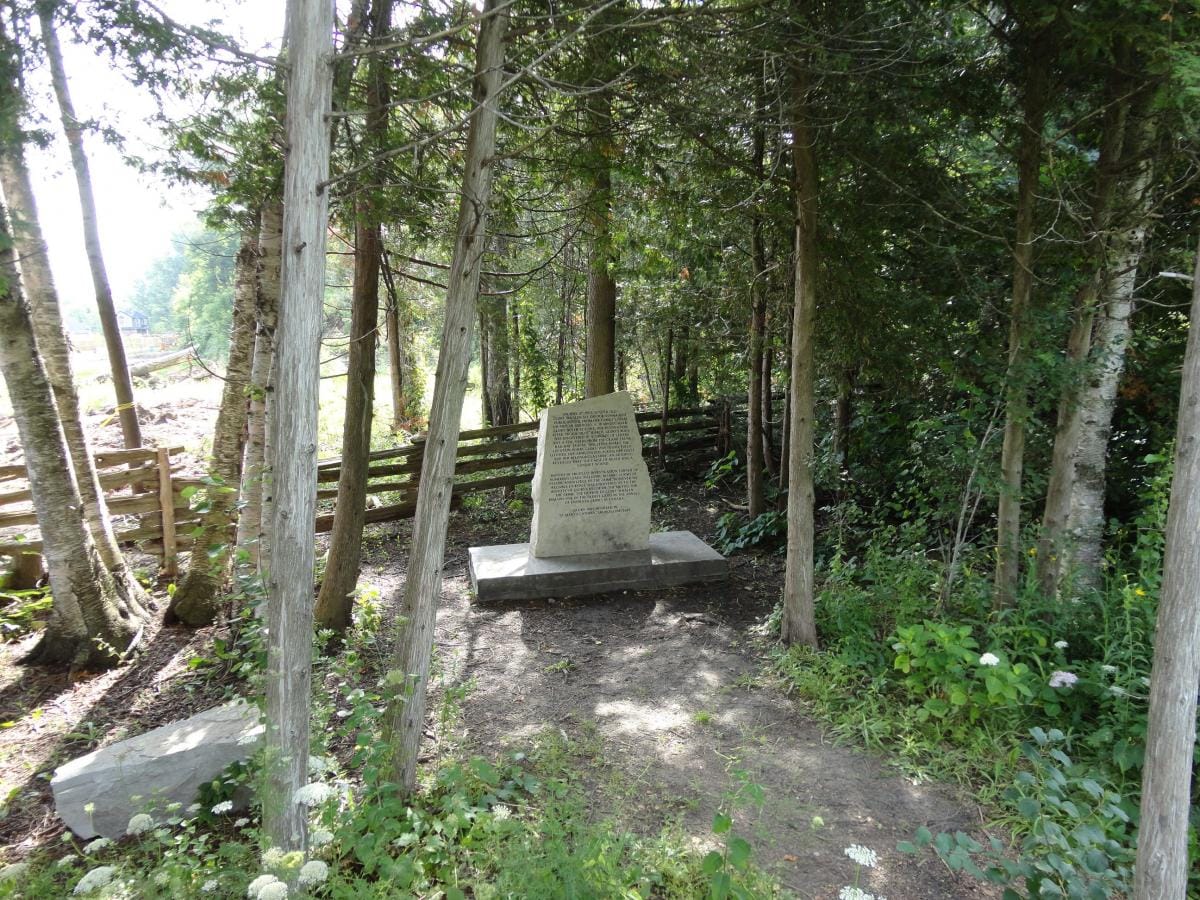 Glory Whelan Parkette
(Click on any of the maps for a larger view)
(click on map for larger view)

Harbour Circle Route –  4.2 km (1+ hour walk)

A serene route in the centre of town. Stroll along the waterfront, the boardwalk, the Arboretum, and the labyrinth. For an extra bonus, follow the trails to the top of the berm and enjoy a perfect view of the town, the Collingwood Terminals, and the ski hills at Blue Mountain.

(click on map for larger view)

East Circle Route  –  5.8 km (1.5 hour walk)

 

Our most scenic circle route takes you along the tree-lined Train Trail, the picturesque Pretty River, and through beautiful Sunset Point Park. Visit the Station Museum, Central Park, the Japanese Garden, and interpretive signs celebrating the history of the town.

(click on map for larger view)

West Circle Route –  7.7 km (2 hour walk)

A pleasant walk in the west end of town following the Georgian Trail and the Black Ash Creek. Drop into one of the resorts along the route for a beverage to enhance your trip.

(click on image above for full trail map)

Heather Pathway – 20+ km  (4.5 hour walk)

Looking for a challenge? Follow the Heather Pathway around the entire town and experience all the sites that the town has to offer. (see full trails map: here)

(click on map for larger view)

George Christie Nature Trails   

Want to rough it a little? Hike or bike these nature trails and experience the wilderness without leaving town. They are a fantastic place to snowshoe or X-country ski in winter.
Trail maps can be picked up in the following locations:
Town Hall, 97 Hurontario Street
PRC Department Office, 55 Ste. Marie Street, 3rd Floor
The Station Museum, 45 St. Paul Street
Collingwood Public Library, Ste. Marie Street & Simcoe Street
And over 100 businesses serving visitors throughout the area
Map boxes at strategic locations on the trail
"Collingwood Trails" entrance at Minnesota & Manning, Collingwood, Ontario, Canada
Photography by Matthew Wells © 2012
In 2014 and energetic group got together and proposed that an 11 circuit Chartres Labyrinth be built In Harbourview Park on the Collingwood Trails system.
The Collingwood Labyrinth was built during 2015 on land donated by the Town of Collingwood.  The cost to build the Collingwood Labyrinth was $165,000; all donated by generous citizens and visitors of the Town.  
This site is a big draw during the summer and can make a restful and reflective stop on your tour around the Collingwood Trails.   There is an interpretive sign at the site to explain about labyrinths and how to walk in the most beneficial manner.
LOCATION
The Collingwood Labyrinth is on the Harbourview Trail near the Arboretum at the north end of Hickory St. (view map)
Photo credit: Geoffrey Belisle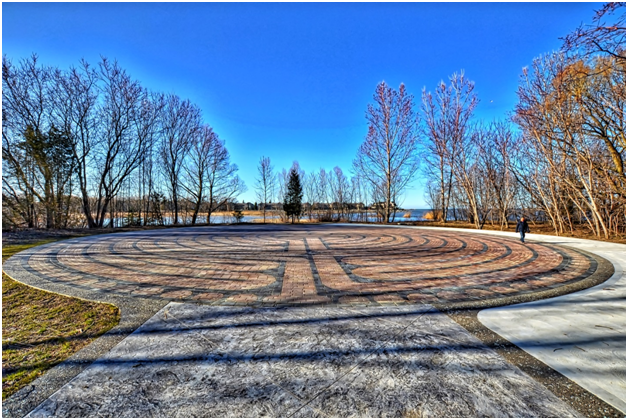 Photo credit: Doug Burlock
Arboretum 
Photo credit: Doug Burlock
Sunset Point Park 
Photo credit: Doug Burlock 
Anukshuk
Photo credit: Doug Burlock 
Awen Gathering Place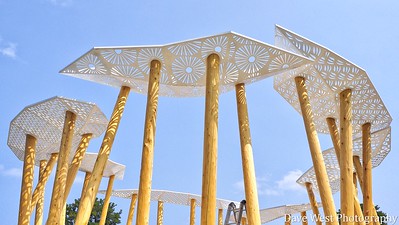 Photo credit: Dave West
The former Eleventh Line nature trail area has been renamed to the George Christie Nature Trails in recognition of George Christie and his passion for the Collingwood Trails.  George is one of the original founders of the Collingwood Trails in the mid 1980's,  with many years of dedication to the trail and their development.
Please be sure to check out the entire area. It is a beautiful wilderness retreat within the town limits and an outstanding location for a peaceful nature stroll or some snowshoeing in the winter months. 
As you will notice on the Trail Maps, the George Christie Nature Trails connect with the Georgian Trail in two spots and can be an excellent combination trail experience.
DOG OWNERS
Leash your pet and maintain control.  Pet waste bags are available in several locations, please pick one up and use it.  Please put used bags in proper receptacle.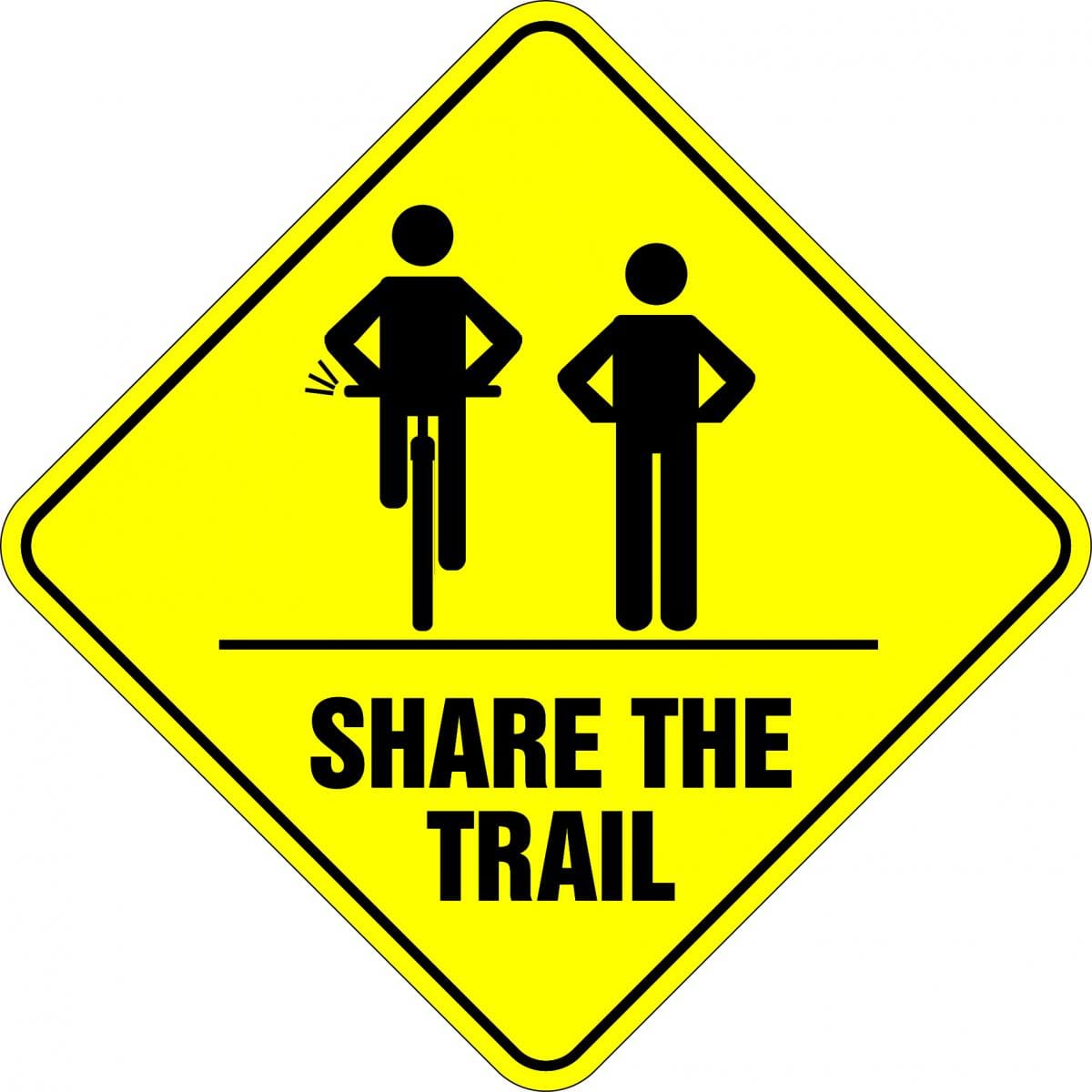 The Collingwood Trails are a multi-use accessible trail system for pedestrians, dog-walkers and cyclists - and in winter  - snowshoers, cross-country skiers and snowmobiles (snowmobiles on designated trails only). 
A safe experience for all trail users depends upon everyone following some basic rules, such as those below. 
| | |
| --- | --- |
| | Pedestrians always have the right of way. Cyclists should ring a bell or call out "passing left" when approaching pedestrians and if necessary, dismount. |
| | Stay to the right of the trail. |
| | When overtaking others, pass on the left and sound a warning by bell or voice. |
| | Do not block the trail. |
Trail Etiquette reminders
Collingwood's 60+ kilometers of trails are popular with residents and visitors alike, but the Town of Collingwood wants to make sure that all trail users are familiar with common trail etiquette.
Manager of Parks Wendy Martin and Trails Committee Chair Murray Knowles exhibit two of the trail etiquette signs.
"Generally trail users are respectful of each other, and everyone is able to enjoy the trails, whether they're walking, cycling or jogging," said Manager of Parks, Wendy Martin. "There are some occasions where users may not be sure of the proper way to pass pedestrians while on a bike, and we hope these signs will be a reminder to share the trail with all users."
Four signs promoting different aspects of trail etiquette will be posted throughout the trail system and will be moved periodically to help share the message with all users.
The signs include the following four reminders of proper trail etiquette:
Pedestrians always have the right of way
Stay to the right of the trail
Sound a warning
Do not block the trail.
Safety on the Trails
Most of Collingwood Trails are close to homes and businesses and trail users are clearly visible from the street; however, there are locations where users are somewhat isolated. For your own personal safety always be accompanied by a buddy, let people know where you are going and when you expect to return, and carry a cell phone with you. Emergencies can happen when you least expect them. 
Dog Walkers
Leash your pet and maintain control.  Pet waste bags are available in several locations, please pick one up and use it.  Please put used bags in proper receptacle.
No Motor Vehicles.
Motor bikes and e-bikes are NOT permitted on the Collingwood Trails.  Pedelec bikes are allowed as the rider needs to use the pedals and the small motor is only an 'assist'. (By-law 2015-077)
Joggers and Walkers
Please be sure your music and personal entertainment devices aren't so loud that you cannot hear cyclists and others who may be warning they are passing on your left.
Collingwood Trails have a Donor Gift Program and we welcome donors who by their generosity will make a permanent difference to trail enjoyment. Donors will leave a legacy to cherish. It is a wonderful way to celebrate birthdays and anniversaries, or to remember a loved one. A donor can make a gift to a specific area on the Collingwood trails.
One specific way to make a donation is by sponsoring a Features on the Trail historical interpretive panel. Sponsorship cost is $1,700.
All donors will receive a letter of appreciation and a charitable donation tax receipt from the Town of Collingwood. Major donations ($5,000 and up) can be recognized with an inscribed boulder adjacent to a trail. The members of our volunteer trail committee will work closely with you to help personalize your gift.
We would appreciate hearing from you. Contact the Parks, Recreation, and Culture Department by phone 705-444-2500 or email prc@collingwood.ca.
Do you walk the trails on a daily or weekly basis? 
Do you hate seeing the trash lying on the sides of the trail?
Do you have an extra few minutes a week?
If you answered YES to any of the above then how would you like to join our enthusiastic crew of volunteers; Trail Captains, Map Distributors, keen Photographers or work parties
Trail Captains take 'ownership' of a small section of trail to keep the trail clean of refuse and report any hazards that you encounter along your section of trail. Map Distributors keep trail map boxes stocked. We welcome photographers to contribute photos of interest and periodically we have work parties for specific trail improvements
If interested contact the Parks, Recreation and Culture Department by email at prc@collingwood.ca or call 705-444-2500
Need accommodation in the area?
Collingwood Locations
Town of Blue Mountain Locations:
Cycling Clubs
Cycling tours/guided rides 
Need to rent snowshoes? (Groups only)
Want to explore other nearby trails?