Council Highlights - Monday, February 11, 2019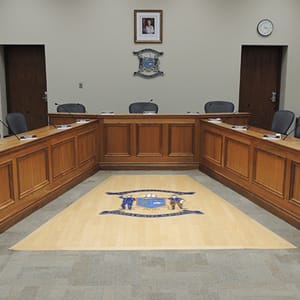 The Rogers TV broadcast of this meeting will be available online at rogerstv.com.
Community Announcements:
Mayor & Council encouraged residents to take part in the following events:
Passage To Freedom: Secrets of the Underground Railroad display presented by Sheffield Park Black History & Cultural Museum at the Heritage Community Church all month.
Family Day events at Central Park on Monday, February 18.
Valentine's Day at any of Collingwood's fine establishments on Thursday, February 14.
Coldest Night of the Year on Saturday, February 23. To register, donate, or volunteer, visit: https://cnoy.org/location/collingwood
Public Meetings:
Council heard Staff and Developer presentations, as a well as public comments, on the Georgian Bay Hotel & Conference Centre Proposed Official Plan Amendment and Zoning By-law Amendment. Discussion included such topics as roads, garbage, safety, storm-water, and environmental. The site plan application has been circulated. This Plan Amendment and Zoning By-law Amendment will come before Council on a future date.
Strategic Initiatives Standing Committee:
Council receives a report that provides a starting point for Council and the public to discuss the use of the proceeds (approximately $15million) from the sale of assets. Options presented in the report include: debt management, Collingwood Terminals, "Spit" services, waterfront expansion, accommodation study (Public Works building and yards), internal loan funds, reserve funds, and legacy funds.
Bylaws:
Council approves the appointment of members to the Collingwood Libraries Board, the Committee of Adjustment/Property Standards Appeal Committee, and the Collingwood Police Services Board.
Other Business:
Deputy Mayor Hull discusses intersection backlog, advanced greens, and future turning lanes at key intersections in Town.
Mayor Saunderson discusses news of plastics problems in the great lakes and suggests strategies that discourage single-use plastics, like making water-bottle refilling stations readily available.
The Provincial Review is on-going.
In-Camera:
Council defers discussion on the Collingwood Regional Airport Sale to a Special Committee Meeting on Wednesday, February 13.
Agendas and Minutes are available online at: https://collingwood.civicweb.net