Emergency Contact: 911
June 12, 2023 - The Fire Danger Rating for the Town of Collingwood has been changed to Moderate.
---
The mission of the Collingwood Fire Department is to serve the community by providing protection from fire, life threatening emergencies and dangerous conditions through education, prevention, rescue, suppression and basic life support services.
The Collingwood Fire Department receives its authority through Provincial legislation and the Fire Chief is ultimately responsible to Town Council for the delivery of fire protection services.
Develop a home fire escape plan today...it could save your life tonight! Practice your escape plan with everyone in your home. Make sure everyone can get out quickly and knows two ways out of each room, if possible. Get out, stay out! Never re-enter a burning building. Once you have safely escaped, call the fire department from outside your home using a cell phone or from a neighbour's home.
Install working smoke alarms on every storey and outside all sleeping areas of your home; it's the law! Carbon monoxide alarms are now required near all sleeping areas in residential homes, in the service rooms, and adjacent sleeping areas in multi-residential units. Carbon monoxide alarms can be hardwired, battery-operated or plugged into the wall. 
Contacts
June 12, 2023 - The Fire Danger Rating for the Town of Collingwood has been changed to Moderate.
Burn Cautious, Burn Safe, Stay Tuned!
Fire Chief Dan Thurman reminds everyone that fire permits are required and if you do have a fire, continue to ensure you are using extreme caution and have water nearby.
Please refer to By-law 2015-097 the Open Air Buring By-law for more details.
Open Air Burning Permits ARE REQUIRED for ALL outdoor fires within the Town of Collingwood. For further information please contact the Fire Department at 705-445-3920.
How to Obtain an Open Air Burning Permit
Online instructions:
Create an account/Login to https://cvportal.collingwood.ca/portal
In the drop down list for application type, choose 'burn permit (fire department)'
Fill in the required information in the burn permit application.
If you are a tenant, you are required to provide authorization from the property owner and upload documentation containing this authorization. If you own the property you can skip this step.
Submit application and pay fees (debit/credit, MC, Visa, Amex & Apple Pay).
You will receive an email confirmation once your permit has been processed. (3 business day turnaround)
Note:  "Gas-fired Outdoor Campfire Device" means listed ULC or CSA gas (natural, propane) appliances, which are not part of the open air burning by-law.  A burn permit is not required for this type of device.  Please follow manufacturer's guidelines 
Where:

Or Apply in Person at the Collingwood Fire Department 

45 High Street, Collingwood

When:
8:30 a.m. – 4:30 p.m., Monday to Friday
Fee:
$37.50 (cash, debit/credit, MC, Visa, Amex & Apple Pay)
What:

Please refer to By-law 2015-097 the Open Air Burning By-law for more details.

NOTE: Burn Permits are valid per current calendar year.
The 18,000 sq ft Fire station has a fully functioning Emergency Operations Center and an educational center for the public and children. The state of the art building is designed for a 30 year build out and can accommodate a crew of 10 per shift.
Fire Fighter Detoxification

Leading fire stations are installing medical grade saunas to detoxify fire fighters after a fire. SaunaRay designed a made in Canada solution for the world's most toxic profession.

Virtual Tour

Take a virtual tour of the Collingwood Fire Hall to learn about the many health and safety features incorporated into this state-of-the-art facility.
Pump 3 - 2020 Metalfab Chassis Spartan Metro-Star 
Pump 1 - 2017 Dependable Spartan Metro Star Pumper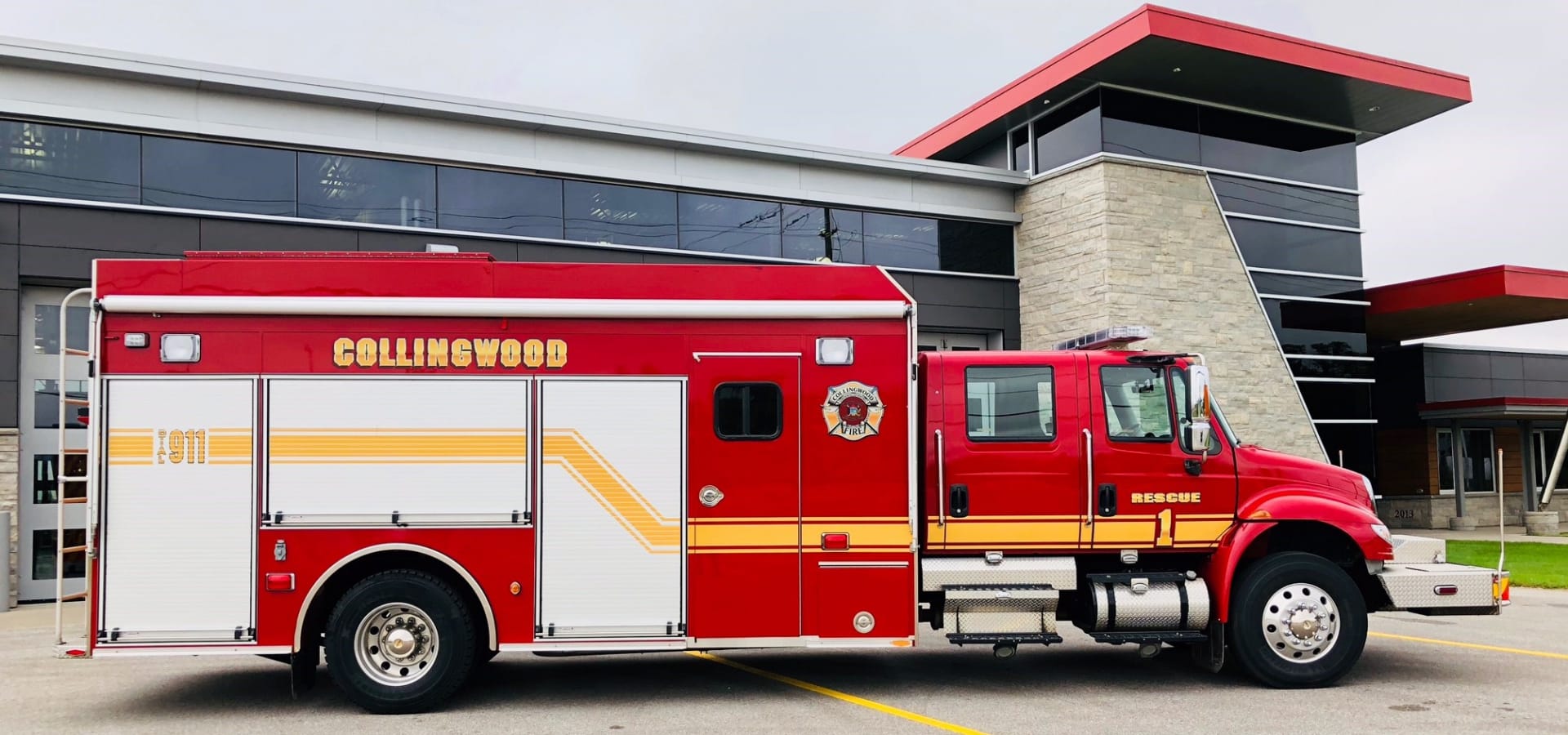 Rescue 1 - 2010 Pierce International Chassis
Tower 1 - 2010 Pierce 95' Mid Mount Platform/Arrow ET Chassis
UTV-1 - 2016 Kubota RTV with Tracks
Prevent Home Fires by following these Safety Tips
Stay in the kitchen when you are frying, grilling, or broiling food. If you leave the kitchen for even a short period time, turn off the stove.
Keep anything that can catch fire – potholders, oven mitts, wooden utensils, paper or plastic bags – away from your stovetop.
Wear short, close fitting or tightly rolled sleeves when cooking. Loose clothing can dangle onto stove burners and catch fire.
Always keep an oven mitt and lid handy. If a small fire starts in a pan on the stove, put on the oven mitt and smother the flames by carefully sliding the lid over the pan. Turn off the burner. Do not remove the lid until it is completely cool.
Keep lamps, light fixtures, and light bulbs away from anything that can burn, such as lamp shades, bedding, curtains, and clothing.
Replace cracked and damaged electrical cords.
Use extension cords for temporary wiring only. Consider having additional circuits or receptacles added by a qualified electrician.
Homes with young children should have tamper-resistant electrical receptacles.
Call a qualified electrician or landlord if you have recurring problems with blowing fuses or tripping circuit breakers, discolored or warm wall outlets, flickering lights or a burning or rubbery smell coming from an appliance.
Install and maintain carbon monoxide alarms to avoid risk of carbon monoxide poisoning.
Maintain heating equipment and chimneys by having them cleaned and inspected every year by a qualified professional.
Keep all things that can burn, such as paper, bedding or furniture, at least 3 feet away from heating equipment.
Turn portable space heaters off when you go to bed or leave the room.
If you smoke, smoke outside.
Wherever you smoke, use deep, sturdy ashtrays and ensure they are properly extinguished
Never smoke in a home where oxygen is used. Keep matches and lighters up high in a locked cabinet, out of the reach of children.
Keep candles at least 12 inches from anything that can burn.
Use sturdy, safe candleholders.
Never leave a burning candle unattended. Always blow out candles when you leave a room.
Avoid using candles in bedrooms and sleeping areas.
Use flashlights for emergency lighting.
For further information on preventing home fires contact the Collingwood Fire Department at 705-445-3920 or your local fire department.
Department Information
Hours of Operation:
Monday - Friday: 8:30 am - 4:30 pm
Location:
45 High Street Collingwood, ON L9Y 4V4