121 Hume St., Collingwood Project File No: D11420 (scroll past the map for details) Innovation Hub
Application Details
Project:
Hume Innovation Hub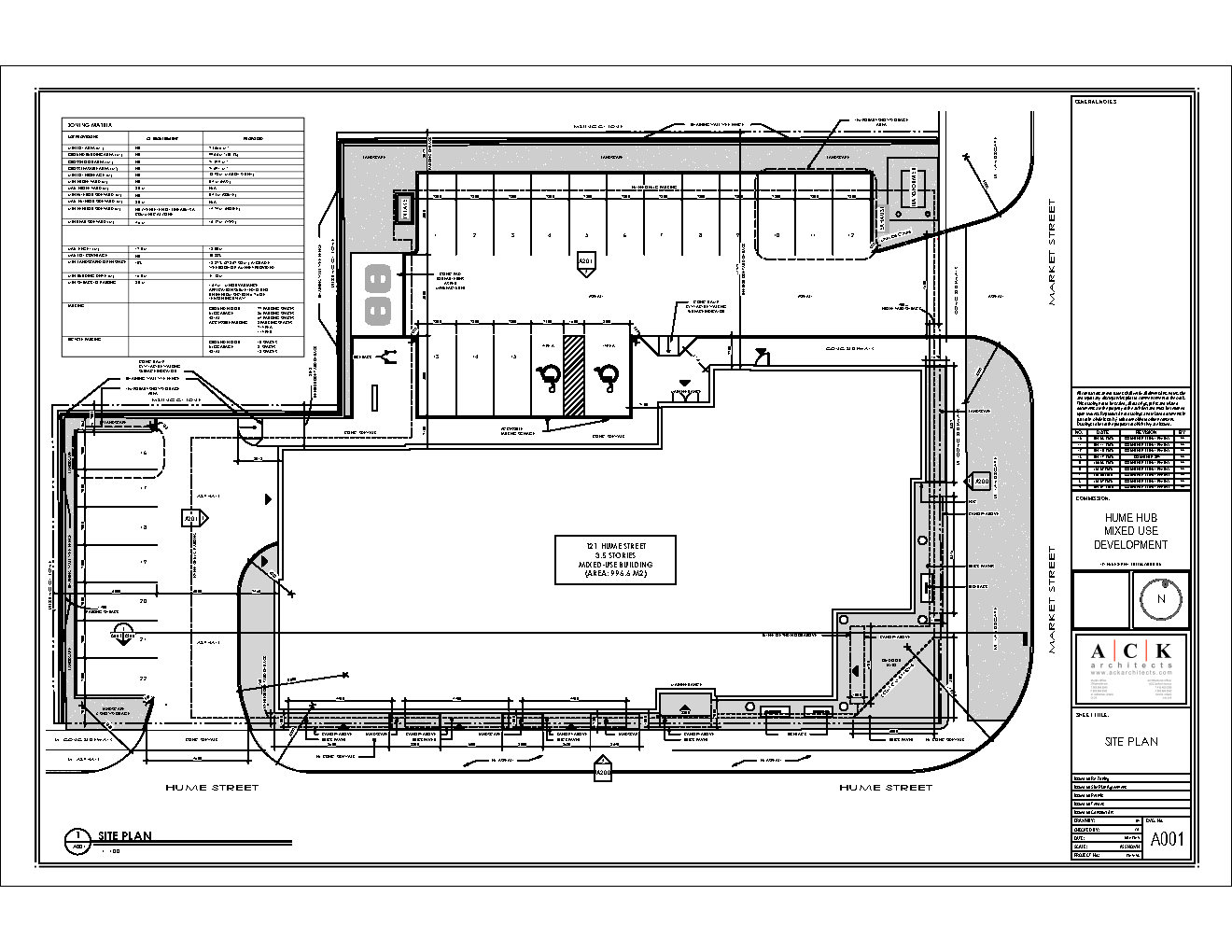 Project: Hume Innovation Hub
Municipal Address:121 Hume Street
Owner: 2554281 Ontario Ltd., Mark Palmer
Agent: Rudy & Associates, Michelle Cutts
Engineer: Urban Watershed Group Ltd., Peter Ellis
Landscape Architect: Greenland Consulting Engineers, Alison Phillips
Second Submittal Proposal
Excerpt from Revised Planning Report " 
Proposed on the lands is a state-of-the-art mixed-use commercial building, known as the Hume Innovation Hub, designed to  complement the existing surrounding uses while reflecting the intended use of the building as an  innovation hub. The site and building design have advanced through a fulsome set of review comments. The current proposal reflects revisions completed to the original submission to accommodate comments received accordingly. The commercial building is proposed as a three-storey building with a partial fourth floor roof top amenity space. The site will be fully serviced through municipal services. Adequate parking is accommodated for on the lands with a combination of above and below grade parking areas." 
Developer Reports, Studies and Plans  
Architectural Colour Renderings, Architectural Site Plan, Landscape Plans, Heritage Impact Assessment, Planning Report Revised Rudy & Associates, Civil Engineering: Construction Details, Erosion and Sediment Control Plan, FSR and SWM Report, Site Grading Plan, Site Servicing Plan, Geo technical Report,  Lighting Report , Lighting 2nd Submission,  Urban DesignArchitectural Renderings
First Submission Proposal
Project Information Links from the Developer:  Contact Information and Application for the Developer, Developer Reports 1. 2. 3. 4. 5. 6. and or Studies and Plans  Civil Engineering, Landscaping which are supplied in support of the application.  
Municipal Planner(s): Lindsay Ayers & Justin Teakle
Municipal Project Description: A Site Plan application has been received for a proposed multi-use commercial development (Hume Innovation Hub) at 121 Hume Street. The proposed development includes one commercial building with a Gross Floor Area of 6,089.7 m2 and associated underground and surface parking.  The commercial building is proposed as a three-story building with a partial fourth story comprised of an indoor meeting area and outdoor rooftop amenity space. An application for a Minor Variance has also been submitted to increase the maximum building height from 12.0 m to 18.6 m, reduce the loading space requirement, and reduce the parking setback from the street. The subject property is adjacent to the Heritage Conservation District. Urban design and heritage-related matters will form a central component of this proposal. 
Comments The comments above are made to the best of our knowledge using all of the information and resources available at the posting time.  The information contained herein is believed to be correct, however, the Town assumes no liability for negligence, inaccuracies or omissions.  Please contact Planning Services at planning@collingwood.ca or 705-445-1290 for further explanation.
Planning Act Individuals who make written submissions with respect to a Planning Act application should be aware that their submission and any personal information in their correspondence will become part of the public record and made available to the Applicant, Committee and Council.